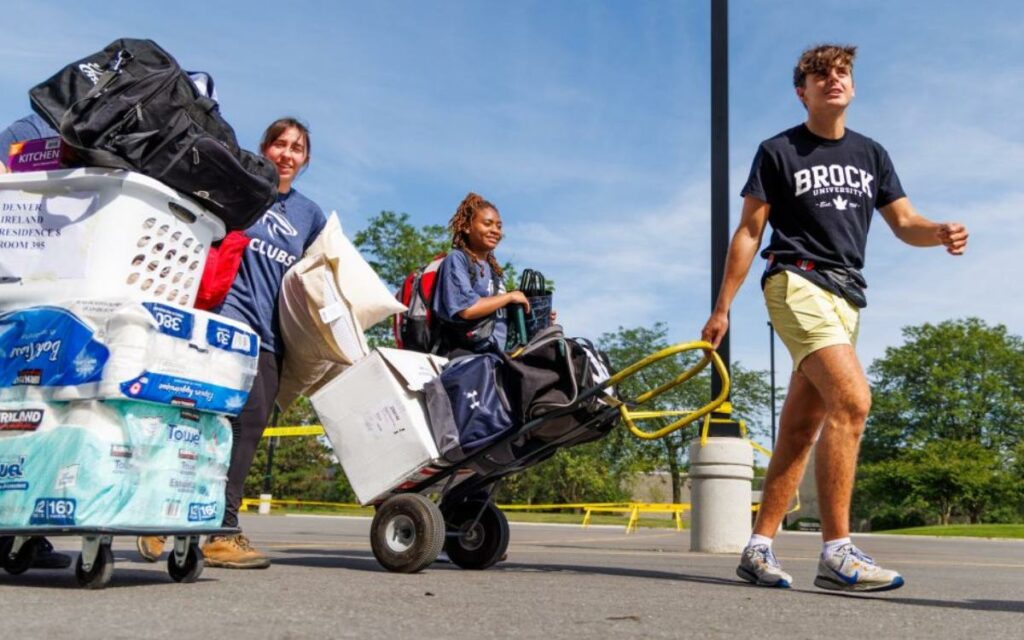 Along with students' families and friends, a 'small army' of Brock employees and volunteers helped the university's 2,700 eager arrivals move in over the weekend. Photo credit: Brock University
Brock University's St. Catharines campus was abuzz with new and return arrivals over the weekend.
In preparation for the start of the fall semester on Wednesday, September 6, some 2,700 students moved into the university's eight residences on Saturday and Sunday.
"Moving into residence truly marks the beginning of a new chapter in a student's life, and with that comes both a sense of excitement and nervousness — for everyone in the family," said President and Vice-Chancellor Lesley Rigg, who helped students settle in over the weekend.
"We're here to make that transition easier with an immense support network that will not only help them to get off on the right foot, but also provide guidance throughout their journey to success."
A "small army" of Brock employees and volunteers were on hand Saturday and Sunday to help lug suitcases, give directions, and welcome newcomers to campus. 
Although many students who moved in were first-year undergraduates, the university saw an increase in upper-year students moving into residence.
"Living on campus is an experience like no other," said Director, Housing Services Cindy Chernish. "We're beginning to see more and more students who want to continue living on campus beyond their first year because they've enjoyed their time at Brock so much."
To help meet the increase in demand, upper-year students are guaranteed housing in residence and the university recently expanded availability at Brock Suites, which is exclusive to upper-year and graduate students.
All of Brock's eight residences are operating at near capacity for the fall semester, but limited space remains available.
Move-in weekend kicked off Brock's packed 'Welcome Week' lineup, which runs until Sunday, September 10 and includes a variety of events and activities hosted by the university as well as the Brock University Students' Union.