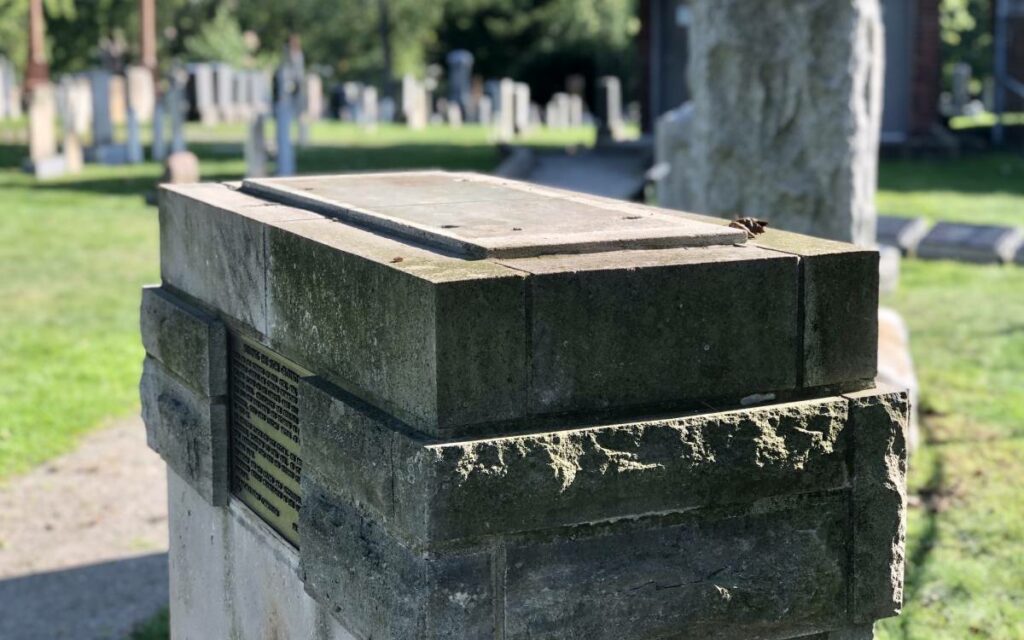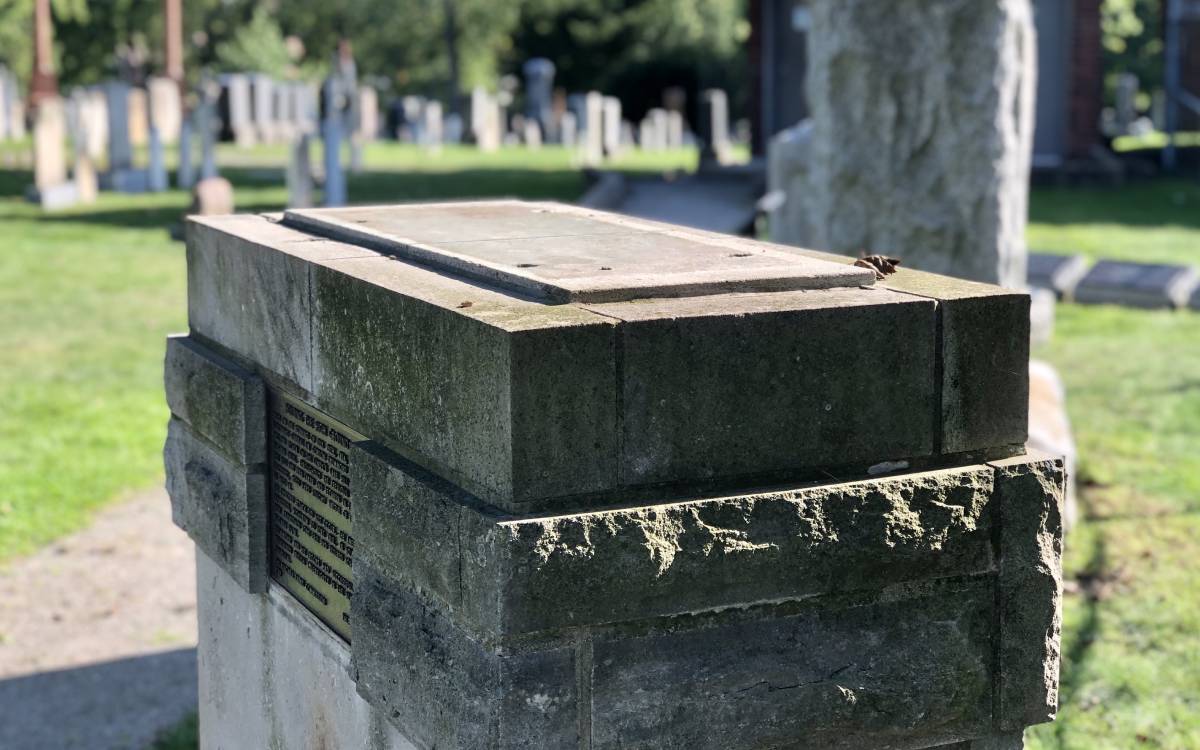 The granite platform where the sculpture of Gen. Drummond by Ralph Sketch stood for at least three decades. The statue was stolen from Drummond Hill Cemetery last week. Photo credit: The Niagara Independent/Nicholas Tibollo
Sometime between the early morning hours of September 27 and the morning of September 29, a roughly three-by-three-foot, 330 lbs. bronze statue of General Sir Gordon Drummond mounted on horseback was stolen from its granite base at Drummond Hill Cemetery along Lundy's Lane in Niagara Falls. 
More than a week later, the statue is still missing, but authorities have one suspect in custody. Late Thursday, October 7, 43-year-old Shawn Matthew Mayhew of Niagara Falls was arrested and charged with theft over $5,000, failure to comply with undertaking, and failure to comply with probation.
The investigation remains ongoing as detectives believe there is at least one other suspect.
Right now, it's suspected the statue was stolen for its bronze. 
"Historically, a motive for metal theft has often been financial gain," said Constable Phillip Gavin of the Niagara Regional Police Service. "At this point that can't be ruled out as a motive."
Previous news reports have placed the value of the statue at $10,000 or higher. However, that's the estimated collector value of the intact sculpture.  
Sold for scrap, 330 lbs. of bronze would fetch only around $700 in today's market, according to several local metal recyclers contacted by The Niagara Independent. 
Per Mark Richardson, the City of Niagara Falls' manager of cemetery services, the theft seems to have been both premediated and carefully conducted.
"The removal of the sculpture…appears to have been done with some thought as there was very little damage done to the granite base of the memorial," said Richardson.  
"I don't believe it was an easy removal and I believe some form of transportation, be it car or carrier, would have been used. I do believe, given the size, weight and awkwardness of the shape, more than one person would [have been] required."
Formally named 'Holding the High Ground', the stolen statue was sculpted by artist Ralph Sketch probably sometime in the mid to late 1980s and installed at Drummond Hill Cemetery around 1988-89. According to manager of culture and museums with the City of Niagara Falls Clark Bernat, the statue holds immense historic, artistic, and sentimental value. 
"The Culture division is devastated by the theft of 'Holding the High Ground'," Bernat told The Niagara Independent. "The work is part of our Public Art inventory, as well as an important work about the Battle of Lundy's Lane. On an artistic level, Ralph Sketch's historical representations of horses and their role in war, alongside those who fought in the War [of 1812] is of extremely high value."
Sketch, a lifelong horseman, was part of the Canadian contingent that landed on Juno Beach during the D-Day invasions. In the decades following the Second World War, he became an internationally recognized bronze equestrian sculptor and created numerous pieces of famous scenes from Canadian history. 
Today, Sketch's sculptures dot the country from coast to coast.
"On an historic level, the work assisted in interpreting this very important battle and the individuals (and animals) that were impacted by the war. It is part of a series of War of 1812 statues around the Niagara Peninsula and it is disappointing that it currently is not sitting up on the High Ground where it belongs," lamented Bernat. 
"The City is very upset that anyone would see a reason to remove this work that represents both artistic value and past historical events in such a powerful and significant way."
Anyone who may have information about the incident or may know the whereabouts of other suspects is asked to contact the Niagara Regional Police at 905-688-4111, extension 1022200.
Members of the public who wish to provide information anonymously can contact Crime Stoppers of Niagara online or by calling 1-800-222-8477. Crime Stoppers offers cash rewards to persons who contact the program with information which leads to an arrest.
To view the statue and/or learn more about its sculptor click here.