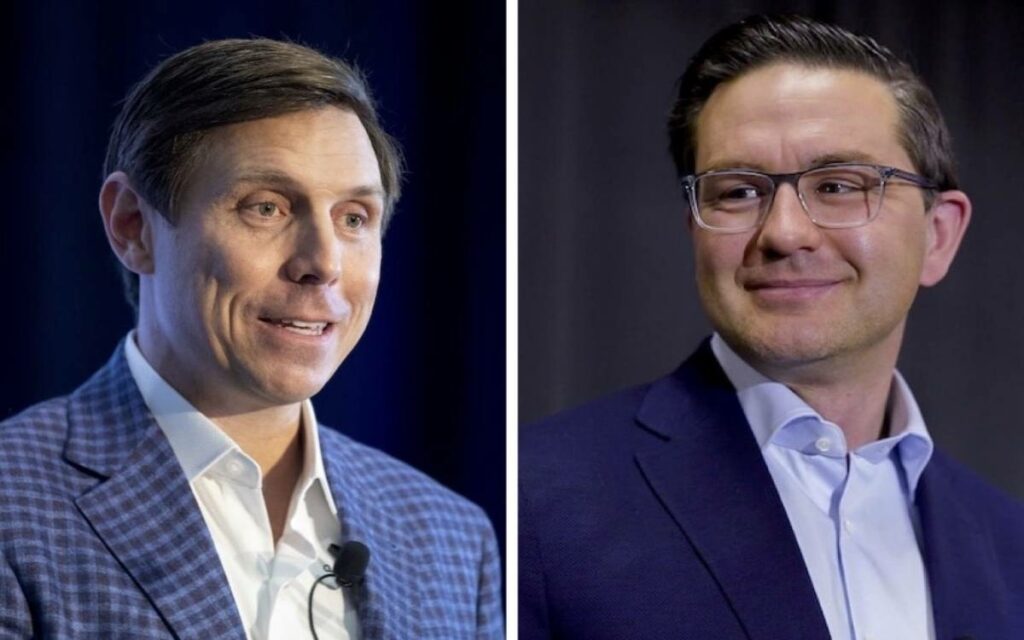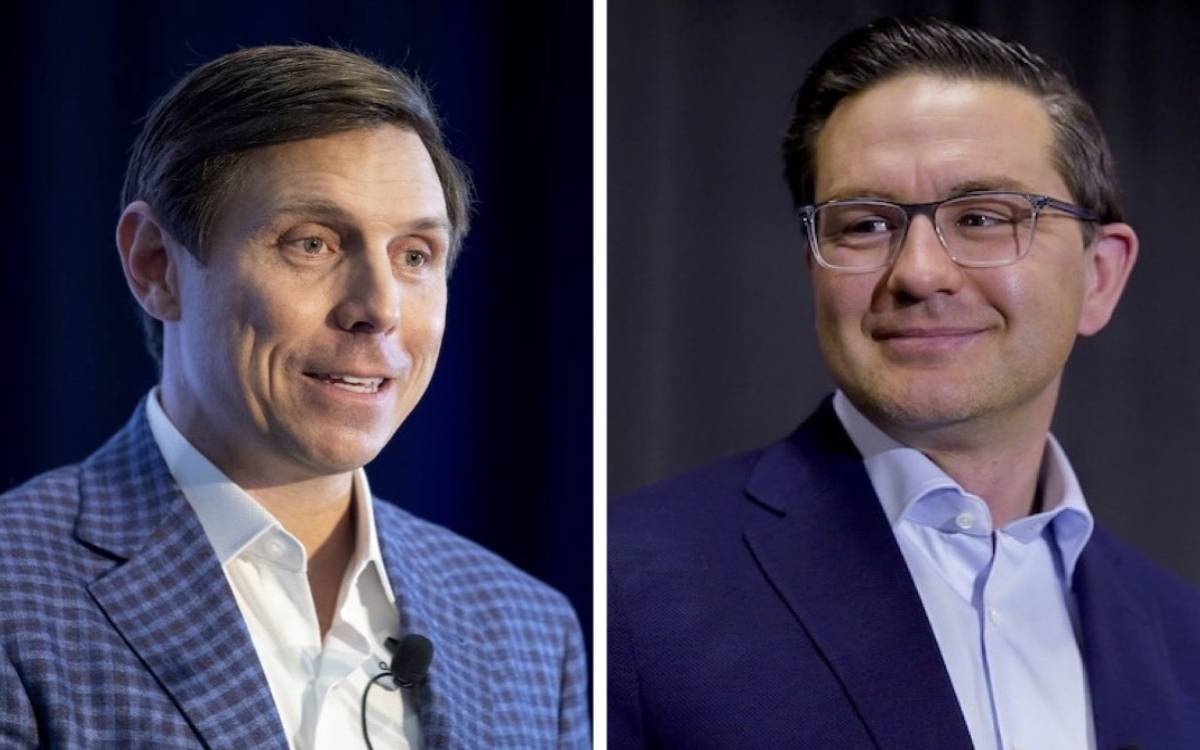 Don't expect the same hushed reception when Pierre Poilievre (right) rolls into St. Catharines later this week. Photo credit: The Canadian Press/Chris Young and Radio-Canada/Benoit Roussel
If a tree falls in a forest and no one is around to hear it, does it make a sound? Alternatively, if a federal Conservative leadership candidate attends a meet-and-greet and no one is around to welcome him, did he really make an appearance?
The Saturday before last, Conservative Party of Canada leadership hopeful Patrick Brown met with supporters at a barn in rural Niagara-on-the-Lake. According to one local media outlet, "about 60 people turned out" to hear him make his case "for prime minister". 
Brown, who is the current mayor of Brampton, covered a wide range of topics at the event, speaking on energy policy, religious freedom, housing affordability, and, involuntarily, his accusations of impropriety (none of which have been proven in court or otherwise). 
On the whole, Brown appeared to handle the prickly questions with ease and eloquently deliver the sensible, middle-of-the-road kind of commentary his supporters have come to know and admire. 
One-time Conservative MP for Willowdale Chungsen (C.S.) Leung also attended the April 9 event and formally endorsed Brown, saying "Patrick has a world vision on how to grow Canada."
And yet, does it really matter if virtually no one was listening? 
In a region in which Brown, for better or worse, has deep connections, the former Ontario PC Party leader was only able to lure a grand total of "about 60 people" (if that, see here) to a free weekend meet-and-greet: an objectively abysmal turnout. 
To say that Brown has work to do locally if he wants to rally Niagara Tories would be an understatement. 
Don't expect the same hushed reception when Pierre Poilievre rolls into St. Catharines later this week.
The longtime Carleton MP will be at the Holiday Inn at 327 Ontario Street in St. Catharines this Thursday, April 21. 
Poilievre, who was first to announce his candidacy for leader of the Conservative Party back at the beginning of February, has received rockstar welcome after welcome from party supporters at events across the country in recent weeks.
A campaign stop in Calgary on April 12, for example, drew upwards of an estimated 7,000 spectators. 
While attendance in the thousands is almost certainly out of the question for Thursday's St. Catharines event, a crowd of more than 60 is guaranteed to show up. 
Amongst Conservative Party supporters, Poilievre is the clear front-runner, garnering on average about 50 per cent of the vote in opinion polling to date. 
Poilievre's nearest competitor is former Quebec premier Jean Charest, followed by Brown, and then 2020 leadership contender and MP from neighbouring Haldimand-Norfolk Leslyn Lewis, who has been formally endorsed by Niagara West MP Dean Allison. 
Also vying for the leadership are Scott Aitchison, Leona Alleslev, and Roman Baber, amongst others.
April 19 is the final day for hopefuls to announce their candidacy, with April 29 the deadline to submit all endorsement signatures, full registration fee, and full compliance deposit in order to become a verified candidate and appear on the ballot.
The leadership vote is set to take place September 10.