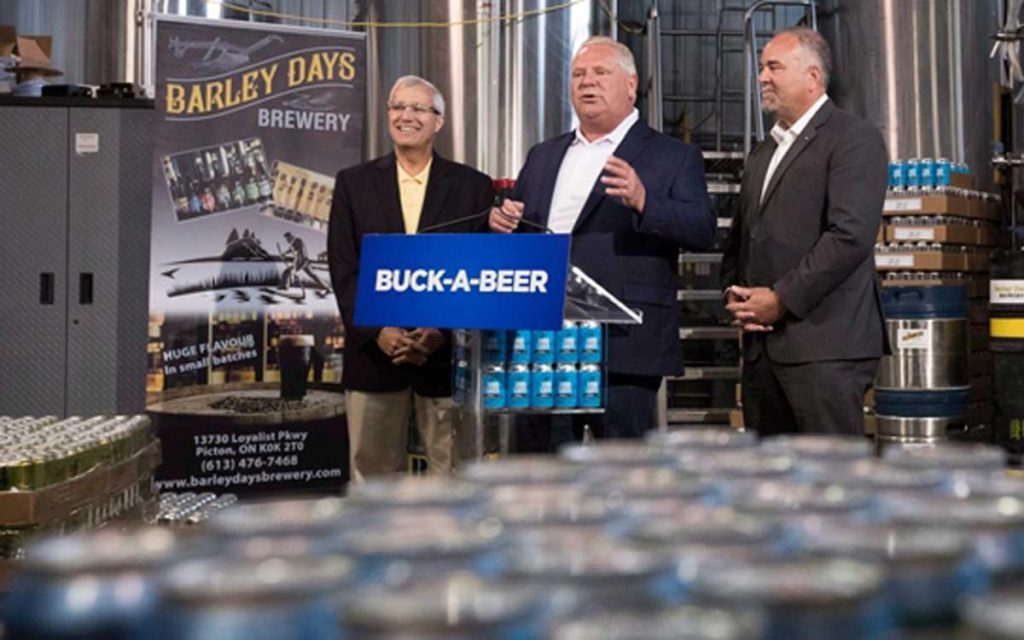 Ontario Premier Doug Ford, centre, Vic Fedeli, left, and Todd Smith announce the buck-a-beer plan at Barley Days brewery in Picton, Ont. on Tuesday, Aug. 7, 2018.
Do you remember the last time a bottle of beer cost a buck in Ontario?  It was 2008, at the end of which year the provincial Liberals hiked taxes on a case of 24 to bump the price up to over $25.  Beer prices have only increased ever since.  Now Premier Doug Ford has promised to bring back the old buck a beer price, and considering that this should be a relatively good news announcement, albeit not exactly high on the priority list for government right now, the amount of controversy it is generating is truly surprising.
A couple of years ago when the Wynne government ever so slightly loosened the death grip the LCBO had forever on the sale of alcohol in the province, the majority of the media and industry reaction was ridiculously fawning.  Bringing Ontario into the 20th century with respect to booze retailing, let alone the 21st century, was long overdue.  The very limited and overly regulatory way in which the Liberals did that should have been the butt of much criticism, not compliments.  Of course the provincial government had been long beholden to the public sector unions who benefited greatly from the generously paid clerical staff in LCBO outlets, and didn't want to rock that boat very hard despite the negative impacts the LCBO monopoly had on the vast majority of Ontario consumers and businesses that serve alcohol.
Buck a beer should be welcomed with at least the same amount of enthusiasm, if not more.  However, it seems that a number of craft brewers,  many of which enjoyed considerable taxpayer largesse during the Liberal years of handing out taxpayer dollars to favoured businesses, have taken a snobbish approach that they couldn't possibly brew a quality product at the price of a buck.  To their credit, many other small brewers have embraced the buck a beer initiative and have said they will view this as a great business opportunity and rise to the occasion, which is exactly as it should be.
The snooty negative response to buck a beer in some quarters likely has little to do with the issue itself and rather the continued inability of the left to believe their comrades are no longer in power in the province and that the Ontario people actually voted in those conservative vulgarians with a strong majority.  Their comfortable status quo has been upended, and the left is not happy.
On the alcohol issue in general, the Ford promise to permit convenience stores to retail beer and wine is a much more substantial change than buck a beer, and a very positive one.  Let's hope the Ford government takes the next logical step and abolishes the costly and unnecessary LCBO in the process.  Many other jurisdictions in Canada made similar moves years ago to the great benefit of consumers and taxpayers in general, and the sky did not fall.  One of Ford's election promises was smaller government, and getting government out of the booze business would be a great place to start.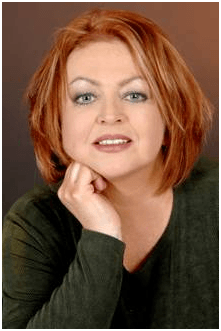 Catherine Swift is currently President and CEO of Working Canadians (www.workingcanadians.ca.  Prior to that, Catherine Swift had been with the Canadian Federation of Independent Business since September 1987, initially as Chief Economist. She became Chair in June 1999 after being named Chief Executive Officer in July 1997 and President in May of 1995.  Her various responsibilities included coordinating policy issues at federal, provincial and municipal levels of government, representing CFIB with politicians, government, business, media and other groups.
Ms. Swift has worked with the federal government in Ottawa holding several positions with the Departments of Consumer and Corporate Affairs, Industry and Communications. Her areas of specialization included corporate and industrial analysis and international trade. Catherine Swift has a MA in Economics.
She has published numerous articles in journals, magazines and other media on such small business issues as free trade, finance, entrepreneurship and women small business owners. Ms. Swift is a Past President of the Empire Club of Canada, a former Director of the C.D. Howe Institute and past President of the International Small Business Congress. She was cited in 2003 and again in 2012 as one of the top 100 most powerful women in Canada by the Women's Executive Network.