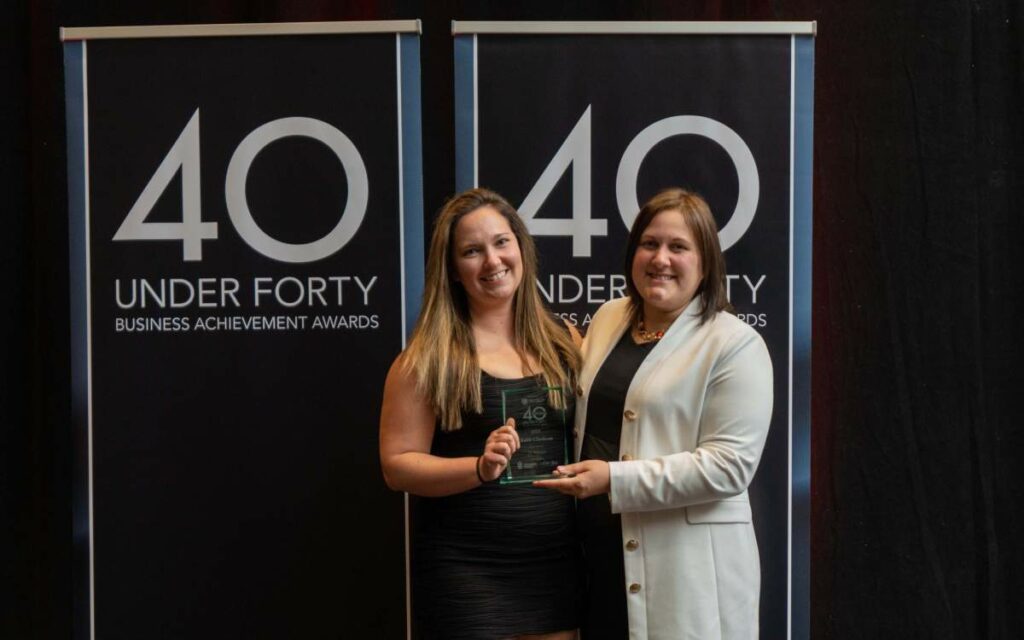 Business Link hosted its 20th annual 40 Under Forty awards in Niagara Falls on May 25. Pictured (left) is Fort Erie's Katie Clarkson of R2G Construction, one of last week's 40 winners from across Niagara. Photo credit: Business Link Media Group
Last Thursday, May 25, Business Link Media Group hosted its 20th annual 40 Under Forty Business Achievement Awards ceremony at Club Italia in Niagara Falls. 
The evening welcomed the class of 2023 winners, along with their family, friends, alumni, and special guests. Masters of ceremony were Jessica Potts of Inspired Strategy Group and Zach Dadson, government relations advisor at Brock University. 
Recipients included a diverse range of local entrepreneurs, business professionals, and non-profit leaders.
A number of dignitaries were in attendance, including Mayor of Niagara Falls Jim Diodati, Mayor of St. Catharines Mat Siscoe, Niagara Falls MP Tony Baldinelli, Niagara Falls MPP Wayne Gates, and several Niagara Falls city councillors. 
Mayor Diodati, class of 2004, was awarded the inaugural Alumni Impact Award for his "outstanding contributions to the growth and prosperity of Niagara."
On social media after the event, Diodati thanked Business Link and Club Italia for hosting and congratulated all the 2023 winners for their achievement, with a special shoutout to Nidhi Punyarthi and Michael Warchala from the City of Niagara Falls. 
"It is always nice to see well-deserved recognition and so many humbled smiles," the mayor said on Facebook. "A special evening enjoyed by all in attendance!"
Lincoln's Meghan Chayka, data scientist and co-founder of Stathletes, was awarded this year's 40 Under Forty 'Best in Class' honour for her "exceptional achievements and contributions."
Chayka's work in hockey analytics has brought her numerous honours over the last several years. 
The Brock alum was named the Ontario Chamber of Commerce's Young Entrepreneur of the Year in 2018. 
She appeared on The Athletic's 40 Under Forty class two years in a row in 2019 and 2020, and in 2022 she made Sportsnet's 25 Most Powerful Women in Hockey list.
While she wasn't able to make it in-person last Thursday, Chayka acknowledged Business Link on social media after the event. 
"Thank you to Business Link for the HUGE honor of best in class for 2023 40 under 40 in Niagara," Chayka posted to LinkedIn. 
For the past two decades, Business Link has celebrated exceptional individuals through its 40 Under Forty Business Achievement Awards, recognizing 800 of Niagara's next generation of business leaders since 2003. 
Click here for the full list of 2023 recipients.