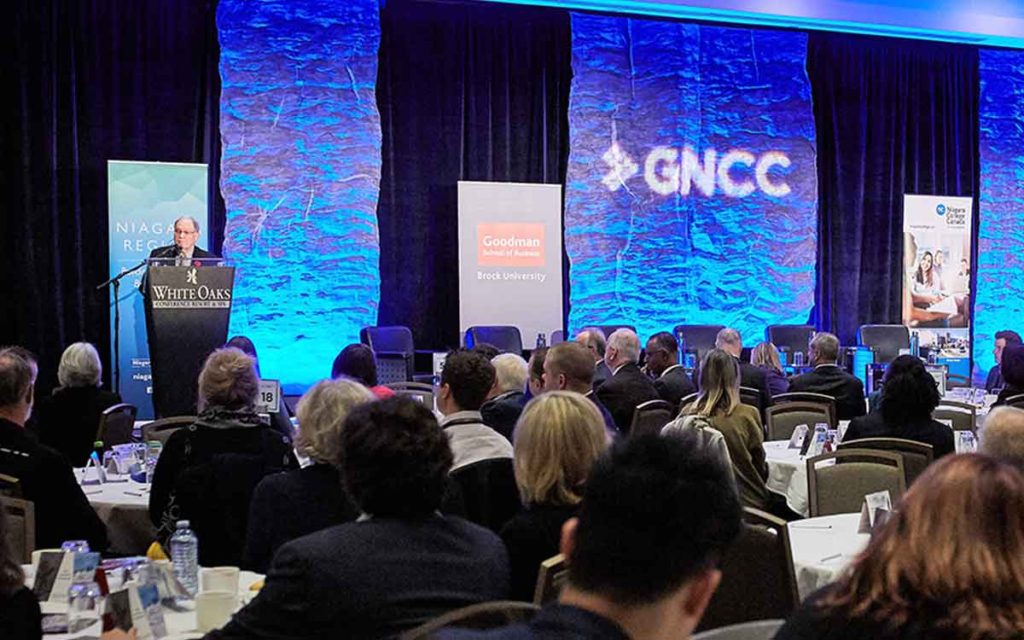 The Greater Niagara Chamber of Commerce hosted its annual economic summit. Photo credit: Giant Shoe Creative
On November 2, White Oaks Conference Resort and Spa played host to the Greater Niagara Chamber of Commerce's 2018 Niagara Economic Summit.
Each year, the annual forum brings together academics, economists, government officials, and business leaders to reflect upon, celebrate, and sketch the current and future state of Niagara's economy.
Friday's conference saw several high-profile economic authorities from around the province address a diverse audience of 350 students, business owners, local politicians, and professionals of every stripe.
Guests were treated to a variety of talks and panel discussions from some two dozen experts. Speakers and panelists included CBC's Peter Armstrong, President and Vice-Chancellor of Brock University Dr. Gervan Fearon, President of Niagara College Dr. Dan Patterson, and director of Deloitte's Future of Canada Centre Farah Huq.
The day's two keynote addresses were delivered by Ashley Challinor, Vice-President of Policy at the Ontario Chamber of Commerce (OCC), and Dr. Trevin Stratton, Chief Economist at the Canadian Chamber of Commerce (CCC).
Challinor spoke about the current strengths and weaknesses of Ontario's business landscape, as well as the province's slow rate of economic growth.
At present, Ontario boasts low unemployment rates and investment in the country's most populous region continues to rise.
According to Challinor and the OCC, "more than 86% of Ontario's economic regions have an unemployment rate of 6% or lower".
That said, hindering growth in the province is a stagnant, shallow labour market.
There is plenty of demand and there are, in fact, myriad job opportunities available. Ontario simply lacks the requisite number of skilled workers to fill them.
In June, the province's job vacancy rates hit hitherto "unheard of" record highs.
Moving into the future, Challinor said that the OCC will look to prioritize: "workforce development, regional economic development, modernizing regulation, fiscal responsibility, and improved ROI [return on investment] on tax dollars".
In his keynote address, the Canadian Chamber of Commerce's Dr. Trevin Stratton talked about Canada's place in a rapidly changing global economic environment that is becoming more and more competitive.
During his presentation, Stratton cited the World Economic Forum's latest report on global competitiveness.
Canada ranks a respectable 12th on the American-led list. Though, as Stratton highlighted, it is one of only three nations in the top 15 that saw its score diminish.
Canada, according to Stratton and the CCC, must make significant strides to improve, if the country hopes to maintain (or enhance) its overall standing in the global economic system.
Amongst other initiatives, to stay competitive Canada must make greater efforts to attract investment, ease the burden of doing business here, encourage innovation and technological advancement, and boost productivity.
According to Stratton, Canada can succeed in the above-mentioned areas through "comprehensive tax reform", "regulatory reform", "trade diversification", by "[innovating] existing sectors", and increasing its skilled labour pool.