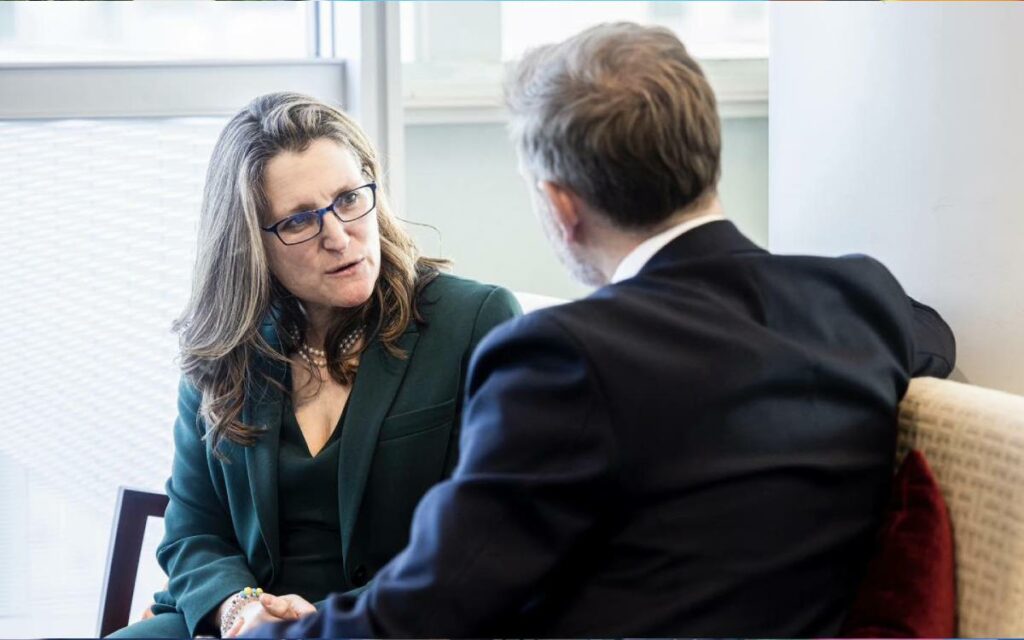 When thinking about who goes where, the Prime Minister would be wise to restore the role of Finance Minister to a singular, full-time position. Chrystia Freeland (pictured) has been putting in double time managing the country's finances while also wearing the hat of Deputy Prime Minister for nearly two years. Photo credit: Facebook/Chrystia Freeland
It's been nearly two years since the last federal election. Despite the fact most minority parliaments in Canada last less than two years, there are no imminent signs that we are heading toward a federal election anytime soon. Thus, we find ourselves squarely in mid-mandate territory as the Prime Minister and his cabal of cabinet ministers wait for sunnier days to overtake the economic storm we find ourselves in the midst of. 
The timing is precarious, but it presents the Prime Minister with the opportunity to do some serious soul searching. While Ottawa is buzzing about an impending cabinet shuffle, Trudeau will need more than a series of fresh faces around his cabinet table to overcome the reputation of being tired and incompetent that is slowly starting to cement with the Canadian public. 
There were some serious missteps over the last several months like dithering on allegations of foreign interference in Canada's electoral system, failing to introduce bail reform measures to keep dangerous offenders off the streets, and self-inflicted communications disasters like the transfer of Paul Bernardo to a medium-security prison. The failure to put these issues to bed sucked up the time and attention of the Trudeau government so much so that short and medium-term problems like rising interest rates and lack of housing supply have all been put on the backburner. 
While it is clearly time for a shuffle of the deck, the Liberal government should be looking to do a complete reset of their agenda if they are to have any hope of winning the next election, let alone picking up more seats.
When thinking about who goes where, the Prime Minister should take the immediate step of restoring the role of Finance Minister as a singular, full-time position. Chrystia Freeland has been putting in double time managing the country's finances while also wearing the hat of Deputy Prime Minister for nearly two years. It is time to read the room and acknowledge that this simply isn't working. 
Interest rates are on the rise again. This week's announcement from the Bank of Canada marks the 10th time since last March that the benchmark rate has increased. This means everything from mortgage rates to student loans will be getting more expensive, and a new report from MNP ltd. finds that 52 per cent of Canadians are $200 dollars or less away from not being able to pay their bills at the end of the month. 
Band-aid solutions like a one-time, $500 dollar "grocery rebate" for a sliver of the Canadian population aren't going to cut it. Trudeau must read the mood of the country and put economic issues at the top of the list of pressing priorities heading into the fall session of parliament. Appointing a Minister who can immerse themselves fully in this role is a step in the right direction, although course correcting after nearly 10 years of tax and spending will be no easy feat. It's a start, however.
If the Prime Minister is serious about changing the channel, he will also need to re-evaluate policies around housing, including giving the pink slip to the Minister tasked with the file. Canadians young and old are priced out of the dream of home ownership, and are increasingly unable to afford rent, regardless of the region they reside. The Liberal government's signature housing policy has been an utter disaster, costing upwards of $5 billion dollars, and helping just 17,500 people as of the spring. Given that Canada's population recently crossed the 40-million-mark, concrete solutions to incentivize supply are desperately needed.
The other challenge the Prime Minister will have to address is his band of cabinet ministers who have failed upwards into leadership positions. Think Bill Blair's handling of foreign interference, or Marco Mendicino and his lack of knowledge on the Bernardo incident. Identifying the ministers who plead ignorance, and subsequently showing them the door will help set a precedent that this behaviour will no longer be tolerated. 
When parliament returns, Canadians will be looking for one of two things: solutions from the governing Liberals, or an alternative. What there does seem to be is consensus that things need to change. Let's see what comes of it.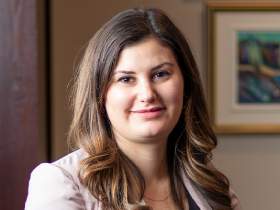 Josie Sabatino is a Senior Consultant at Summa Strategies, focused on providing strategic insight and helping clients meet their objectives in an ever changing and complex political and regulatory environment. Prior to joining Summa, Josie spent nearly a decade in political communications and most recently served as the Director of Communications to the Hon. Erin O'Toole, former Leader of the Official Opposition.