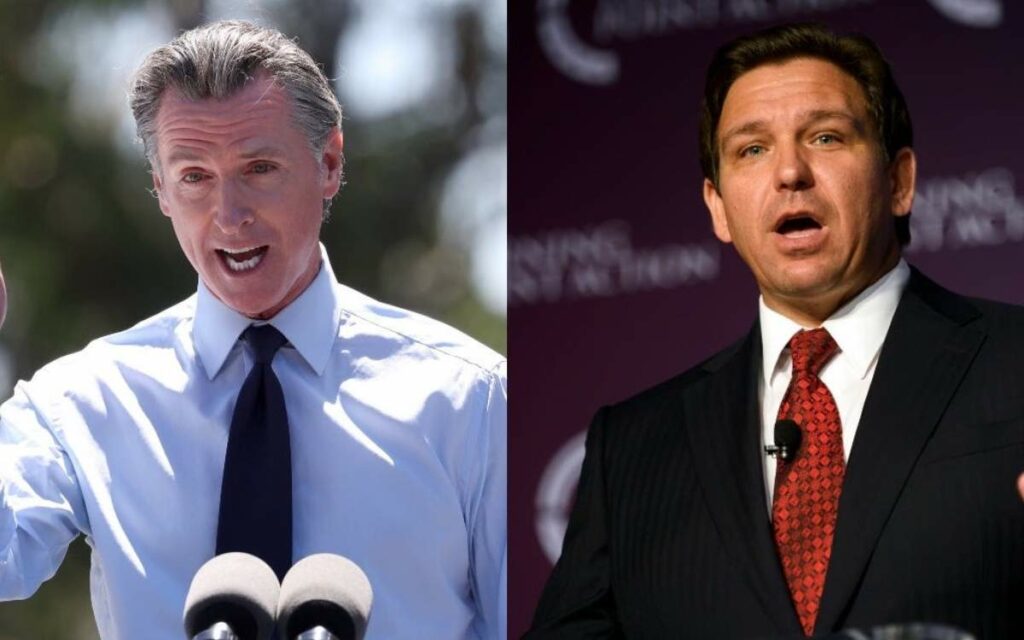 Popular leaders of their respective states, Governors Gavin Newsom (left) and Ron DeSantis (right) have both been touted as future presidential candidates and could well meet head-to-head in the coming years. However, their popularity is virtually all that unites them, as both men possess radically different visions for America and notions of how best to govern. Photo credit: Getty Images
People in California recently returned Gavin Newsom to the Governor's Mansion in Sacramento, a residence whose former occupants include Ronald Reagan, the 40th President of the United States. Newsom, a Democrat with a long familial history within the Party imagines himself as a future president, though the comparison with the Gipper, a Republican, ends there. 
Although Newsom won a resounding victory in November, a funny thing happened to him on the way back to the Governor's Mansion. Many citizens of California have taken to voting with their feet, and while Newsom's power in the Golden State remains unquestioned, his ability to transform that state charisma into a national campaign would take no comfort in those expressing their opinions on foot. 
From April 2020 until January 2022, California lost 352,000 people, mostly to Texas, Florida, Virginia, and Washington. The defections continue. What that says about Newsom as a potential presidential candidate versus the popular governor of Florida, Ron DeSantis, may help us best understand what will happen in 2024, but more importantly, it expresses the two views of America developing among the polarized Union.
California faces the threat of staggering immigration numbers, budget deficits that smother economic growth, and draconian government regulations. The state has been at the forefront of progressive woke policies in education, policing, and virtually all government services that touch the close to 40 million people who live there. 
Under Newsom and his predecessor, Governor Jerry Brown (D), the state has moved left and the voting patterns in the state have become entrenched. Both Senate seats have been Democratically held since the 1990s, but since Pete Wilson won re-election in 1988, no Republican has won a senate race in Reagan's home state. 
Although Arnold Schwarzenegger, governor from 2003 to 2011 identified as a Republican, he governed from the centre-left.  Iconic leftists like Nancy Pelosi, Adam Schiff, and Maxine Waters call California home. While the state has a long history of developing powerful Republican leaders, including the present Speaker of the House, Kevin McCarthy, the party holds only 12 of the 52 Congressional seats, and both Senate seats are Democratic. The shifting of the state leftward began slowly but gained great momentum in the 1990s.      
Presidential candidates, who once fought over California, now see the state as a safe Democratic hold. Between 1850 and 1996, the state participated in 43 elections, voting Republican 22 and Democrat 19. Once a bellwether state, only three times voting for the losing candidate between 1888 and 1996, it has become reliably Democratic since Bill Clinton's victory in 1992. 
The last time a Republican nominee even contested California goes back to 2004 and even then, President George W. Bush could only muster about 45 per cent of the vote, falling 10 points short of John Kerry. Since then, the nation's most populous state has voted strongly Democratic to the point that its 54 electoral votes, which make up 20 per cent of the votes needed to win the presidency, means the Democratic nominee begins with a significant advantage in every presidential election. 
Interestingly, Florida, now the third most populous state and growing, leans more Republican than ever. The state's population now tops 21 million, barely half of California, but its 29 electoral votes provide a nice cushion for a Republican nominee to begin with, though the state's recent shift does not mean it will become as reliably Red as California is Blue. 
As recently as 2008 and 2012, Democrat Barack Obama won its electoral votes. However, Florida has not had a Democratic governor since Lawton Chiles (Chiles died three weeks before leaving office and his Lt. Gov. Buddy McKay finished his term) in the previous century. In the last two presidential elections, Donald Trump (R), a large presence in Florida, won the state in 2016 and 2020, but George W. Bush (R) in 2004 claimed the largest voter victory in the 21st century. The state boasts two Republican senators – Marco Rubio, first elected in 2010, and Rick Scott, a former governor who won the election in 2018, defeating incumbent Democrat, Bill Nelson.
If one were tracing results, 2018 may be the catalyst that set aflame Republican prospects, but the COVID pandemic probably acted as the gasoline inciting the realignment. Governor Ron DeSantis' razor-thin victory over Tallahassee Mayor, Andrew Gillum, demonstrates how a politician can turn an opportunity into a tour de force. DeSantis held serve through 2019, but when COVID burst onto the scene in 2020 he became so familiar with the file (in contrast to Donald Trump whose ad hoc comments at daily briefings forced administration officials into denials, clarifications, and disclaimers) that his medical and health team had a hard time keeping up with his handle on the statistics, and his uncanny instinct to decipher the essential from the superfluous. 
By the 2022 election, DeSantis had become so formidable that not only did he win with close to 60 per cent of the vote, he turned the state a dark red, ensuring Republicans filled every statewide office and controlled both Houses in the legislature, including 20 of the 28 Senate seats and 84 of the 120 Representative seats. The only question remaining depends on future results. Will Florida become the Republican's answer to California? A safe and reliable starting point for all future presidential candidates, allowing them to focus on other closer races which could determine the overall outcome. 
The most interesting and potentially decisive piece to this puzzle appears to be heading for an inevitable collision. Whether in 2024 or 2028, these ambitious governors seem destined to duke it out for the presidency. DeSantis may run in 2024, but faces the difficult prospect of unseating Donald Trump from the nomination while Newsom faces a similar obstacle in the present occupant of the White House, Joe Biden, and his incumbent position atop the Democratic Party. 
If the present situation remains on its current trajectory, Florida and California, come 2028, will present America with two very different versions of what the Union can be. California represents the woke Left. Its environmental policies, energy use, education practices, and family law speak to a progressive vision of the nation that has gained traction over the past number of years. Florida, on the other hand, demonstrates that a competent and restrained government, one which focuses on the basics and avoids surrendering to a vocal modern agenda, can deliver the kind of sensible policies which average citizens want without all the hoopla of celebrating or promoting ideas with which many feel uncomfortable. 
Newsom has taken aim at Florida in many ads promoting life in California, attempting to get many who have left to return. DeSantis, meanwhile, like Old Man River, just keeps rolling along, increasing Florida's profile in a nation looking for good examples of efficient governance. 
The California v. Florida coming-attraction may soon include its two governors fighting over which state's vision belongs in Washington where a nation can judge its merits.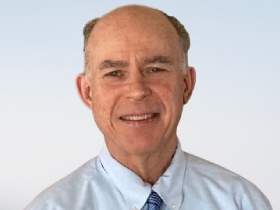 Dave Redekop is a retired elementary resource teacher who now works part-time at the St. Catharines Courthouse as a Registrar. He has worked on political campaigns since high school and attended university in South Carolina for five years, where he earned a Master's in American History with a specialization in Civil Rights. Dave loves reading biographies.