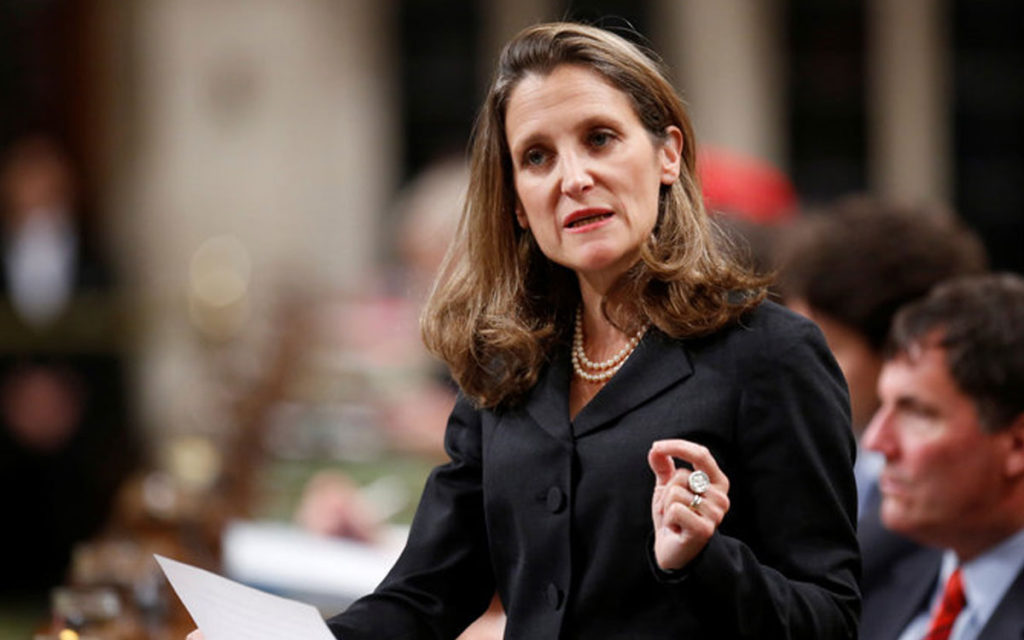 Liberal MP Chrystia Freeland took to Twitter and censured the unsavoury actions of Saudi Arabia's monarchy earlier this week.
Canada's Minister of Foreign Affairs denounced the House of Saud for its recent imprisonment of human rights activists Samar Badawi and Nassima al-Sadah: urging Saudi Arabia to "immediately release" the pair.
Badawi is the sister of Raif Badawi, a blogger who has been incarcerated in Saudi Arabia since 2012 for apostasy and "insulting Islam". The latter's wife, Ensaf Haidar, has been a vocal opponent of the Saudi regime from her home in Sherbrooke, Quebec for years.
The Saudi Foreign Ministry quickly took issue with Freeland's plea. The kingdom unravelled a series of sanctions which saw, amongst other things, the expulsion of Canada's ambassador to Saudi Arabia, a suspension of new trade relations, the recall of thousands of sponsored Saudi students studying in Canada, and the cancellation of Toronto-bound flights.
The over-the-top response was then buttressed by an accusation of unwarranted interference in Saudi Arabia's internal affairs and a demand from Freeland's counterpart in Riyadh, Adel al-Jubeir, for Canada "to fix its big mistake".
When confronted about the issue on Wednesday, Trudeau refused to accommodate the Saudi request for an apology.
"Canadians have always expected our government to speak strongly, firmly, and politely about the need to respect human rights around the world. We will continue to stand up for Canadian values and human rights", said the prime minister.
The government's defiance in the face of theocratic thugs may indeed be laudable. However, Canada has now been forced to act tough. It could – and should – have initially acted smart.
According to Conservative MP Dean Allison, it is not what was said by the Liberal government that was problematic, but rather when and where it was said.
"We welcome talks about human rights. The timing was just off", said Allison. "Saudi Arabia is trying to move forward and modernize, why chastise it in a tweet? It's tone-deaf."
The Official Opposition's Critic for International Trade believes the use of Twitter to conduct a diplomatic debate on a serious topic like human rights was unwise. Ironically, the Liberals took a page out of U.S. President Donald Trump's playbook on this one.
"This is a conversation that should have been had in private, not on social media", said Allison.
Though, despite its obvious detriment, a number of commentators, academics, and politicians have acknowledged the potential upside of the spat – including Allison.
After Venezuela and Saudi Arabia, Canada has the third largest proven oil reserves in the world.  There is no need for a country so rich in natural resources to be dealing with such a capricious trading partner (even if Saudi Arabia maintains a policy to almost never cease oil sales, regardless of political tension).
"Clearly, we need to be less reliant on people who do not share the same values [as us]", said Allison. "This is definitely an opportunity to revisit the Energy-East pipeline".
Cancelled in October 2017, the Energy-East pipeline was a proposed conduit that would have transported diluted bitumen from Western Canada to the Eastern provinces: reducing Canadian reliance on foreign oil.
With investment fleeing Canada as of late, the construction of an east-west pipeline could simultaneously help solve a handful of economic and diplomatic concerns.
In the end, providing Canada with a long-overdue asset: self-reliance.