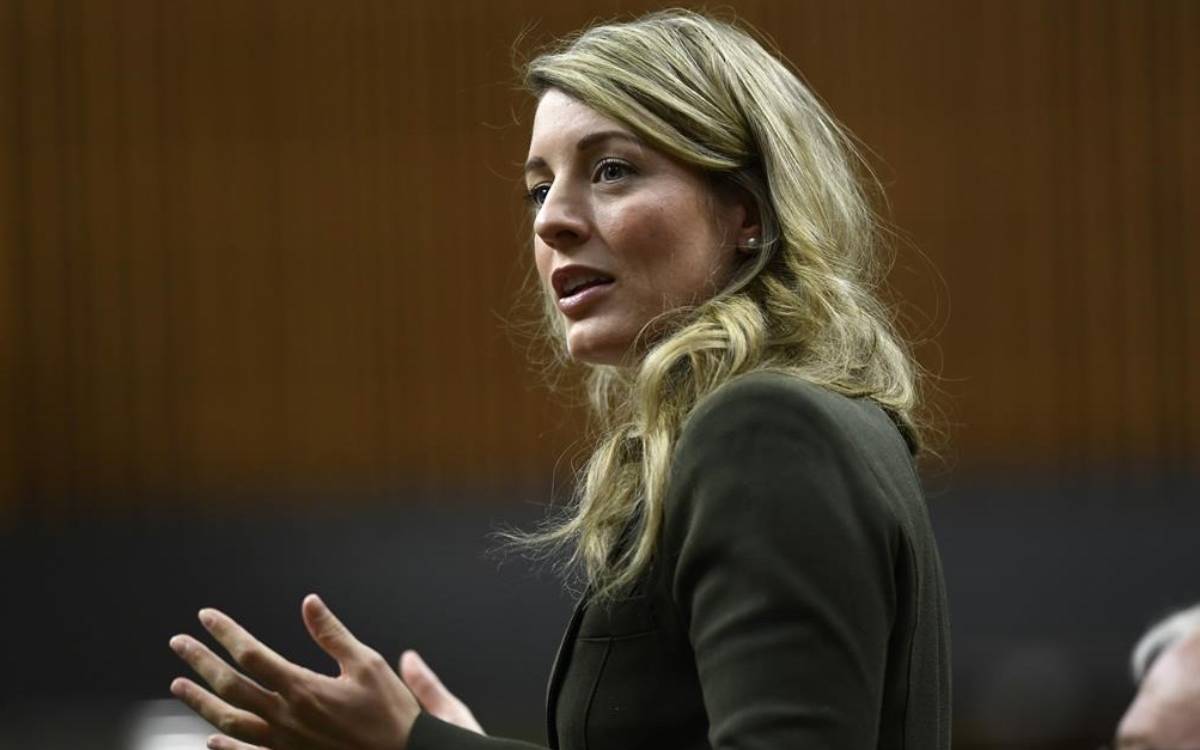 A new report from the Globe and Mail this week uncovered that Canada knew weeks in advance that there was a strong probability of a Russian invasion of Ukraine, and yet the government did nothing to protect embassy staff in Kyiv. Pictured is Minister of Foreign Affairs Mélanie Joly, who in the wake of the Globe and Mail report denied knowing anything about the situation. Photo credit: The Canadian Press/Justin Tang
From the comfortable vantage point of first world privilege, it feels as though the war in Ukraine has been raging on for years, rather than just a few short months. By now, most people can recognize Volodymyr Zelenskyy, the President of Ukraine, by his trademark army green shirt, and have seen the brutal footage of shootings and bombings that have left Ukrainian cities ransacked. 
To date, it is estimated that more than ten thousand Ukrainian soldiers and civilians have been killed as a result of Russia's illegal invasion. 
For many, this is the first time a global conflict has hit so close to home. The last several months have been defined by political actors signalling varying levels of support, claiming that all options are on the table. 
That is of course, options that don't involve putting actual boots on the ground and escalating the conflict into a world war. 
For the Western world, the Russian invasion has been a defining moment where security and peace can no longer be taken for granted. Countries like Sweden and Finland are now in the process of joining NATO, and defence spending has increased across the board for alliance countries. 
Canada too has made a flurry of announcements. We've committed to beefing up procurement, protecting the Arctic, and providing aid in the form of weapons, assistance with training soldiers, and monetary relief to Ukraine. Early on, sanctions were placed on exports coming from Russia, and on oligarchs and high-ranking government officials. 
For all intents and purposes, it would appear Canada is getting some of the big things right.
And yet, a new report from the Globe and Mail this week uncovered that Canada knew weeks in advance that there was a strong probability of a Russian invasion. When confronted with the decision to help the Ukrainians employed by the Canadian embassy who were likely on a list to be hunted down and killed by Russia, bureaucrats in Ottawa said they had no responsibility to the local employees. These employees were left in the country, facing the very real threat of death.
The Minister of Foreign Affairs has since come out and denied knowing anything about the situation. But that response in and of itself is a quintessential hallmark of the Trudeau government, because we've seen this story before. Several times in fact. 
And it should come as no surprise. This is, after all, the same government that put their election prospects ahead of dealing with the fallout of the Taliban taking control of Afghanistan last summer. As Afghan civilians chased after planes rolling down the tarmac in a desperate attempt at freedom, the Prime Minister dropped the writ.
Nearly a year after that election call, Canada has largely failed in its commitment to resettle Afghans refugees fleeing persecution and violence. This includes bringing in translators who assisted the men and women in the Canadian Armed Forces, and who are at greater risk if they remain in the country. 
Why have they not been resettled? The blame falls on an immigration system that has been plagued by delays, and a federal government that hasn't seemed interested in cutting through the bureaucratic red tape that would allow them to move in any sort of quick fashion.
Announcements and tours of battlefields mean nothing if Canada can't fulfill the basic moral obligation of doing the right thing and protecting those who have assisted our country, be it embassy staff or translators who served alongside Canadians. Demonstrating you can get the big things right is important. But pleading ignorance when lives are at stake will only get you so far with a public that is increasingly growing tired of the excuses.
Josie Sabatino is a Senior Consultant at Summa Strategies, focused on providing strategic insight and helping clients meet their objectives in an ever changing and complex political and regulatory environment. Prior to joining Summa, Josie spent nearly a decade in political communications and most recently served as the Director of Communications to the Hon. Erin O'Toole, former Leader of the Official Opposition.