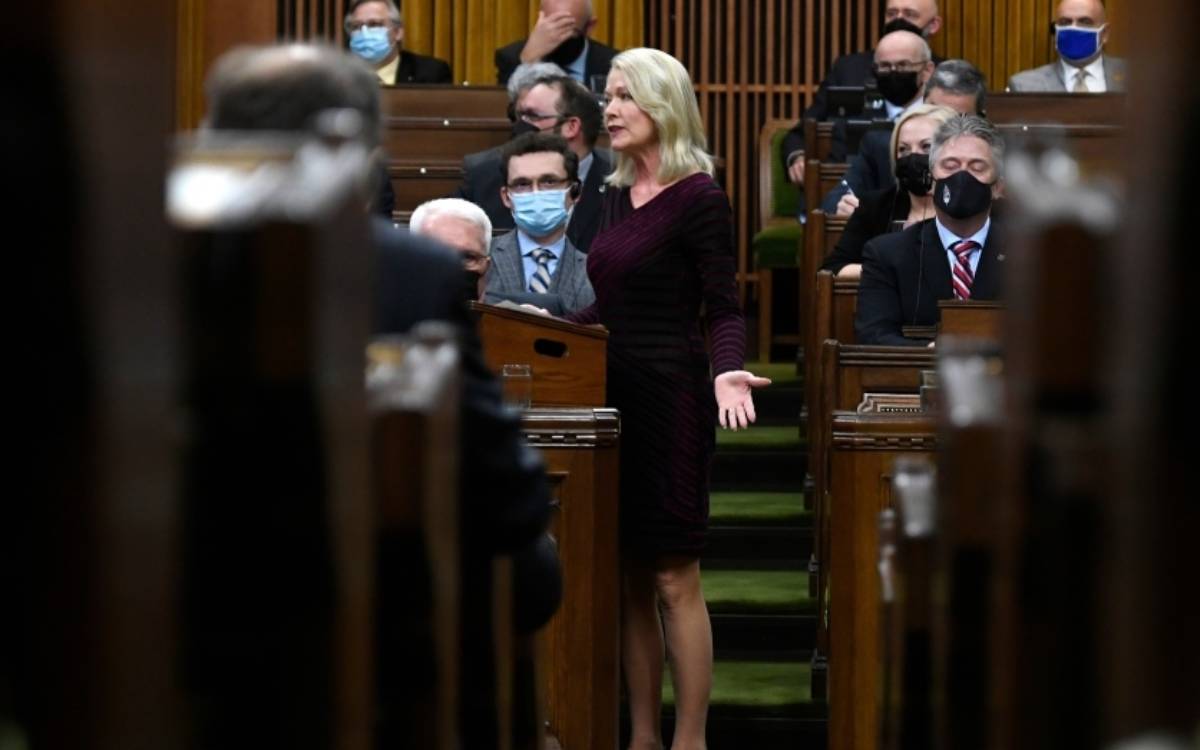 Interim leader Candice Bergen during Question Period, Feb. 7, 2022. Bergen took over earlier this month when Erin O'Toole was removed as party leader by Conservative caucus members. Many took issue with O'Toole's attempt to bring the party to the centre. Photo credit: The Canadian Press/Justin Tang
In a rarity of events, Canada saw real leadership from our politicians on Friday. Doug Ford stepped up to the plate and came out swinging against the blockade of the Ambassador Bridge. He was clear that there are consequences for peoples' actions and if they want their voice to be heard, then the ballot box is the best place to do it.
When Prime Minister Trudeau took the microphone a few hours later in his press conference, he was also clear that the protesters have been heard and it is time for them to go home. Given that their horns have been silent for the past few days, someone has definitely heard them more, but are people listening? 
It seems like their main cheerleader in politics, the Conservative Party of Canada, is no longer listening to the protesters and agrees that it is time for them to go home. This comes about three weeks late and after countless Tory MPs were seen celebrating the truckers even hours after kicking their own leader to the curb. 
This lack of leadership is no surprise to the Conservative Party, as they are not only literally leaderless and are getting by with an interim leader, but because of the party being at a crossroads.
Canada's Conservatives find themselves in a red pill or blue pill situation. Just like in The Matrix, if the Conservatives continue on the path that they are on and choose the blue pill of ignorance, it will be a long time before they return to power. If they choose the red pill and accept that Canada has changed since they were last elected over a decade ago, then they might have a shot of taking the reins of government. 
Given the events of the past few weeks, it looks like the party and those currently leading it are happy with the blue pill option. There seems to be a growing divide between what the average Canadian is looking for in a political party and what Conservative supporters believe is the right path forward. The most recent example that comes to mind is climate change.
At the last policy convention, Conservative members voted against a motion that would have the party recognize climate change as an issue facing Canadians. Despite being widely accepted and a top issue for voters, the Conservative faithful that attended the convention voted against it. In the weeks to come, the Tories were painted as a party of climate deniers and climate skeptics. Not the ideal place to be when you're trying to attract new people to your party. 
To the credit of then leader Erin O'Toole, he tried to pivot the party on climate change and several other issues that matter to modern Canadians. Much to the chagrin of some caucus members and card-carrying Conservatives, O'Toole introduced a price on carbon and invested in clean tech. His attempt to move the party to the center and closer towards where a majority of Canadians sit politically was his ultimate downfall. 
His opponents dubbed him "liberal-lite" and thought that he was flip-flopping on issues that they cared about, which given the Tories' recent flip-flop on the protests, is a tad ironic. Conservative members saw him as abandoning the thing that Tories hold close, like their strong ideological views. Instead, O'Toole was becoming pragmatic and willing to listen to Canadians to provide them with a party that they could see themselves joining. He would water his wine if that meant a chance at forming a government, but for the Tory faithful this was treason. 
This could be a defining moment for Conservatives as they gear up for their third leadership race in five years. As the party teeters on nearly a decade away from power, leadership hopefuls could make plans to rejuvenate the party with new ideas or continue with the old ones. As it seems right now, with only one leadership candidate officially announced, it seems like the old ones will do for now.
Understandably, Conservatives are hesitant about change. As O'Toole found out, change is hard and often uncomfortable. But so is growing up and becoming an adult. The Conservative Party that won under Stephen Harper in 2011 is no longer the party that aligns with Canadians. Canada is facing a unity problem where solutions that work in Western Canada do not work in Eastern Canada. Instead of pitting them against each other like the Liberals like to do, Conservatives need to find solutions and ways to be more appealing. This includes pivoting a bit from the hymns that are sung to the base to some contemporary ideas that will appeal to those who are on the fence about voting for team blue. 
If Conservatives are looking to make headwind in the next election and maybe even win, they're going to have to switch-up the playbook, or they could be on the bench for many years to come.
Daniel Perry is a consultant with Summa Strategies Canada, one of the country's leading public affairs firms. During the 2021 federal election, he was a regular panelist on CBC's Power and Politics and CTV Morning Ottawa.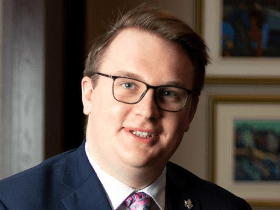 Daniel Perry is a consultant with Summa Strategies Canada, one of the country's leading public affairs firms. During the most recent federal election, he was a regular panelist on CBC's Power and Politics and CTV Morning Ottawa.