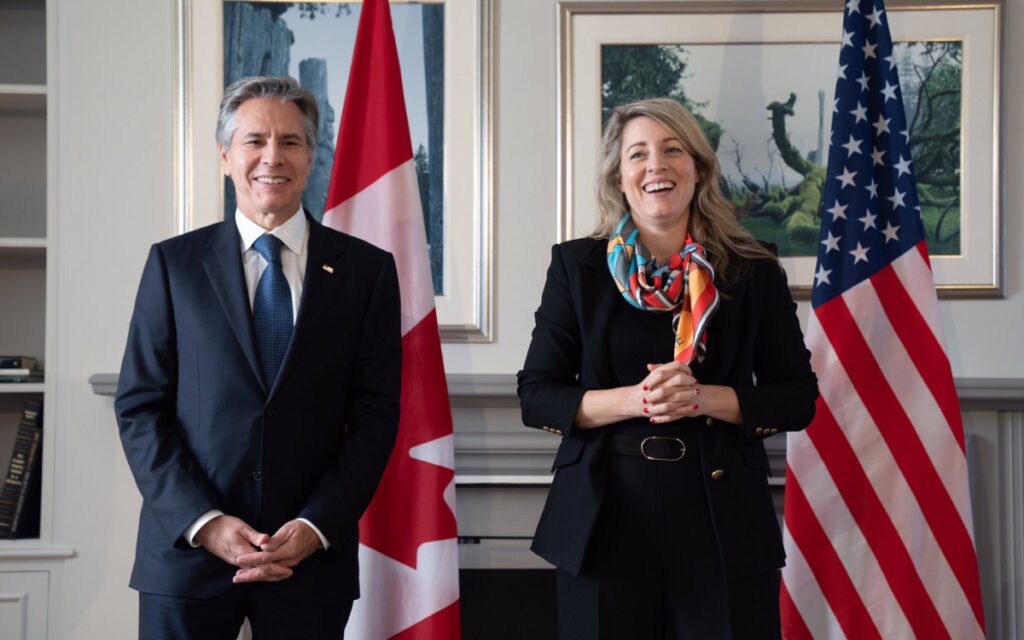 The Trudeau government appears to be finally, just maybe getting the memo: the U.S. is Canada's greatest ally. Pictured U.S. Secretary of State Antony Blinken visits with Foreign Affairs Minister Melanie Joly in Ottawa last week. Photo credit: Twitter/Antony Blinken
Last week U.S. Secretary of State Antony Blinken found his way to Ottawa to hold meetings with Foreign Affairs Minister Melanie Joly and to also sit down with PM Justin Trudeau. It was the first senior American official of the Biden Administration to visit Canadian soil since the election of U.S. President Joe Biden in 2020. Remarkably, President Biden has not visited Canada yet – and there is no trip planned. 
The Secretary of State's visit to Canada came a month after Joly travelled to Washington, D.C. to meet with Blinken, his officials, and members of Congress. Joly's Washington meetings were part of an orchestrated public relations assault on the American Capital by the Trudeau government. In addition to Joly's trip, Deputy Prime Minister Chrystia Freeland delivered a speech that called for "friendshoring" trade agreements. Also last month, Industry Minister Francois-Philippe Champagne made bold statements in Capitol Hill meetings about the need to break trading ties with China. 
The three senior ministers had a coordinated message for their Washington audiences, even though what they said was disconnected from the Trudeau government's track record of fostering closer ties with China. The ministers were there to provide solid messaging that Americans can depend on their neighbour to the north. Their overtures were well received. However, though Canada may have begun to talk the talk, the question still remains, "Is the Trudeau government prepared to walk the walk?"
One significant development from the Blinken-Joly's tête-à-tête in Ottawa was the public revelation that our government has requested to join the American led trade and security pact, Indo-Pacific Economic Framework for Prosperity (IPEF). To counter China's aggressive economic and trade policies, a total of 14 countries have joined together to discuss coordination of government policies: U.S., India, Australia, Japan, South Korea and many Asian countries. In May, when the IPEF was announced as "the future of the 21st century economy" by President Biden, Canada was left out of the group. 
Canada's exclusion from the IPEF was the latest in a long list of snubs by our country's traditional allies and trading partners. In the past few years, Canada has been embarrassed by being excluded from Indo-Pacific defence and security pact AUKUS and excluded from the Indo-Pacific trade relations discussions of QUAD. 
Canadian defence officials acknowledge that Canada is recognized as the "weak sister" when it comes to the country's ability to contribute to international safety priorities and crises. The Trudeau government's spending of only 1.4 per cent (2020 figures) on its military leaves the country punching below its weight, with a laundry list of military items that require immediate action: NORAD radar, submarines, aircraft, icebreakers, military pistols, to name a few. 
With the current state of the country's military, not surprisingly, Canada was not invited by the U.S. to participate in the initial NATO discussions about the defence of Ukraine and safety of Europe. 
At the time of being left out of AUKUS, retired Vice-Admiral Mark Norman surmised that Canada is no longer considered by its traditional allies as a contributing partner, "I don't think our allies think we are serious when it comes to defence. I think they have concerns not just about our defence expenditures, but also the extent to which our [international] commitments are both lasting and meaningful."
Canada's tarnished reputation with the U.S. and our allies makes the news that Melanie Joly heralded in Ottawa last week that much more important. Along with asking to join the American led IPEF, Joly announced Canada is striking new foreign affairs talks with U.S. officials. The "Canada-U.S. Strategic Dialogue on the Indo-Pacific" is explicitly formed to "further align our approaches" in the region.
In response to Joly's announcements, Blinken promised to support Canada's bid to join IPEF. He promised to "consult closely… on the development of a process for considering new members." He mentioned, "It's not a decision the United States can make unilaterally," but stated, "We would welcome Canada's participation."
Canada has been the subject of many inquiries in Washington, D.C. in the past year and it appears American politicians and officials are looking for tangible signs of reassurance. The most public dispute was the prolonged delay by the Trudeau government in banning China's Huawei technology company from developing Canada's 5G infrastructure. This delay caused undue tension and raised questions of trustworthiness with Canada's Five Eyes intelligence partners. 
Recent testimony and tabled reports at various U.S. Congress hearings have put Canada in a negative light when it comes to the country's ties to the communist China regime. There have been allegations raised about the joint Canada-China virus research at the Winnipeg Labs that likely led to the development of the COVID-19 virus. There are security reports respecting the China government-run police stations that are operating in Canada – apparently with the Trudeau government's knowledge. 
There have been ongoing criticisms against the Canadian industrial strategy and national security for permitting sales of critical mineral operations to Chinese companies – Manitoba's Tanco cesium mine is often cited as being a harmful sale. On this point, American business media have featured Dominic Barton, former Canadian ambassador to China, and his oft stated biases for Canada to continue fostering economic activities with communist China. Incidentally, Barton is currently chairman of the Board of Rio Tinto, an international mining company with huge investments in China. Barton is also a member of the advisory group counselling Foreign Affairs Minister Joly on the drafting of Canada's Indo-Pacific policy. 
This week Industry Minister Champagne took steps to address some American doubts regarding Canadian policies respecting critical minerals mining. Champagne ordered three state-owned Chinese companies to sell their investments in Canadian lithium companies. He also announced an update to Canada's industrial policy regarding investments by foreign state-owned enterprises in the country's critical minerals sector.  
With this decision, the minister asserted, "The government's decisions are based on facts and evidence and on the advice of critical minerals subject matter experts, Canada's security and intelligence community, and other government partners."
It is more than coincidence that Canada's senior ministers' PR exercise in Washington a month ago has been followed up with government announcements signaling noticeable shifts in the government's foreign affairs policy. Joly announces new alignment with the U.S.'s Indo-Pacific strategy. Champagne reassures Americans on its stewardship of Canada's critical minerals sector. 
Canada's next major foreign affairs policy announcement is the long-awaited release of the government's Indo-Pacific strategy, expected in the coming weeks. With it, one might expect Canada will be lock-step with the U.S. policy, reassuring our American friends that, indeed, we are walking the walk.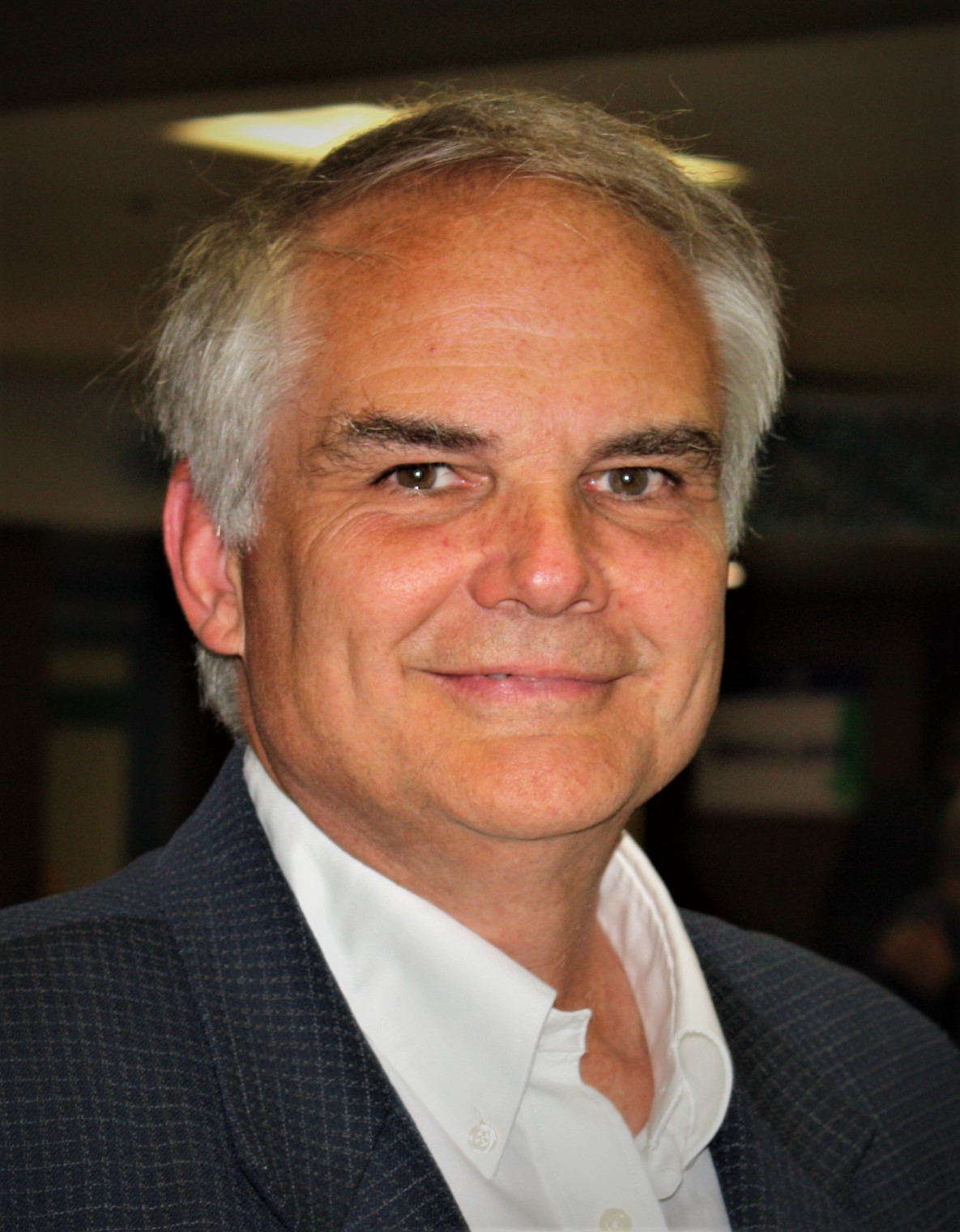 Chris George is an advocate, government relations advisor, and writer/copy editor. As president of a public relations firm established in 1994, Chris provides discreet counsel, tactical advice and management skills to CEOs/Presidents, Boards of Directors and senior executive teams in executing public and government relations campaigns and managing issues. Prior to this PR/GR career, Chris spent seven years on Parliament Hill on staffs of Cabinet Ministers and MPs. He has served in senior campaign positions for electoral and advocacy campaigns at every level of government. Today, Chris resides in Almonte, Ontario where he and his wife manage www.cgacommunications.com. Contact Chris at chrisg.george@gmail.com.