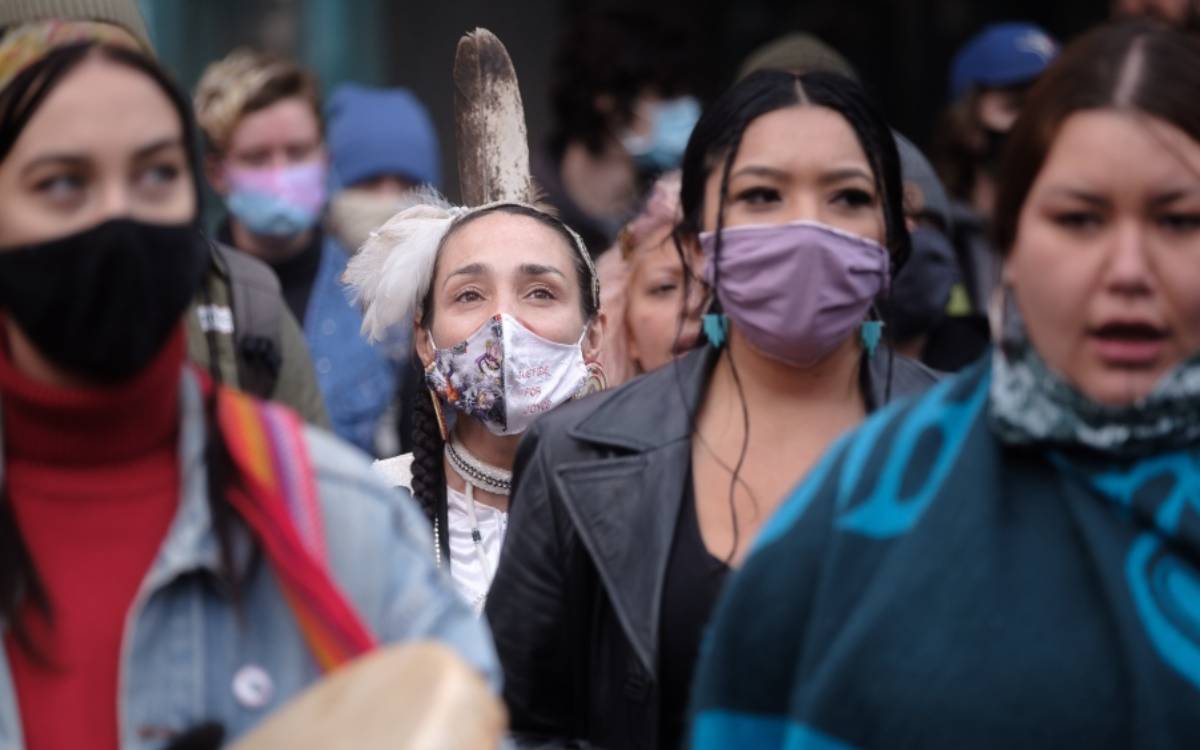 Responsible development contributes to overall reconciliation and Indigenous self-determination. Photo credit: The Canadian Press/Yader Guzman
If the federal government was serious about Indigenous economic reconciliation and self-determination, it would not engage in the "Just Transition" exercise it is contemplating.
After all, observers for awhile now have concluded that responsible development contributes to overall reconciliation and Indigenous self-determination by supporting the growth of sustainable Indigenous communities.
Transitioning away from resource development will move these communities away from opportunities to transition towards economic self-sufficiency and away from self-determination. That is a bad move for everyone.
According to Natural Resources Canada, the "Just Transition" is about "preparing the workforce to fully participate in the low-carbon economy while minimizing the impacts of labour market transitions."
The federal government should be honest with Canadians and tell them what the "Just Transition" really means.
Canadians need to see beyond all the euphemisms and the focus-group-tested language and realize this means a grand government-led attempt to shut down the oil and gas industry and make us all poorer as a result.
Make no mistake, shutting down the oil and gas sector will hurt our national economy, especially at a time when we are coming out of the pandemic. For Indigenous communities, transitioning away from oil and gas wealth will represent a major hit to some of the country's worst-off communities.
For both First Nation and Metis communities, the energy sector represents a significant source of employment and economic well-being. Indigenous people make up 7.4 per cent of the oil and gas sector. This stands in contrast to the mainstream Canadian average of 3.3 per cent. For Indigenous peoples, this represents tens of thousands of jobs.
Jobs in the energy sector – like most other resource jobs – are high paying private sector jobs that make a significant difference to Indigenous families and communities.
Beyond these jobs, oil and gas activity also represents impact benefit agreements between energy companies and Indigenous communities. Shutting down would mean tragic loss of program and education dollars for reserves. This funding helps prepare Indigenous workers for the future.
For example, the Coastal GasLink project in British Columbia has agreements with 20 First Nation communities along the route, along with thousands of construction jobs and contracting opportunities for Indigenous companies.
It seems projects involving Indigenous communities are some of the only moving forward these days, such as the proposed Ksi Lisims LNG project involving the Nisga'a Nation. This project could be game changer for Indigenous and non-Indigenous people in northwestern B.C. These are exactly the sorts of projects we need to transition towards, not away from.
Moving away from these sorts of projects will deprive these Indigenous communities of opportunities to move from poverty to prosperity.
Jason Victor, a business leader and member of the Cheam First Nation in B.C., says that "Oil and gas is an absolute necessity when it comes to economic opportunity for Indigenous people…Energy is an opportunity for Indigenous unity, where we as Indigenous people are able to reconnect across B.C. in support of this unprecedented opportunity to raise our people out of poverty."
It is difficult to imagine anything that would be more poverty-inducing for these Indigenous communities than limiting energy-based resource development on their lands.
For many Indigenous communities, resource development – including oil and gas – is the only game in town and for many community members, is also a life changer.
The First Nation closest to the LNG Canada project now under construction has seen transformation because of their relationship, according to Chief Councillor Crystal Smith.
For the Haisla Nation, this includes employment opportunities, new social programming, a new apartment complex and a new health centre that for the first time includes space for traditional healing.
If this government was serious about Indigenous economic reconciliation, it would not shut down an industry that represents hope and prosperity for individual members.
Much has been made about how much the oil and gas sector contributes to mainstream government coffers in the way of taxes and royalties. Indigenous governments are also a big recipient of energy sector dollars and phasing out oil and gas development will represent a big hit on transfers to Indigenous governments.
In 2017, the energy sector distributed about $55 million in payments (from conventional oil and natural gas activity) to Indigenous governments in Canada. In terms of business opportunities, the oil sands sector alone spent a record $2.4 billion with 275 Indigenous businesses in 2019, up from $1.5 billion with 263 companies in 2017.
Ottawa needs to start listening to Indigenous communities that are warning them about the devastating consequences of limiting resource development on their communities. A federal court judge recently found that the federal government often tunes out pro-development Indigenous voices in the consultation process involving resource projects.
It is time the government sides with Indigenous communities that are interested in resource development and creating prosperity for their members.
The government has an opportunity right now to listen to these Indigenous voices and realize that a "just transition" away from oil and gas would be a horrible decision for Indigenous communities. The government should work with the energy sector – which is already reducing its carbon footprint – and help facilitate more engagement between the sector and Indigenous communities, not less. This is clearly what Indigenous economic reconciliation entails for the future.
Joseph Quesnel is a Quebec Metis by heritage who works as a researcher and writer on Indigenous issues, in particular effective governance and economic development. This article first appeared on the Canadian Energy Centre website on September 24, 2021. Reprinted here with permission.