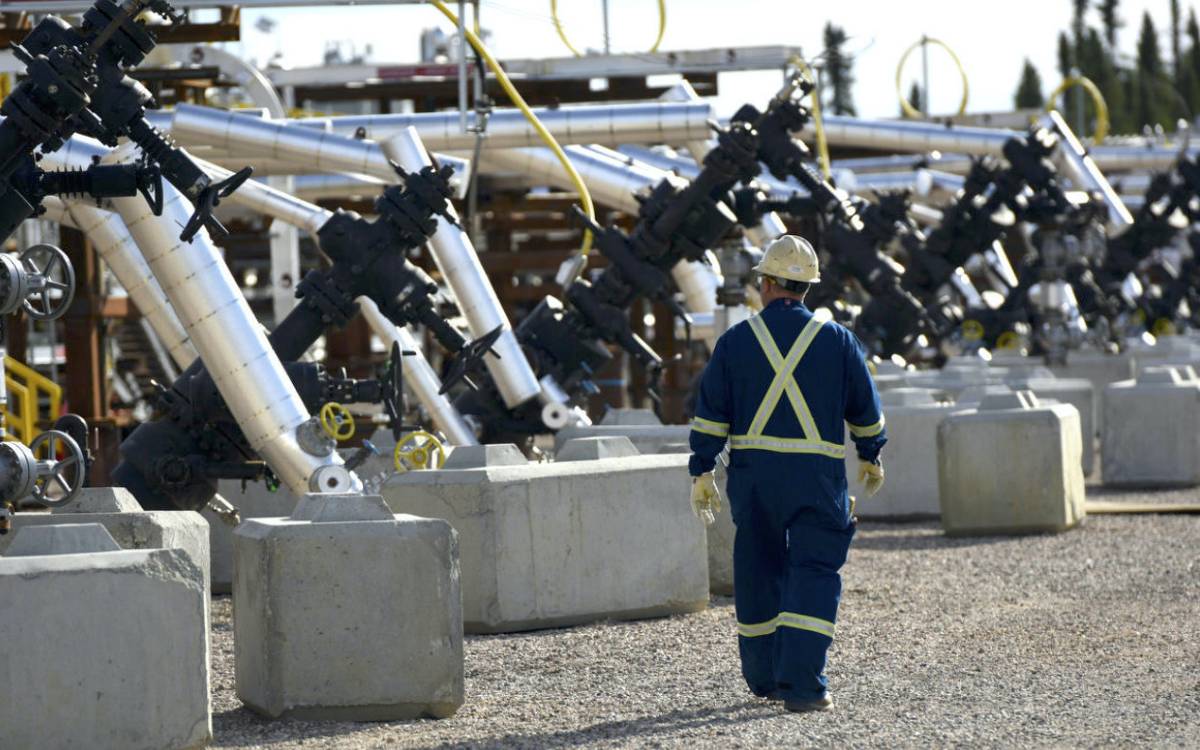 Several oil sands projects – like SAGD project in northern Alberta pictured above – now have emissions per barrel lower than the global average, BMO reports. Photo credit: Cenovus Energy
Companies in Canada's oil sands are working harder than other major global oil producers to reduce emissions in the fight against climate change, according to research by BMO Capital Markets.
The evidence is their track record reducing emissions per barrel, and their joint commitment to absolute emissions reductions in the future.
"Canada, at least among the major oil and gas producing countries in the world, is doing more than most to actually abate their emissions," says Jared Dziuba, analyst with BMO Capital Markets.
In Canada's oil sands, where most of the country's oil is produced, average emissions per barrel decreased by 27 per cent since 2013, BMO reports. At the same time, other major oil producers globally reduced intensity by just 13 per cent.
Put another way, BMO estimates that since 2013 the average oil sands barrel has shaved off more than 22 kilograms of emissions, compared to just five kilograms per barrel for other major global oil producers.
Several oil sands projects now have emissions per barrel lower than the global average, analysts report.
Advances in technology are the main reason for the emissions intensity reductions, Dziuba says.
In the past decade, the top five oil sands companies alone invested more than $1.2 billion on average per year on research and development spending. On a per barrel basis, that's significantly higher than almost anyone else in the world including the global oil majors, he says.
"Dollar for dollar, the Canadian energy industry has put more into improving technology and that ultimately is reflected in, if you look at the oil sands specifically, the trend in greenhouse gas emissions intensity, which has dropped considerably," Dziuba says.
Decarbonization competition to get 'red hot'
BMO analysts expect a further emissions intensity reduction of up to 30 per cent over the next decade just from technologies that exist and are ready to deploy.
Looking at the longer term, oil sands companies representing 90 per cent of the industry's production have jointly committed to reach net zero emissions by 2050, meaning that any emissions from production will be balanced by emissions removed from the atmosphere.
IHS Markit vice-president Kevin Birn says the challenge now will be for oil sands producers to accelerate work to reduce greenhouse gas emissions as other major producers around the world put more focus in this area.
"I think the space around decarbonization in oil and gas is only starting, and it's going to get red hot in terms of competition," he says.
XPRIZE positioning Canada as a technology leader
The innovation spark gets a push from the XPRIZE Foundation, which is building its presence in Canada's oil and gas sector after awarding the $20 million NRG COSIA Carbon XPRIZE earlier this year. That competition leaves behind a "Disneyland" legacy facility for decarbonization technology start-ups in Alberta.
Now the XPRIZE Foundation, Avatar Innovations and the University of Calgary are partnering to launch a tailor-made accelerator for teams in the Carbon Removal XPRIZE competition.
Funded by the Musk Foundation, the US$100 million project is the largest incentive prize in history. To win, teams must demonstrate solutions that directly capture and remove carbon dioxide from the atmosphere.
The Avatar Carbon Removal Accelerator in downtown Calgary expects to offer teams access to industry customers, partners and investors in workspace and lab facilities, with the opportunity to collaborate with University of Calgary researchers.
"The solutions that exist to decarbonize exist inside oil and gas, whether that's carbon capture or hydrogen or geothermal. These are solutions that we need," says Avatar Innovations CEO Kevin Krausert.
"What we're trying to do is create a bridge for companies interested in the carbon removal XPRIZE so we can build out an industry in Calgary out of Canada for the emerging carbon dioxide removal industry that is projected to be a multi-trillion-dollar industry by 2050."
This article originally appeared on the Canadian Energy Centre website on September 16, 2021. Republished here with permission.