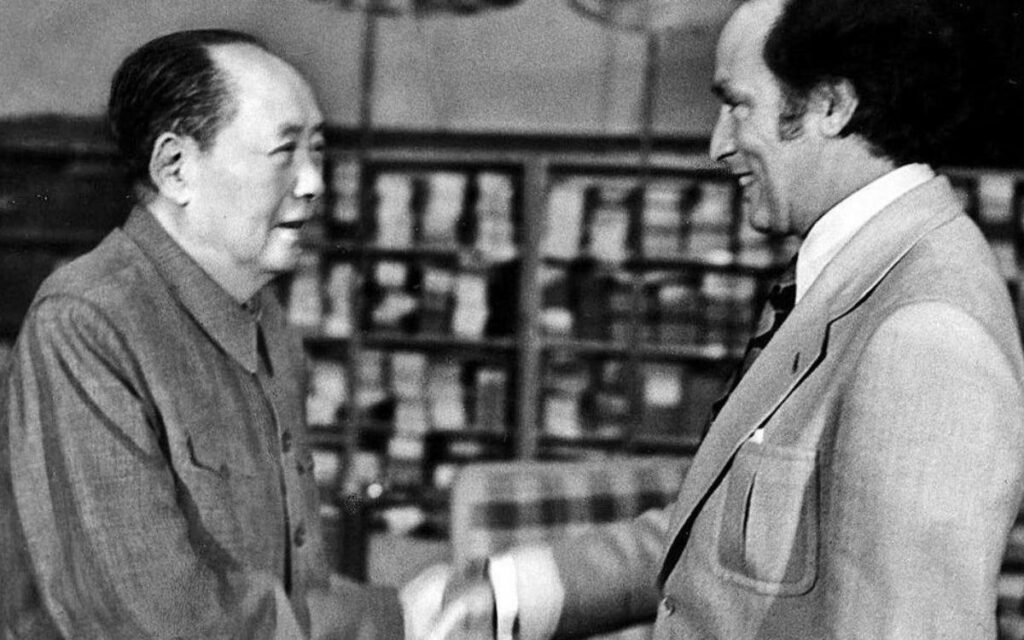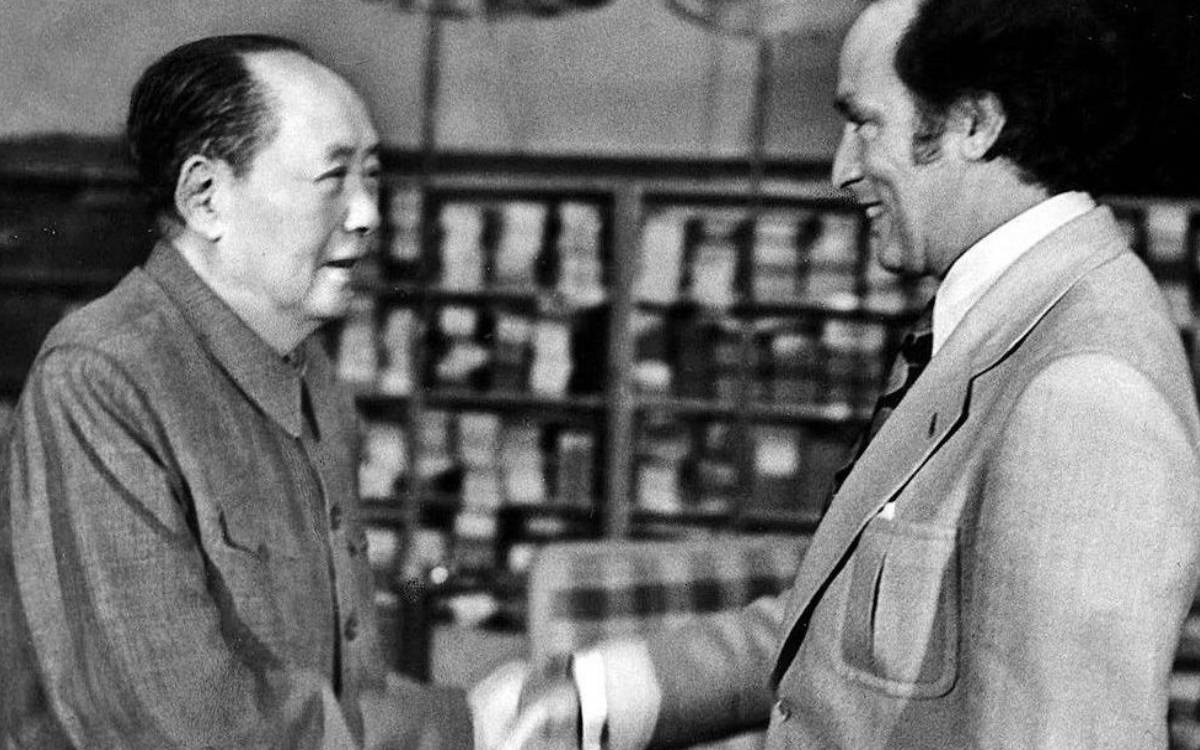 Prime Minister Pierre Elliott Trudeau shakes hands with Chairman Mao Zedong while on an official visit to China, Oct. 13, 1973. Photo credit: The Canadian Press
In the past month there have been headlines in Europe about the Communist China government's extensive, undue influence on Canada. The French government's Institut de Recherche Stratégique de l'Ecole Militaire (IRSEM) published "Chinese Influence Operations: A Machiavellian Moment," a 640-page report on broad and pervasive tactics employed by the communist regime to undermine Canada's traditional international relationships and sway them to enter into stronger ties with China. 
The IRSEM report details covert operations in Canadian politics, media, education, and a systematic approach to sway Chinese-Canadians within their local community groups. Communist China's objective is to prejudice Canadians against the United States and western allies, and to place the communist regime in a positive light. It undermines western liberal values and our democratic institutions, while stifling criticism of the Chinese government's treatment of Muslim Uyghurs, Hong Kong and Taiwan independence, Tibetans, and Falun Gong. The report states, "the Chinese Communist Party (CCP) is using every non-kinetic means in its toolbox to sway Canada and Chinese-Canadians."
France and its European neighbours view Canada as an example of what may happen in their countries with Communist China's rising influence. The IRSEM report warns European countries to be on guard against CCP's subversive tactics used on diaspora, such as surveillance of dissident communities, cyberattacks, refusal of visas, and identity fraud. It also makes the point that these activities on Canadian soil are not being countered because of "a lack of political will." The Canadian Government is viewed as decidedly pro-communist China: "Despite recurrent warnings from CSIS and numerous cases revealed in the press, political resistance—in essence a propensity to perceive China as a partner more than a threat—remains strong in Canada." 
The international community recognizes the Canadian government and many key players with the Liberal Party of Canada as having become inseparably linked to today's Communist China. Dating back to the early 1970's, when then-PM Pierre Trudeau forged diplomatic links with Chairman Mao and established new economic associations with the Beijing communists, Liberal-CCP relationships have grown.
The fountainhead of most Canadian-Chinese business relationships is Power Corporation, the multinational enterprise founded and controlled by the Montreal Desmarais family. Power Corp has significant investments in China including assets in state-owned China International Trust Investment Corporation. Power Corp also holds more than a quarter of the stakes in one of China's biggest asset managers – China Asset Management Corp, which currently oversees $245 billion investments in Chinese Belt and Road Initiative projects around the world.
Unquestionably, Power Corp's ongoing financial success lies in its China investments. The fact that Power Corp and the Liberal Party are interchangeable is the rub:
former PM Jean Chretien's son-in-law Andre Desmarais is President and co–CEO;

former PMs Paul Martin, Jean Chretien and Pierre Trudeau all served within Power Corp;

former PM Jean Chretien has served (and may still) as a Power Corp lobbyist in China;

John Rae, brother of former Liberal leader Bob Rae is a long-serving senior manager; 

Senator Peter Harder, named to the Upper Chamber by PM Justin Trudeau, served as President of the Canada-China Business Council (a business advocacy founded in 1978 by Paul Desmarais's lead advisors on China) and was Board Member of Power Financial Corporation, a wholly owned subsidiary of Power Corp.; and,

Olivier Desmarais, grandson of Paul Desmarais and Jean Chretien, today leads the Canada-China Business Council.
On top of this Gordian Knot, consider the numerous business and personal relations of the Trudeau-appointed Ambassador to China and his wife. Ambassador Dominic Barton lived in China for decades operating within corporate and financial circles, serving in senior managerial posts at McKinsey (the same company exposed for promoting Chinese street opioids worldwide). The other half of this multimillion-dollar power couple is Geraldine Buckingham, senior managing director and head of the world's largest asset manager, BlackRock – where she manages billions of dollars of investments in Asia-Pacific.
These personal and financial interests suggest a reasonable explanation for the unfathomable foreign policy stance the Trudeau government is taking with the CCP. How else to explain that, just four days after Canadians Michael Kovrig and Michael Spavor were freed from China prison cells, Ambassador Dominic Barton was urging Canadian businesses to increase their stakes in China. In conjunction with Barton's pitch, Foreign Affairs Minister (and Montreal MP) Marc Garneau announced Canada's new approach to China going forward as one that will "co-exist," "compete," "challenge," and "co-operate." And Beijing's official response came from China Ambassador to Canada Cong Peiwu, who stated: "This truly illustrates that China-Canada trade co-operation … continues to grow closer and deeper."
This shameless display by Canadians leaders prompted fierce criticism from many quarters in Ottawa – including former Liberal Justice Minister Irwin Cotler, and former Canadian ambassador to China David Mulroney, who observed: "It's beyond appalling that senior Canadians are already working the conference circuit pitching the benefits of the kowtow. Pay no attention to Xinjiang, Hong Kong or domestic interference, there's serious money to be made if we just bow low enough."
Without a doubt, the diplomatic dance between the Trudeau government and the CCP has resulted in Canada being considered suspect (perhaps rogue) by its traditional allies. The surprise announcement of AUKUS, the U.S.-U.K.-Australia defence and intelligence pact, is perhaps the first of many alliances Canada will be excluded from. 
Canadian international affairs experts have been vocal since the return of the two Michaels. Should the Trudeau government wish to stem the erosion of trust and reestablish a good standing with Canada's traditional alliances, it must begin to stand up to the Communist China regime. There have been many pro-active steps floated for the Trudeau government to consider, here are ten suggestions: 
1) exclude Huawei from Canada's 5G networks; 
2) recognize CCP's systematic repression of Muslim Uyghurs; 
3) denounce CCP's aggressions in Hong Kong and against Taiwan; 
4) denounce the organ harvesting from Falun Gong practitioners; 
5) block China's membership to the Comprehensive and Progressive Agreement for Trans-Pacific Partnership; 
and, in Ottawa: 
6) reveal the secrets about the joint Canada-China coronavirus research at the Winnipeg Lab; 
7) halt all future joint military winter-warfare training exercises with CCP forces in Canada; 
8) halt the $1 billion payment to Asia Infrastructure Bank; 
and 9) re-establish the MPs' special parliamentary committee tasked with reviewing Canada's foreign relations with China. 
Pro-active step no. 10: In order to make a political statement that the whole world will take notice of, Canadian officials and athletes should boycott the opening ceremonies of the February 2022 Beijing Winter Olympics. 
Final word on restoring Canada's international reputation goes to Charles Burton's lucid comments. As senior fellow at the Macdonald-Laurier Institute and a former diplomat serving at Canada's embassy in Beijing, Burton states: "Canadian virtue signaling on the Chinese regime's malign policies at home and abroad no longer cuts it with our allies… Simply put, we can't have it both ways when it comes to China, especially now that Mr. Kovrig and Mr. Spavor are finally back in Canada. We can no longer take a free ride on the U.S. defending the integrity of the rules-based international order in trade and diplomacy while we try to make enriching deals with the Chinese Communists."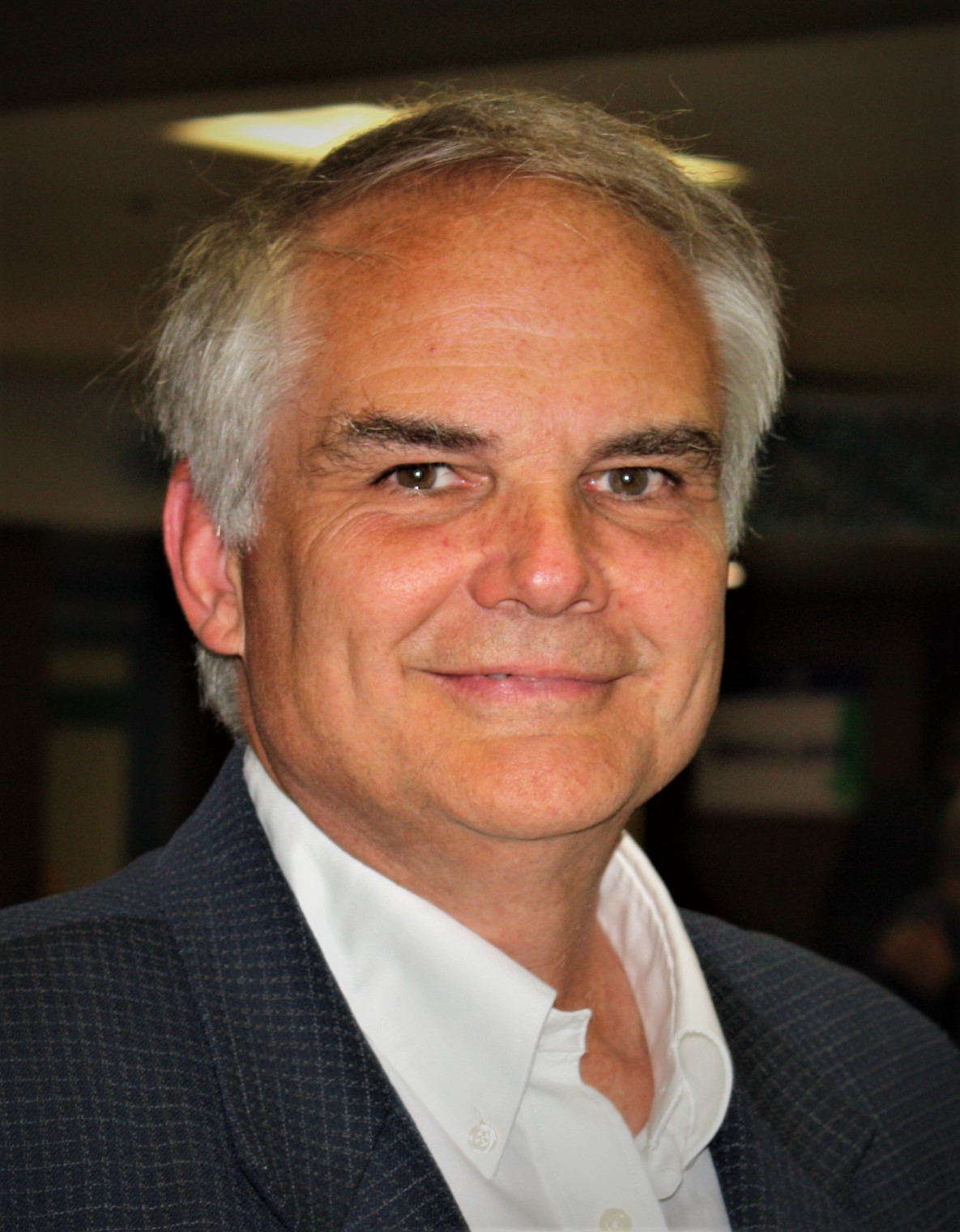 Chris George is an advocate, government relations advisor, and writer/copy editor. As president of a public relations firm established in 1994, Chris provides discreet counsel, tactical advice and management skills to CEOs/Presidents, Boards of Directors and senior executive teams in executing public and government relations campaigns and managing issues. Prior to this PR/GR career, Chris spent seven years on Parliament Hill on staffs of Cabinet Ministers and MPs. He has served in senior campaign positions for electoral and advocacy campaigns at every level of government. Today, Chris resides in Almonte, Ontario where he and his wife manage www.cgacommunications.com. Contact Chris at chrisg.george@gmail.com.