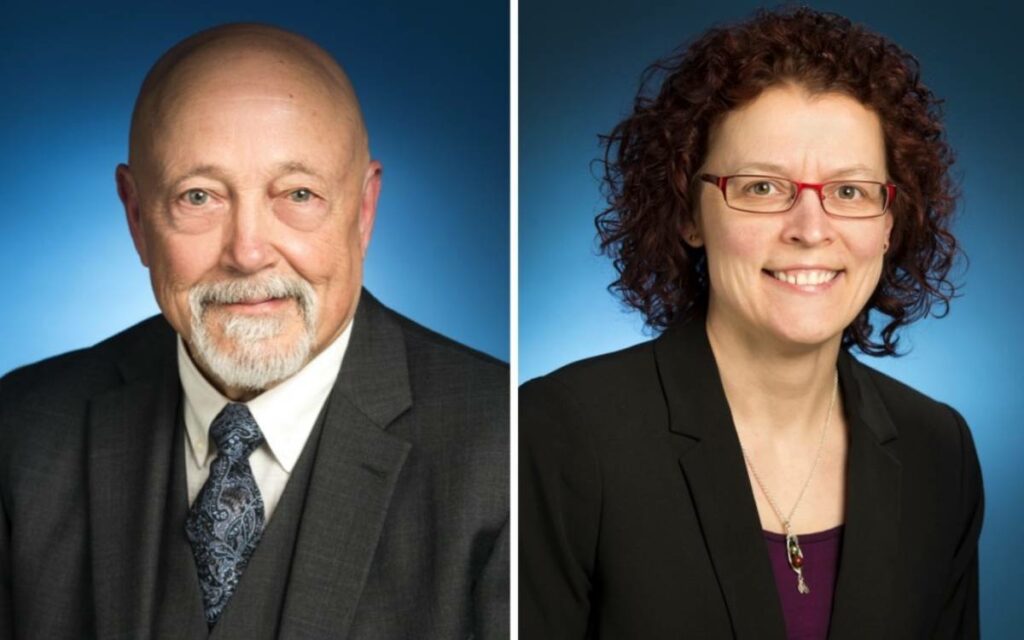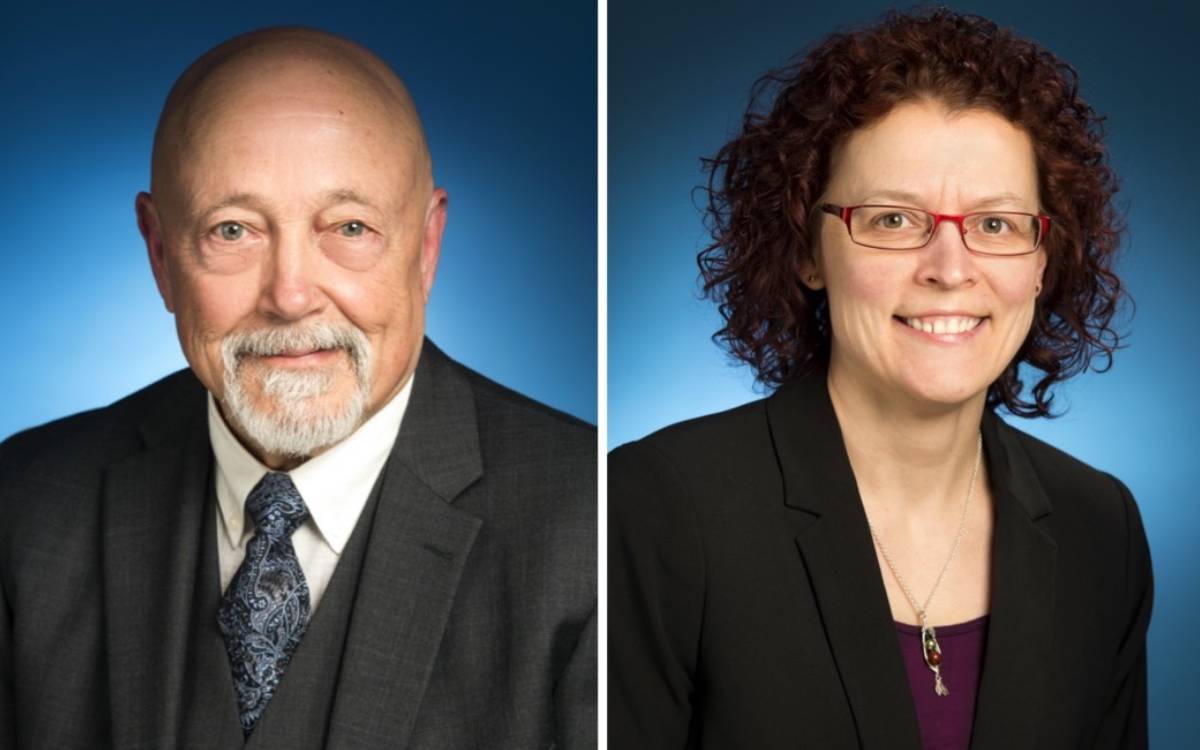 Chair and vice-chair of regional council's procedural by-law review committee Kelly Edgar (left) and Laura Ip (right). The committee's recommendation to give the CAO, clerk, and legal counsel the authority to deny delegation requests based on mere suspicion someone may be "unreasonable or offensive" was passed by regional council last Thursday. As Edgar put it when defending the amendment's necessity, some people have simply "lost the right to address us (council)." Photo credit: Niagara Region
Changes or additions to a municipality's procedural by-law – the rules that govern how a given council conducts everyday operations – typically don't receive much attention, let alone spark spirited debate amongst councillors. 
Then again, typically such additions are of little to no real consequence; quite unlike those put forward and approved by Niagara Regional Council last Thursday. 
In an unprecedented wresting of power away from the people, at its latest meeting on July 21 Niagara's upper-tier government voted 15-14 to effectively give its unelected, top-level bureaucrats the capacity to arbitrarily decide which members of the public are fit to speak as delegates at regional council and committee meetings.
Per the approved addition to the procedural by-law put forward Thursday, henceforth a delegation request will be rejected "in exceptional circumstances…where the CAO, Clerk and Legal Counsel determine, in consultation with the Regional Chair/Committee Chair, acting reasonably, that a person requesting to be a delegate at a meeting is likely to engage in unreasonable or offensive conduct, make unreasonable or offensive statements or demands, repeatedly speak on a subject matter that is not within the Region's jurisdiction, or otherwise misuse the opportunity (amended from 'privilege', see below) of addressing Committee or Council."
Concerned by the amendment's professed infringement upon the citizenry's right to participate in the democratic process, St. Catharines regional councillor Mike Britton put forth a motion that would have scrapped the restrictive policy altogether, however, it was ultimately voted down. 
Speaking in opposition to the proposed change, Britton said it "presupposes…bad behaviour" and relies on subjective interpretation to meet its end goal. 
"How do we know what is 'likely'?", asked Britton, "Do we have a crystal ball? How do we know if someone is 'likely' to engage in bad behaviour? How do we determine reasonability? Is there something that might be reasonable for some, but not to others?" 
Councillor Leanna Villella from Welland, who seconded Britton's motion to scrap the controversial section, took particular issue with the original amendment's use of the term "privilege" in describing the participation of community members, something Britton himself, Mayor of Niagara Falls Jim Diodati, and other councillors pointed out as well.
"I don't agree with that," said Villella, "I am the one who is privileged to be sitting here to able to advocate for the residents of the community. I don't consider them having the privilege to be speaking to me."
While council stopped short of changing "privilege" to "right", the problematic noun was eventually swapped with "opportunity". 
Mayor of Fort Erie Wayne Redekop, in concord with the motion's mover and seconder, pointed out that security is present at council and committee meetings to deal with any unruly delegates, should it come to that, and talked about his experience dealing with one of the region's "most obstructive individuals" in the late Fred Bracken. 
"He's a resident. He lives in Niagara. And I tend to agree with the proposition that he should have the right to address council. If there's a point during the delegation that he becomes abusive…then we cut him off. And I think that's true for anyone," said Redekop, echoing an earlier sentiment from Port Colborne councillor Barbara Butters, who reasoned council should deal with issues if and as they arise, not pre-empt them and exclude people.
On the other side of the debate last Thursday evening, speaking in favour of giving regional staff the authority to exclude delegates they suspect may be "unreasonable or offensive", Mayor of St. Catharines Walter Sendzik argued "context is important". 
"Recognizing that Councillor Britton hasn't been around this table for any length of time really, the reality is this (amendment) came about because of situations and also experiences that many of us have had over the last eight plus years," said Sendzik. 
According to the outgoing mayor, as well as his regional colleagues from St. Catharines Kelly Edgar, Laura Ip, and Mat Siscoe, and others, barring certain individuals from council chambers is necessary because of alleged "harassment and abuse" some councillors have faced (primarily outside of council chambers, notably) over the last term. 
Siscoe used the example of his former city council colleague Karrie Porter having a brick thrown through her window to support his position. Ip pointed to "the emails we've received for the past few years" to buttress her stance. While Edgar summarily opined, "There are people throughout our community that, through their past actions, comments, and whatever, have – in my opinion – lost the right to address us."
In the end, the vote to remove the debated section from the procedural by-law amendments finished in a 14-14 tie. 
Councillors Britton, Butters, Bylsma, Campion, Chiocchio, Diodati, Disero, Junkin, Nicholson, Redekop, Ugulini, Villella, Whalen, and Zalepa voted to scrap the restrictive addition. 
Councillors Easton, Edgar, Fertich, Foster, Gibson, Greenwood, Heit, Huson, Insinna, Ip, Rigby, Sendzik, Siscoe, and Witteveen voted to keep it.
Chair Jim Bradley broke the tie by voting against Britton's motion, ensuring the new section was added to Niagara's procedural by-law.