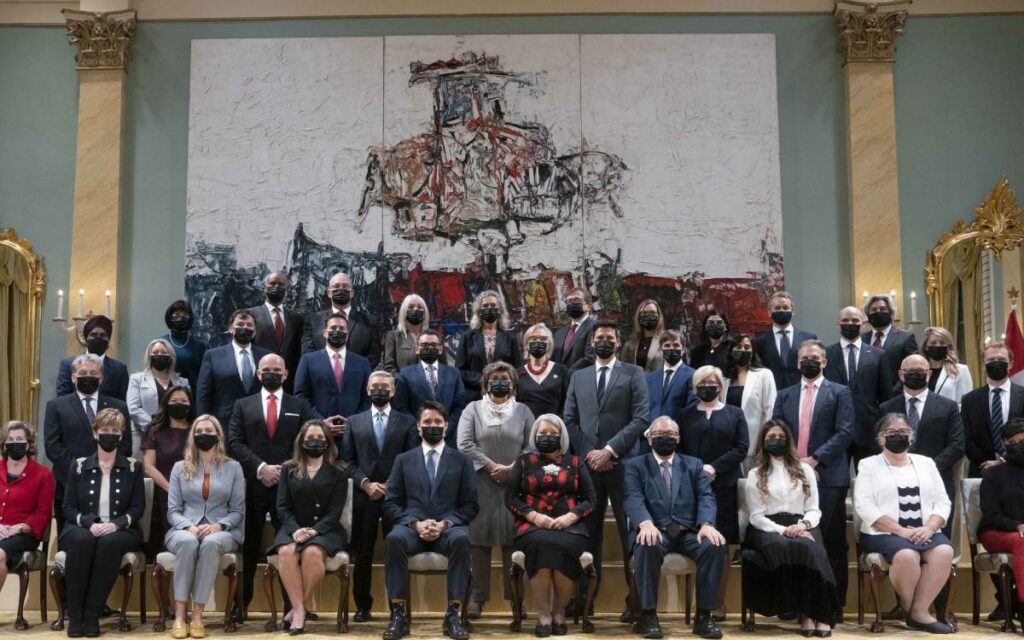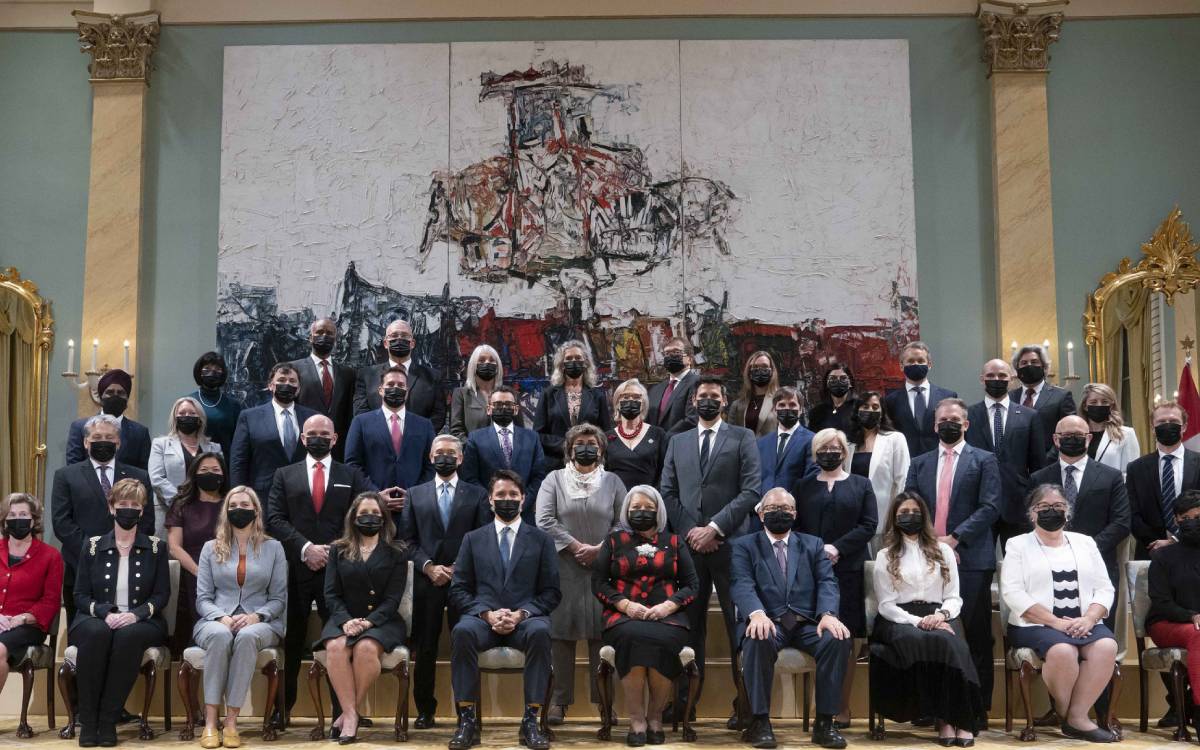 Trudeau's new, but generally familiar cabinet at its swearing-in ceremony, Oct. 26, 2021. Aside from briefly calling together his inner circle, the prime minister has largely ignored many of his Liberal caucus colleagues since regaining a minority mandate in September. Photo credit: The Canadian Press/Adrian Wyld 
If politics is a team sport, Justin Trudeau's caucus has been left with the impression they've been benched. 
Unrest appears to be growing amongst members of the Liberal caucus some six weeks after the federal election campaign. A number of media reports cite on and off the record observations about the prime minister's pace of returning to work, and specifically the absence of a national caucus meeting. One has now been set for November 8, but the government's counterparts across the aisle have already hosted these congregations (and in some cases, more than one).
Grumbling amongst caucus members on its own is not newsworthy. Every political party, regardless of ideology, has to tend to discontent teammates; it is a standard part of caucus management. But there's a few reasons why these murmurs may be a bit louder this mandate – and why the prime minister ought not to ignore them. 
Most partisans will tell you there's a bloodletting after an election: an opportunity for those who were knocking on the doors for four weeks to share what they thought went right (but usually, what went wrong) during the campaign period. Trudeau's current crop of MPs haven't had that opportunity, despite being the ones to do a lot of the heavy lifting on the "urgent election" narrative that dogged the Liberals and, arguably, kept them from forming a majority government. 
Many Liberal caucus members had their careers threatened by Trudeau's choice to force an election. The least the Liberal brain-trust can do (at least, in the minds of backbench Members of Parliament) is offer them an opportunity to vent. 
Delaying a caucus gathering might make good sense were the business of governing also put on hold. But a look at what's transpired over the last few weeks demonstrably shows that's not the case. 
While the Liberals have been slow to reconvene the House and collaborate across the aisle, that hasn't stopped them from moving ahead with sweeping changes to vaccine requirements for travelers and bringing an end to pandemic support programs that businesses had been relying on for the last eighteen months. Regardless of the position of Liberal caucus on either policy, it is fair criticism that they ought to have been involved in the decision-making on these items, given they are the ones who need to sell these policies at the local level. 
That policy development and implementation will also kick into a higher gear now that Trudeau has named his cabinet. While not every member of Liberal caucus anticipates they're going to be appointed to the front bench, it is another (subtle) reminder to disgruntled caucus members they're not the prime minister's A-Team.
The appointment of this particular cabinet is also a clear signal that Trudeau and his advisers view caucus as something to be managed, rather than involved. Lost in the coverage on cabinet day was the observation that there's few new voices around the cabinet table, with Trudeau instead opting to play musical chairs with his already-trusted ministers. Should recent history serve as an indication, the inner circle of decision-making and access gets smaller, not larger, as government mandates stretch. If Liberal caucus members were feeling as though they were on the outs before, this cabinet roster likely didn't do much to convince them otherwise.
Trudeau's reluctance to meet with his caucus colleagues also sends some mixed signals to new voices around the table, who will be coming to Ottawa (virtually or otherwise) for the first time. Getting up to speed on legislative priorities and connecting with one another is an important part of the onboarding process for these new recruits. A little bit of face time with the leader they just spent months promoting (and in some cases, defending) seems a courteous trade-off.
Considering what Trudeau has made time for these last few weeks, the heel-dragging on meeting with his own caucus members is a head-scratcher. There was, of course, the ill-timed trip to Tofino on the National Day for Truth and Reconciliation; the fallout from which should have sparked an inclination for the prime minister to get back to work quickly. That signal was missed. And, even if performative, Trudeau has made time to meet with Opposition leaders from other parties before meeting with the broader Liberal team. 
Now, he's on an international junket to Italy and Scotland, hob-knobbing with foreign counterparts while his colleagues twiddle their thumbs awaiting his return. 
Are the "concerns" of off-the-record Liberals paving the way for a revolt? Hardly. Team Trudeau has formidable caucus discipline, and at the end of the day, access to power will trump any bruised egos that MPs may have. But it should serve as a reminder for Prime Minister Trudeau and his inner circle, who have played favourites in the past, to practice the inclusivity and collaboration that they so often preach.
Trudeau will want to keep another sports adage in mind as he kicks off another minority mandate: there's no "i" in team.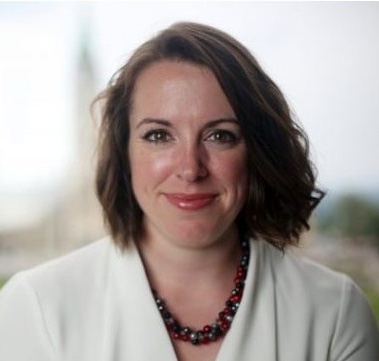 Kate Harrison is the Vice-Chair of Summa Strategies Canada, one of the country's leading public affairs firms. She is a regular political commentator on CTV, CBC, Sirius XM, and other talk radio stations, as well as a contributor to various news outlets. She has been involved in conservative politics for over fifteen years, and an active member of the country's conservative movement.