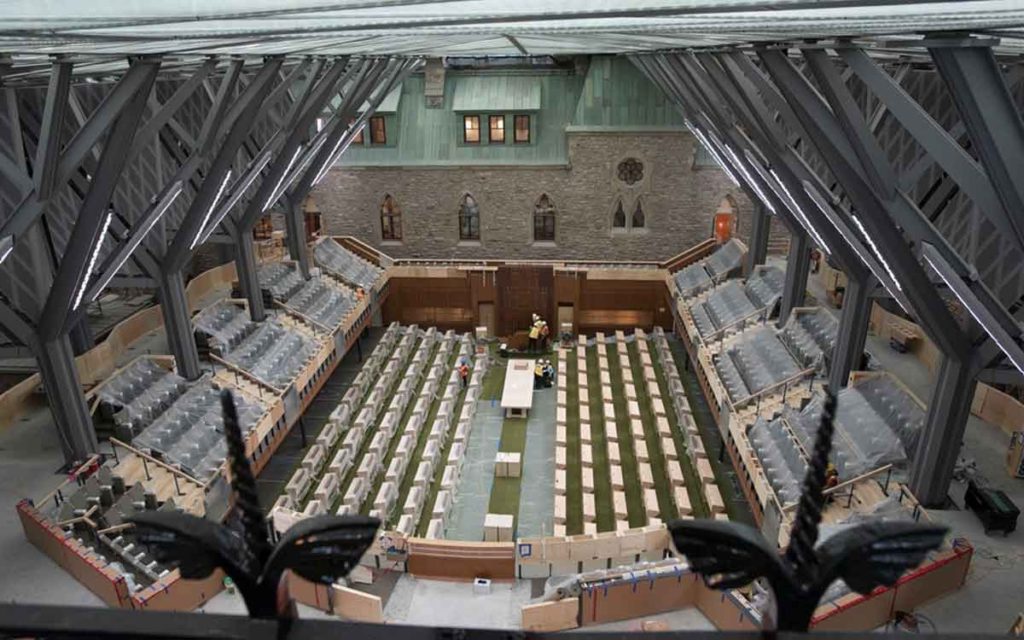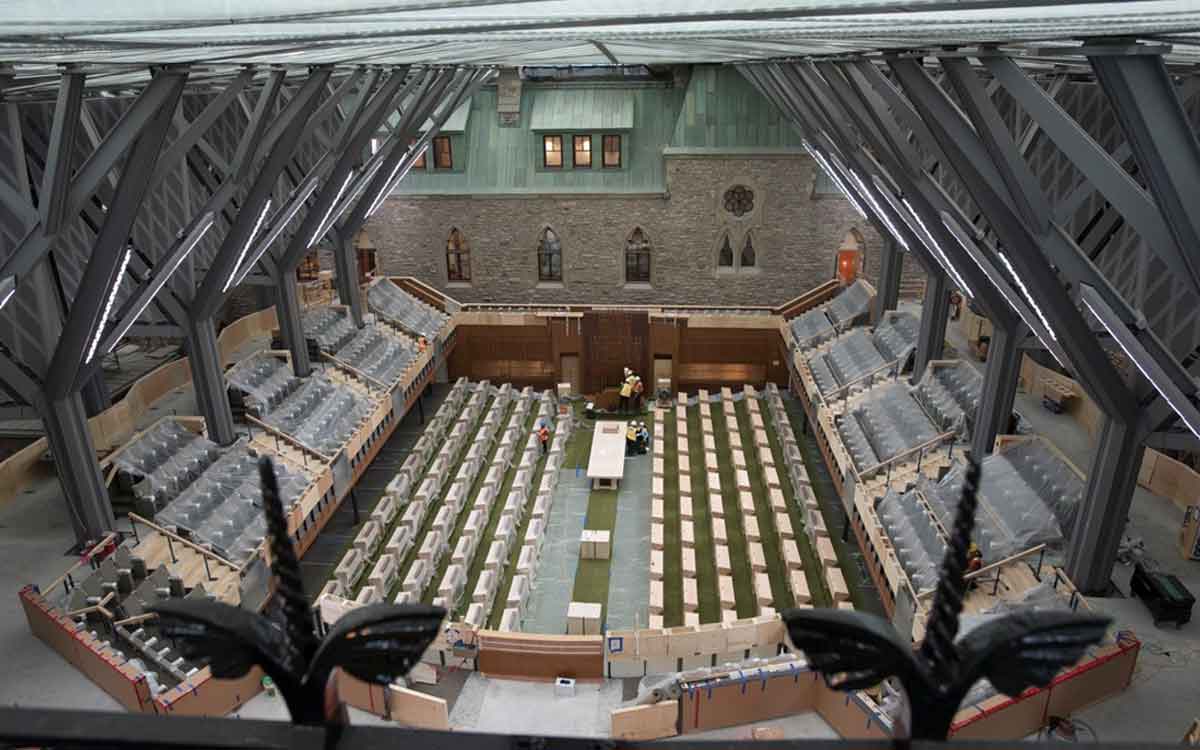 The temporary House of Commons in West Block. Photo taken as construction was underway in March 2018.
In precisely three weeks, the country's most iconic edifice will close its doors for some much-needed renovations.
Centre Block, home to the Canadian Senate and House of Commons, has been in physical decline for decades. According to experts, the building requires at least 10 years of refurbishment to ensure the future safety of its patrons and longevity of its architecture.
The renovations, part of a larger, multiple-billion dollar Parliament Hill rehabilitation project that began in 2002, are set to officially begin January 25.
To date, work has been completed on the Library of Parliament and at West Block. Renovations are ongoing at East Block.
Centre Block has seen only mechanical upgrades and minor tweaks following its complete reconstruction after the infamous fire of 1916.
While the building is hardly falling over, the intervening century has been less than kind to the heart of Parliament Hill.
In 1966, a lone bomber blew himself up in a third-floor bathroom. Although Paul Joseph Cartier intended to denote the explosive on the House floor, his failed plot resulted in isolated damage.
Twenty-three years later, in 1989, Charles Yacoub hijacked a Greyhound bus and drove it up to Centre Block, before firing off shots and taking hostages. All that was really damaged was the lawn, however.
Natural disasters, like the Great Ice Storm of 1998, have also taken a cumulative toll on Canada's most important legislative building.
Most recently, terrorist Michael Zehaf-Bibeau engaged in a shootout with parliamentary security in Centre Block's Hall of Honour in 2014. Shots fired in the incident left scars along the stone walls, a hole in the wood panelling, and shattered a window.
Heritage experts, political pundits, and members of parliament have gone back-and-forth on whether or not to preserve the tragedy's vivid reminders.
At present, it's unclear how upcoming rehabilitation efforts will address the damage.
In the meantime, while Centre Block takes on its temporary role as a construction zone, MPs will convene in the newly-renovated West Block. The interim meeting spot is set beneath a glass-panelled roof and a modern black beamed support structure.
The Senate will meet across the road in the Government Conference Centre as its respective chamber is refurbished. The over 100-year-old building functioned as Ottawa's train station up until 1966.
Outside of cosmetic and structural changes, another goal of the ongoing revamp is to make Parliament Hill more campus-like, secure, and operationally efficient.
Taxpayers will have to wait until all work is complete to see the final bill for the entire rehabilitation project. But around $3 billion of the $4.7 billion approved budget has been spent thus far.