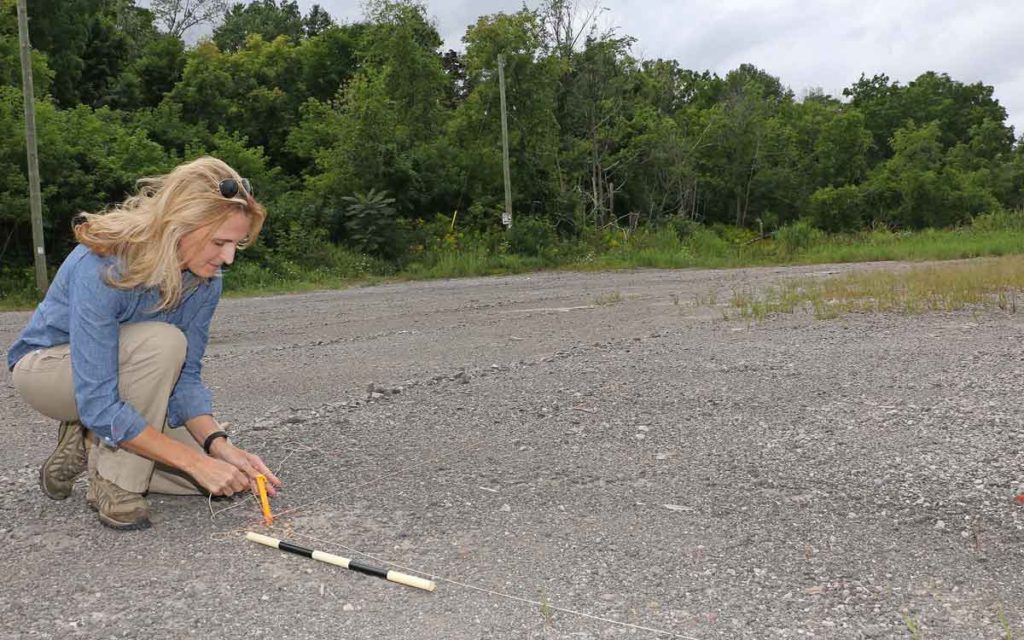 Professor Kimberly Monk of Brock University takes measurements at the site where she and her team aim to uncover an abandoned shipyard in St. Catharines.
A team of researchers led by Brock University adjunct professor Dr. Kimberly Monk was recently awarded a more than $70,000 Insight Development Grant from Canada's Social Sciences and Humanities Research Council (SSHRC).
The funds will be used by Dr. Monk and her affiliates to excavate and document an abandoned 19th century shipyard along Twelve Mile Creek in St. Catharines.
The site, used for training by the St. Catharines Fire Department since the 1970s, currently sits as an unassuming flat gravel patch off Renown Rd. underneath Burgoyne Bridge.
Come springtime, however, the area will be buzzing with activity; as geophysicists, archaeologists, historians, and graduate students from Brock, McMaster, and Trent University work to peel back nearly a century and a half of neglect.
From 1838 until 1891, Shickluna Shipyard — named after the Malta-born shipbuilder who owned and ran the construction docks — was one of inland Canada's premier vessel manufacturers.
During its height of success in the mid-1800s, the shipyard employed some 250-300 people. It brought considerable economic development to the area and established St. Catharines as one the Great Lakes' top ship building and repair cities.
In total, Shickluna Shipyard produced nearly 150 vessels over 53 years in operation.
The site was abandoned in 1901.
Preserved under layers of soil and gravel after being back-filled in the 1950s, much of the shipyard's material culture should, in theory, still be intact.
A maritime archaeologist with specialties in post-1500 Atlantic and Great Lakes shipping history, Dr. Monk is excited to study such an exceptional site.
"Shipyards form an important part of the maritime landscape but opportunities to study them are rare," said Dr. Monk. "The location and extended use of this site will provide an unmatched opportunity to investigate how the shipbuilding industry shaped the social and economic culture of Niagara."
The Brock professor and her co-applicants represent one of 677 research projects from across the country that received an Insight Development Grant for the 2018 competition.
The federal support will help sustain the relatively large project over the next two years.
"These funds will enable our multidisciplinary goals so we may address how to re-engage local historic environments and ensure heritage corridors are managed and interpreted effectively," said Dr. Monk.
"We are grateful for the opportunity to document this nationally-significant archaeological site and look forward to sharing our results with the community."
Those interested in following the project's development can do so by visiting the Shickluna Shipyard Facebook page at: https://www.facebook.com/shicklunashipyard/