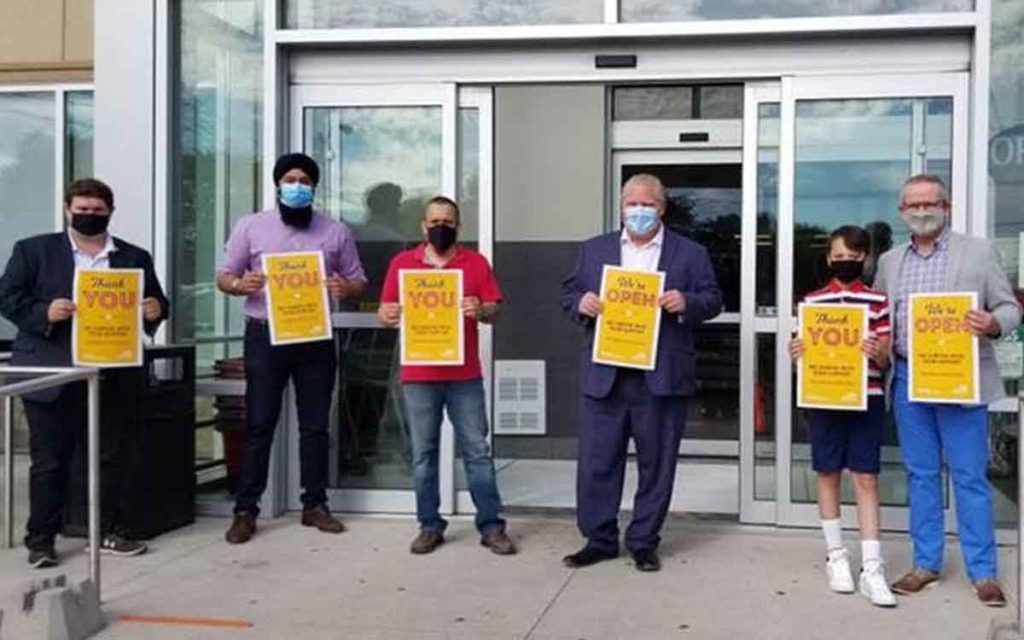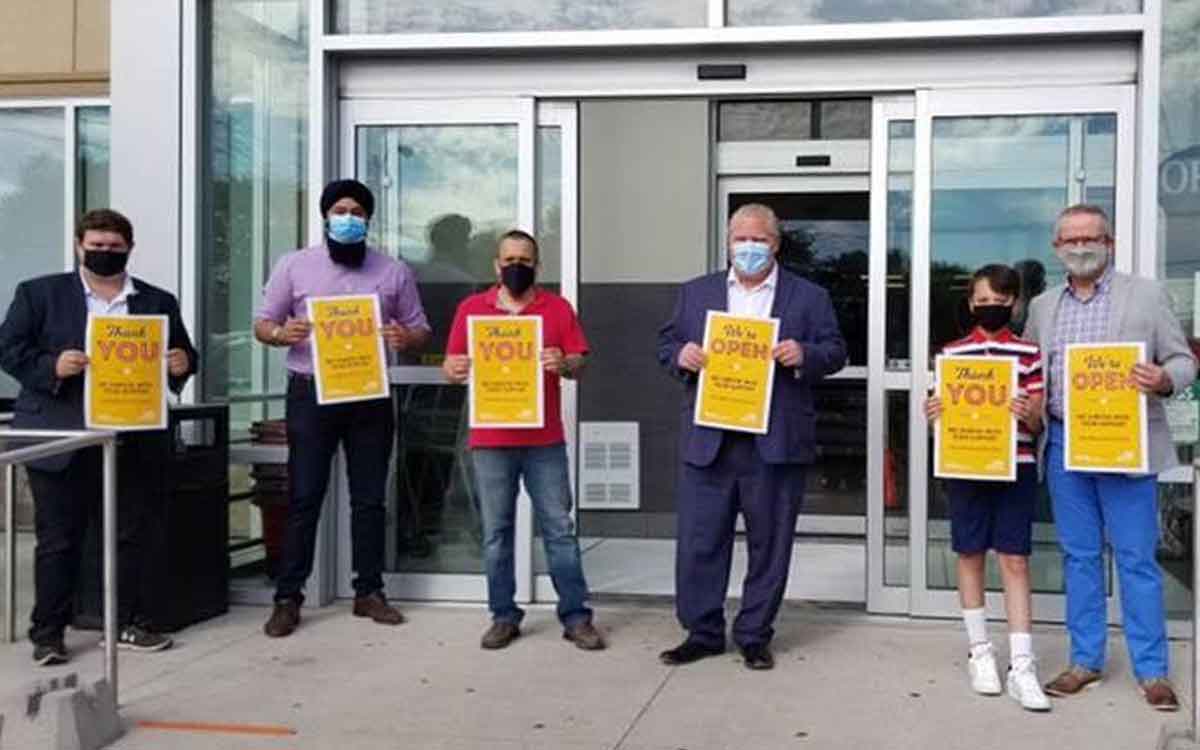 The Canadian Federation of Independent Business launched a shop local campaign with the help of Premier Doug Ford (middle). Supplied photo.
Premier Ford joined Canadian Federation of Independent Business (CFIB) president Dan Kelly recently to launch the Canadian Federation of Independent Business's (CFIB's) new #SmallBusinessEveryDay campaign in Ontario to encourage local shopping and amplify the actions of other organizations supporting local businesses through COVID-19 recovery.
The Premier and Dan Kelly were joined for the Ontario campaign launch at Tre Rose Bakery in Etobicoke by Prabmeet Sarkaria, Associate Minister of Small Business and Red Tape Reduction and Toronto councillor Michael Ford.
"Our small businesses are the backbone of our economy and they employ thousands of people in communities across the province," said Doug Ford, Premier of Ontario. "During these extraordinary times, we have to do everything we can to help them get back on their feet quickly. As more small businesses open their doors again, I encourage everyone to shop local and show their support."
"Small businesses desperately need help to recover from COVID-19, with seven out of 10 business owners worried that customers won't come back and many still struggling to pay bills," said CFIB president Dan Kelly. "Everyone from elected representatives to family, friends and neighbours can help make this campaign a success by spreading the word to 'shop local first' and encouraging others to do the same."
At smallbusinesseveryday.ca consumers will find a series of doable challenges like visiting a local business you have never walked into before. The website also promotes the many other Canadian campaigns that have been launched to support local businesses and includes tools for business owners such as free "We're Open" and "Thank you" for supporting small business posters.
The national campaign also includes a small business recovery dashboard that will be updated weekly. For Ontario, this dashboard shows that 47 per cent of small businesses are fully open, but only 29 per cent are at usual staffing levels, and 17 per cent are making normal sales.
On the customer side, three-quarters of consumers report not spending as much overall as they did pre-COVID-19, yet almost half report spending more at larger retailers, many of whom were allowed to stay open when the pandemic hit.
The #SmallBusinessEveryDay campaign is an extension of CFIB's annual Small Business Saturday (during Small Business Week in October) and will run until the end of the year. The campaign is supported by Scotiabank, Chase Merchant Services, eBay Canada, Facebook, and Interac Corp.