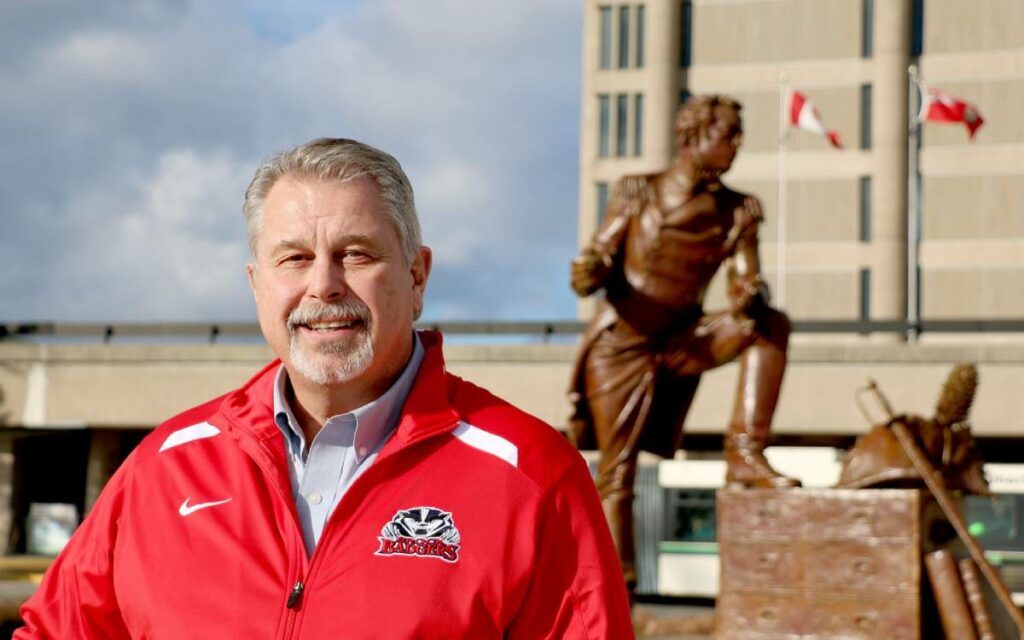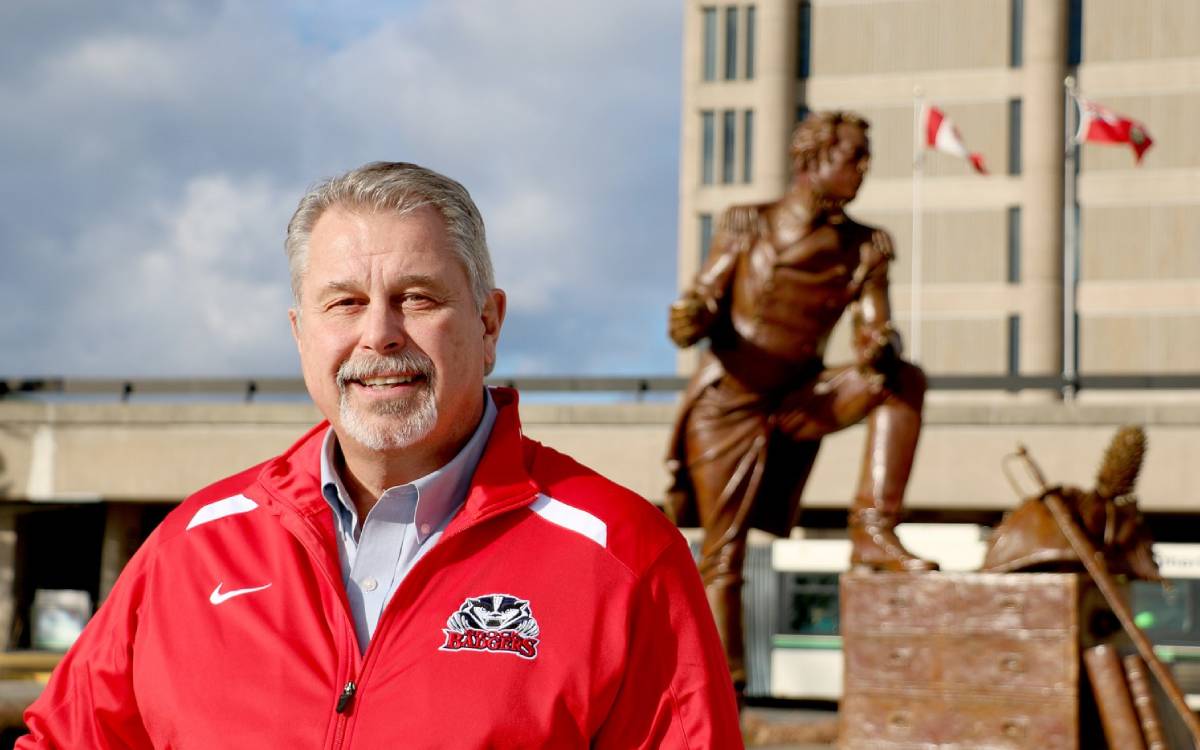 The Ontario PC Party officially named Neil Lumsden (pictured, 2016) its 2022 candidate for Hamilton East-Stoney Creek on Wednesday. Photo credit: Brock University
Inducted into the Canadian Football Hall of Fame in 2014 after a successful university career with the Ottawa Gee-Gee's and a decade in the Canadian Football League (CFL), Neil Lumsden has made the shift from sports to politics. 
On Wednesday, the 69-year-old former running back was named the 2022 Ontario PC candidate for the riding of Hamilton East-Stoney Creek, which extends along Lake Ontario from Grimsby in the east up to Hamilton Harbour in the west.
"I am honoured to be your PC candidate, and look forward to joining Doug Ford and his PC team who have a clear plan to build Ontario, work for workers and make life affordable for families and future generations in Hamilton East-Stoney Creek," said Lumsden in a media release.
As an Ottawa Gee-Gee, Lumsden helped the university win a Vanier Cup in 1975 and was an Ontario Universities Athletics Association (OUAA) all-star running back from 1972 to 1975. He was also named OUAA MVP and CIAU All-Canadian three years of his collegiate career. 
As a professional, Lumsden played for the CFL's Toronto Argonauts, Hamilton Tiger-Cats, and Edmonton Eskimos. He won three consecutive Grey Cup championships with Edmonton from 1980 to 1982, before winning a fourth title as general manager of the Ti-Cats in 1999. 
"Neil has what it takes to win, and we are pleased to have him join our team as our official 2022 Ontario PC candidate for Hamilton East-Stoney Creek," said President of the Ontario PC Party Brian Patterson. 
Following his time as a professional player, administrator, and scout, Lumsden spent several years coaching junior and university football, working as an assistant running backs coach with the Guelph Gryphons from 2010 to 2016. 
Lumsden took up the role of Director of Athletics and Recreation at Brock University in Feb. 2016. During his time in charge of sports at the St. Catharines university, Lumsden saw Brock athletics reach a number of milestones, helping men's hockey, men's basketball, and wrestling find success at the national level. 
Lumsden was also responsible for bringing in the school's first-ever manager of sports performance and orchestrated several key coaching hires. 
After exactly three years on the job at Brock, Lumsden retired from the university.
"I loved my time here," Lumsden told BP Sports in 2019. "What we — and the key word is we — have been able to accomplish in three years has been outstanding."
Despite his winning ways, Lumsden will have an uphill battle waving the PC banner in Hamilton East-Stoney Creek, as the riding has been solidly NDP orange at the provincial level since its creation in 2006. 
Incumbent Ontario NDP MPP Paul Miller has won four consecutive contests, securing over 50 per cent of the vote in the last election. 
Lumsden will undoubtedly try to seize upon various allegations and human rights complaints filed against Miller in 2018. 
While he hasn't officially announced his candidacy, according to the Hamilton Spectator, Miller intends to run for a fifth term in June.