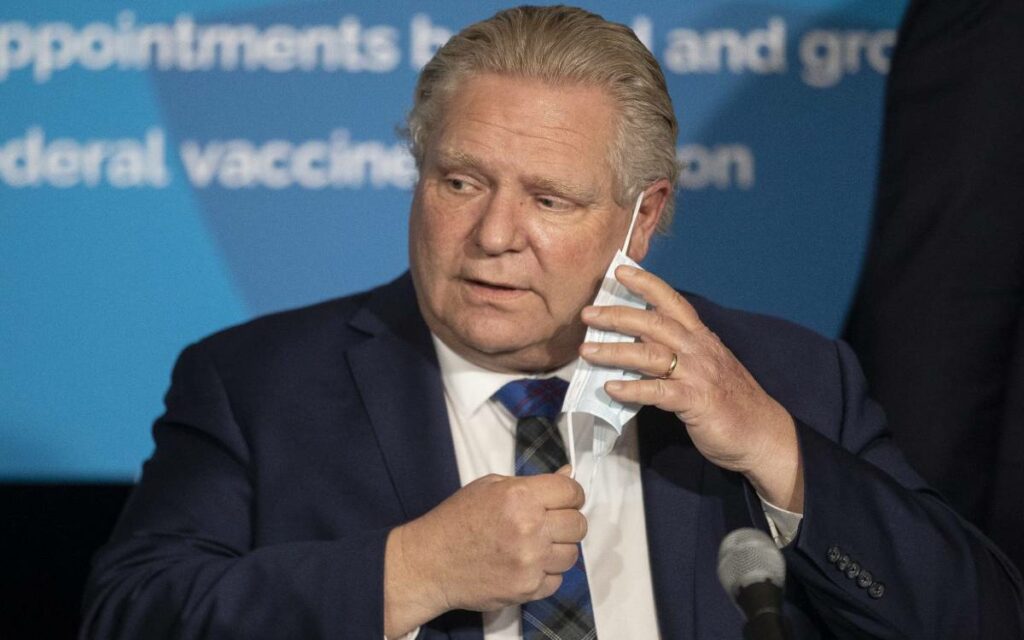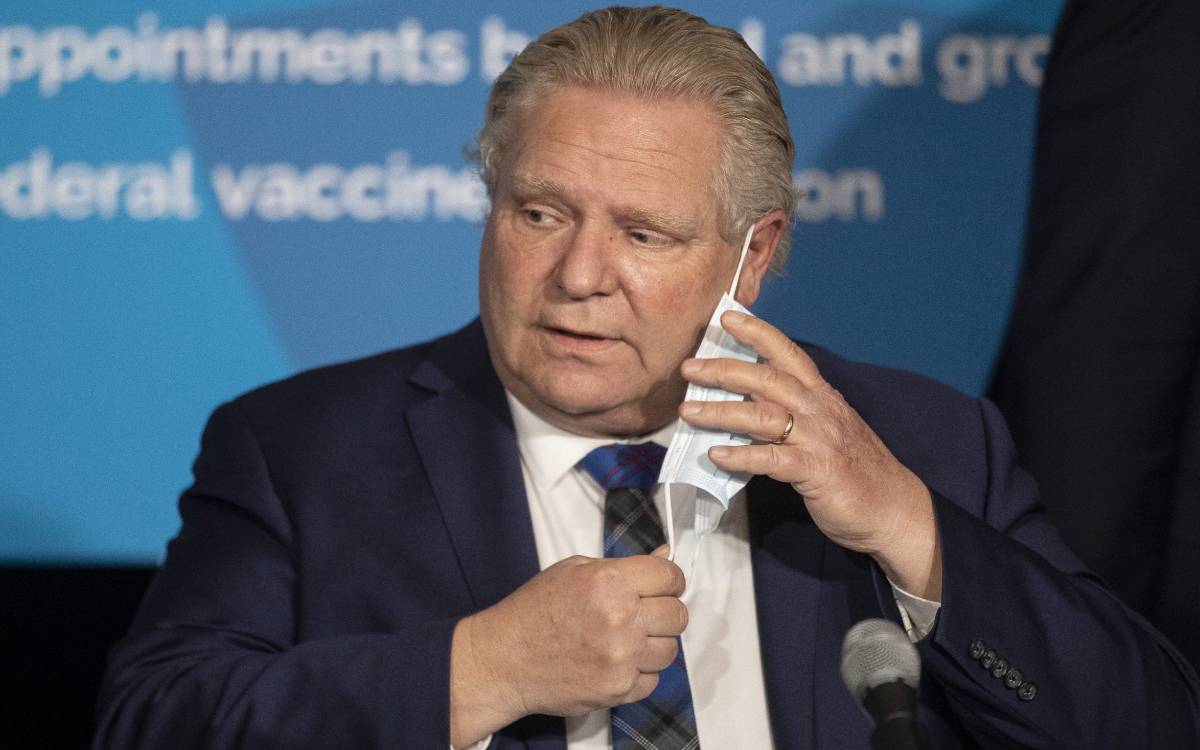 Premier Ford at a press conference at Queen's Park, April 7, 2021. Photo credit: The Canadian Press/Chris Young
Alberta is as distinct a society as Quebec, or at least in the eyes of anyone who has ever lived in Wild Rose Country.
Yes, Quebec has its own language and a bunch of English words said with a French accent, but Albertans also speak in foreign tongues. "Git er dun", for example, is a phrase commonly used in Alberta and one that perfectly illustrates Premier Jason Kenney's latest press conference.
On Wednesday the premier announced Alberta would be open for business, enough so that the Calgary Stampede – The Greatest Outdoor Show on Earth – will be held this year. He also said something called "K-Days" will also be held, but I really don't know what that is.
K-Days sounds like something Edmonton came up with to compete with Calgary, pardon, compete badly with Calgary.
I digress, but the simple fact is Alberta, which has gone from just over 20,000 active cases of COVID-19 to just over 10,000 cases in a week, is, as the premier said, "crushing it." And the result of driving numbers down by playing by the rules and getting vaccines into arms means Alberta is going to be fully open by July.
It was sort of a grenade rolled into the lap of Ontario Premier Doug Ford who seems to need to keep everything, other than to wherever the tens of thousands of people on the 401 each day are going, closed.
Yes, I am the first to say Ontario faces different challenges than the rest of Canada – massive population, far too much air travel, to name a few – but a lack of communications people isn't one of them.
So, watching the press conferences of the various premiers and, when I can stomach him, the prime minister, I'm stunned by how confusing Ontario's reopening plan is compared to the rest.
Alberta, B.C., Saskatchewan and even Quebec have very easy-to-follow steps with anticipated dates attached to their reopening plan. Ontario can reopen if this one thing happens, combined with this other thing, unless this unanticipated thing happens, then we will have to go back to this thing, and oh yes, wait three weeks in between things to make sure the vaccines worked.
I have written about "beat syndrome" in the past, or "not being able to see the forest through the trees", but it is getting more and more apparent that the need for fresh blood in the Ontario Premier's Office – OPO – has never been so clear.
Back on April 20, Don Martin, a journalist I have a lot of time for, wrote a column entitled "It's time for adult supervision or a premier replacement in Doug Ford's Ontario."
I am sure that there are plenty who called Mr. Martin a Liberal hack – when I worked with him at the Calgary Sun and later Herald he was accused of being a Tory toady – but I can tell you he is neither, he is just a solid writer and makes keen observations.
I thought the column by Mr. Martin was over the top at first, having read it again in the fullness of time it truly resonates. Though I don't think the problem is Premier Ford, he is sort of like Connor McDavid, going back to my Alberta comparisons, great at what he does, but he's surrounded by those not up to snuff – thus he gets swept.
And that is exactly what I think will happen next year when the premier seeks re-election. It seems clear the Ontario Progressive Conservative Party strategy is "we don't need to be perfect, or even average, just better than our opponents."
It is a fair strategy, considering how low Steven Del Duca's numbers are (and that's because people don't know him, or else they'd be worse). NDP leader Andrea Horwath, well all she does is lose elections, so we are not talking Leafs vs. Jets here, more like Leafs vs. Canucks or Sabres.
Still, the number of people turning on the premier and the Ontario PC Party from within its own ranks is staggering. I am not talking about the vocal few – like myself – but the hordes of friends who openly question the OPO's decisions on a constant basis to me.
I am not saying each complaint will turn into a vote for the other two options – for reasons already noted. What it means is a lot of us will sit on our hands. Personally, I will not be writing cheques to the party as I do each election and I will not be volunteering as I did on the last provincial campaign. Voting? We will see.
Because of these sentiments I truly believe Ontario is headed for a minority government and nothing I have seen from the operation going on in the OPO makes me think they are skilled enough to manage that.
Sadly the entire reason is communications, or a clear ability to make sense. Closing golf courses – which had to be done because all other small businesses were closed – yet allowing potential super-spreader events like ActiveTO to happen is a great example.
Inferring special powers on police without talking to the police first is another example. Keeping warehouses with outbreaks wide open yet forcing mom and pop shops to shutter a third.
No clear plan for restaurants, bars, cafes, and coffee shops – the hardest hit of all small business – to reopen, yet another.
In Alberta they have targets and dates, in Ontario does anyone really trust that if things reopen that Doug Ford won't shut them down again a week later?
What has become abundantly clear is, just like in Ottawa, there is no planning, only reacting. This has clearly become emergency management by issues management and, to use a Premier Fordism, "folks" that is not how it's done.
Targets, dates, clear steps needed to be taken, and no variants to the rules – see permitted downtown Toronto protests – must be followed. Everyone involved needs to be involved at the beginning to get buy in, that includes doctors, but also small business and police.
The plan needs to be clear and only one person delivering it. And last thing, if it's Premier Ford, please stop making him sound like a robot, he's electable because he is genuine. If that genuineness continues to be stripped away, what is left?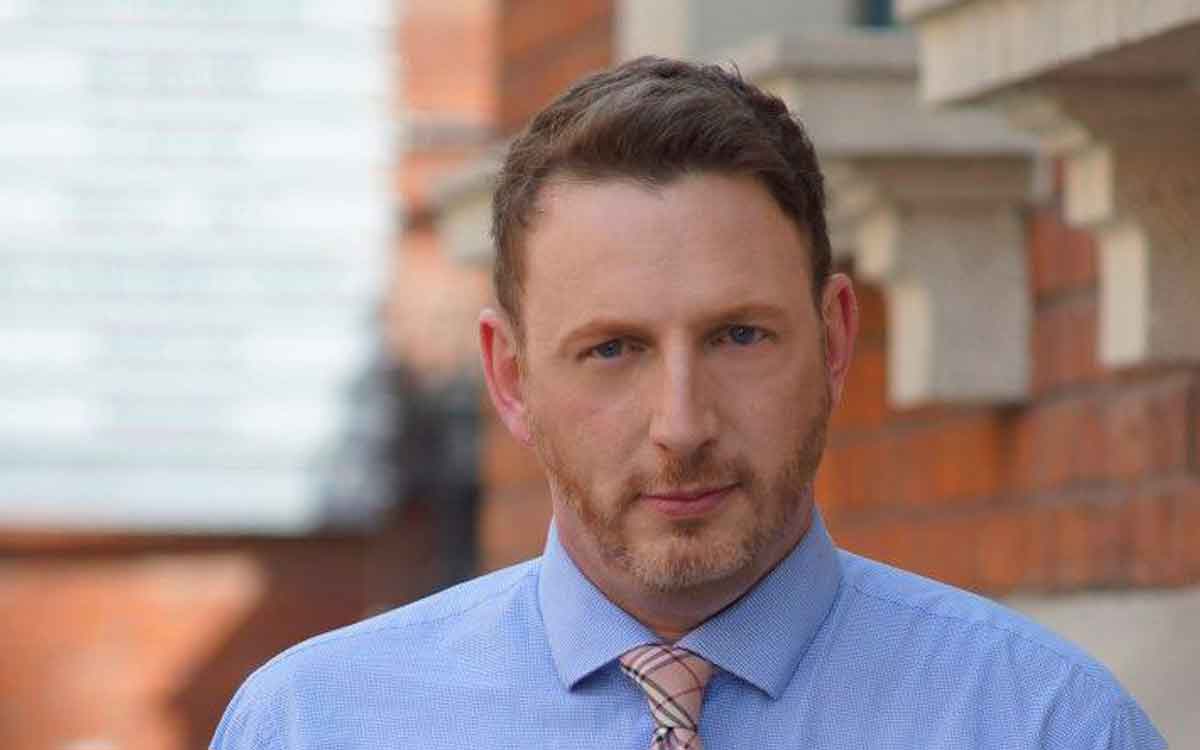 Kelly Harris is Principal of Harris Public Affairs. He is a regular commentator on Global News Radio 640. He has spent the last decade working with Canada's credit unions and served as Director on the Board of the Canadian Credit Union Association. An internationally published journalist, he has held senior positions in the Gordon Campbell government in British Columbia and Tim Hudak's opposition at Queen's Park. An avid traveller, cyclist, member of Bills Mafia and die-hard fan of the Toronto Maple Leafs.