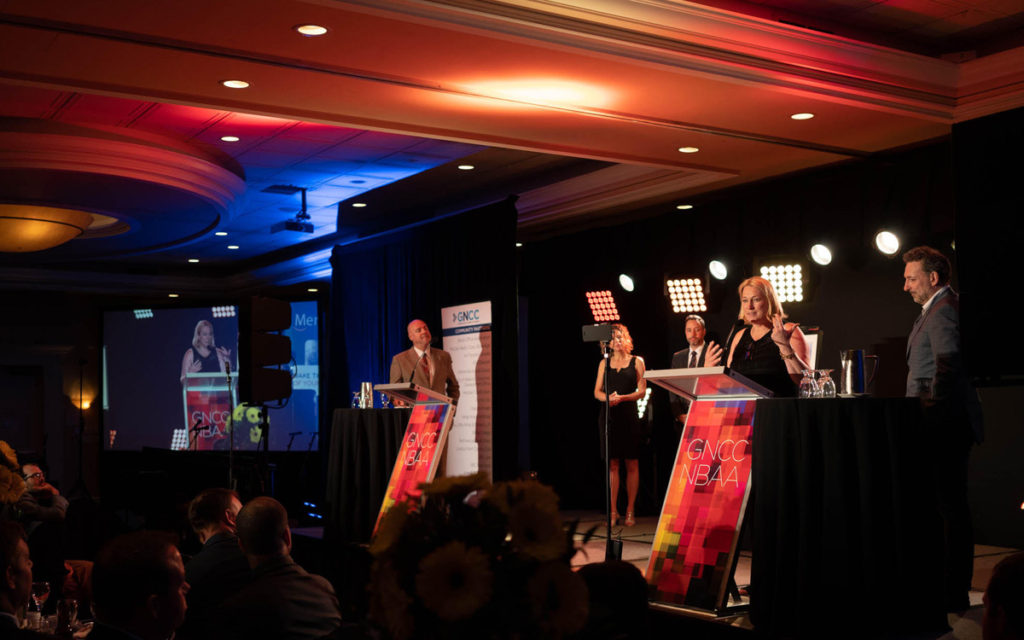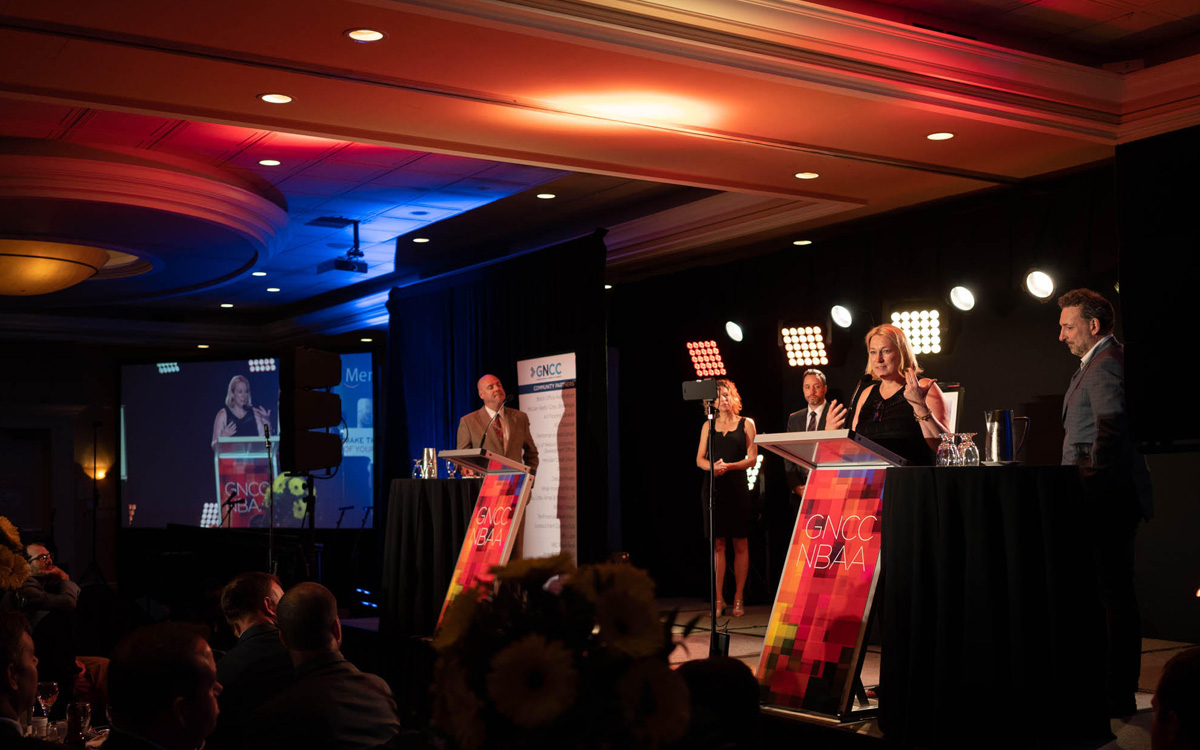 The Greater Niagara Chamber of Commerce recognized outstanding business leaders recently at its 15th annual Business Achievement Awards ceremony.
Hosted by 610 CKTB's Tim Denis, the 400 people in attendance celebrated some of Niagara's best in business, including a legend in the wine industry who was recognized with the Lifetime Achievement Award.
Sadly, Karl Kaiser passed away last November leaving a massive and irreplaceable void in Niagara's wine community. There's no doubt however, that he was watching proudly as his daughter Andrea and son Max were called to the stage to accept the honour on his behalf.
It is not an exaggeration to say that Niagara's now famous wine industry would not be where it is today without the likes of Mr. Kaiser. His list of accomplishments is remarkable and he left his mark not only on the wine making profession, but on the entire Niagara community as well.
Educated in a private monastery school in Austria where viticulture and winemaking were a time-honoured tradition, Karl spent his spare time helping in the cellars of a local winemaker. He would marry that winemaker's granddaughter, Silvia, in 1967.
Karl, Silvia, and their new daughter arrived in Canada in 1969. Karl attended Brock University, attaining a Bachelor of Science in Chemistry and Biochemistry in 1974. Even before he graduated, Karl was buying and making wine, and one day he walked into Ziraldo Nurseries, owned by previous Niagara Business Achievement Award winner Donald Ziraldo, looking to buy hybrid grape vines. Donald had been experimenting with vinifera grapes, and was interested in making wine from them. The history of modern Canadian winemaking began at their first meeting. The two men shared a dream to make superior Canadian wine and determined that they would work together to achieve it.
In 1975, they were granted the first winery license since the prohibition era and founded Inniskillin.
Karl was known as a humble, quiet, and reserved man who would be happier working in his wine cellar than speaking at public events. His daughter, Andrea, said that it was his humility that made him so charming. He seemed genuinely unaware of what he was doing for Canadian winemaking. In his own mind, he was not transforming an industry; he was simply a winemaker who wanted to make the best wine he could.
Karl made all of Inniskillin's wine until 1998, at which point he shifted his focus to Iniskillin's icewines. Upon retiring from his role at Inniskillin in 2006, Karl continued to work as a consultant for Inniskillin's current winemaker, Bruce Nicholson. Throughout his retirement, Karl stayed active with lecturing, particularly on icewine and in 2008 Karl and Donald launched their book, ICEWINE: Extreme winemaking.
Karl was awarded the Order of Ontario in 1993, and is a recipient of Her Majesty Queen Elizabeth II's Golden and Diamond Jubilee Awards. He has won the Tony Aspler Award of Excellence, the First Ontario Wine Society Lifetime Achievement Award, the Grand Prix D'Honneur – twice, a gold medal at the Councours de Mondial, Vinexpo in Bordeaux, and both the Best Icewine and Best Canadian Winery awards at the International Wine and Spirits Competition in London, England. Brock University awarded him the honourary degree of Doctor of Laws in 1994. Karl presented two of Inniskillin's icewines at the Symposium of the Institute of Masters of Wine in his homeland in Vienna. Inniskillin was the only icewine producer in the entire world to be invited to present at the symposium. Karl had taken old-world winemaking and improved upon it so much that the old-world winemakers literally asked him back to give them lessons.
These were not the only lessons he gave. Karl developed the wine chemistry course for the Oenology and Viticulture program at Brock and was its first instructor. Debbie Inglis, Director of the Cool Climate Oenology and Viticulture Institute at Brock, said; "he loved sharing his knowledge with students and young winemakers". Rob Power, a former student, said the best parts of the class were when he went off-script. "I was honoured to have learned real winemaking at the feet of the master."
Karl Kaiser's legacy will not only be his wine, but his humility, his wide grin, his dedication, his generosity, and his kindness.
Here is the full list of award winners:
Young Professional Award
Sponsored by Bell
Krystal Riddell (Essentials Cremation & Burial Services Inc.)

Technology & Innovation Award
Sponsored by Innovate Niagara
Environmental Leadership Award
Sponsored by Alectra Utilities
Thorold Auto Parts &Recyclers

Excellence in Tourism Award
Sponsored by Niagara Workforce Planning Board
Excellence in Business:
Up to 10 Employees
Raimondo & Associates Architects Inc.

Excellence in Business:
11—50 employees
Sponsored by Canopy Growth Corp.
Excellence in Business:
51 employees or more
Sponsored by Performance Auto Group
Excellence in Manufacturing
Sponsored by Niagara Region
Outstanding New Business Award
Sponsored by Niagara College Canada
Excellence in Agribusiness, Farming and Rural Achievements
Sponsored by Niagara Peninsula Energy Inc.
Sunnybrook Farm Estate Winery

Business of the Year
Sponsored by Meridian Credit Union
Colliers International Niagara Ltd.
Karl Kaiser, Inniskillin Winery, will be honoured with the Lifetime Achievement Award sponsored by Walker Industries.This award is presented to a businessperson who has demonstrated a lifetime commitment to business success and community leadership.
Alastair Davis, Habitat for Humanity, has been named asBuilder of the Year, sponsored by Niagara Casino's. This award is presented to a company that has had a historically significant impact on the economic prosperity of the community.
Carol Purcer, Rowing Canada, is theVolunteer Business Person of the Year sponsored by Lancaster Brooks & Welch LLP. This award is presented to an individual who demonstrates an outstanding commitment to helping build a stronger, more prosperous and vibrant community.
Doug Hamilton, Canada Games, will receive theCommunity Leadership Award, sponsored by Henley Honda.  This award recognizes an individual whose leadership has made a significant impact in the community.