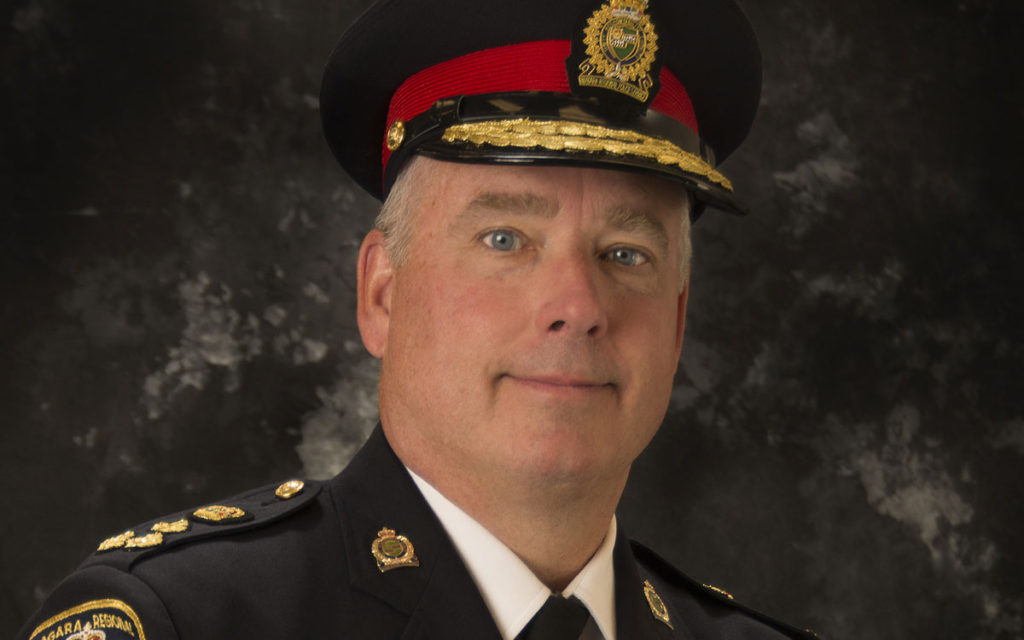 In his ascent to the top spot in the Niagara Regional Police Service, 54-year-old Bryan MacCulloch is rising to meet the challenges that come with being Chief.  After serving in various roles over his 30-plus-year career, he recognizes that his view now is much more encompassing.
Now in his seventh month at the helm, MacCulloch is seeing things up close. "We have 12 municipalities, 12 mayors, and a regional layer," he points out; "a lot of people have a vested interest in wanting to see that policing is done right. It's hard at times, serving all the masters, while staying focused on our function to deliver the highest quality of policing that we can, within a limited budget."
MacCulloch acknowledges that there have been calls from some councils to add officers on foot patrol in different communities. "I'd love to be able to do that," he admits, "but the reality is that I have a budget that I need to work within."
It doesn't come as a surprise when the chief is asked about the biggest challenges facing the NRPS, besides meeting the budget. Mental health and the opioid crisis top the list. "They present significant challenges to us in terms of resources, and we can't do it alone, he says. "We have a great partnership with the Canadian Mental Health Association. Mental Health workers ride along with NRPS officers in an effort to divert people who might otherwise need to be admitted to hospital."
In Niagara, the opioid problem is centred mainly in Welland, Niagara Falls and St. Catharines, and is of great concern to the chief.  "Almost any drugs purchased on the street may have been laced with fentanyl, and we now know that even micro-particles of fentanyl can result in overdose and death." While pointing out that abstinence is the best policy, MacCulloch urges drug users to be aware of available help. "The first thing I would encourage users to be aware of is never to take drugs when they're alone," he says. "Free naloxone kits are available at many area pharmacies," he points out. Although naloxone can temporarily reverse an opioid overdose, caution should be the priority. "In the case of an overdose, call 911," MacCulloch says. "It's a medical emergency . . .  our focus in these situations is to make sure they survive."
In the opinion of the chief, drug usage is not slowing down. "Unfortunately, usage is still on the rise," says MacCulloch. "We're no different here in Niagara than other communities across the country."
So, how will the impending legalization of marijuana impact the NRPS?  Although safety measures will be taken in the running of legal sales in the province, the chief is not convinced that it will take away the criminal element. "The illegal marijuana business is a multi-billion-dollar industry, he points out, "and as long as organized crime has access to that kind of money, they are not going to walk away from it." The chief believes that things will be more complicated for police, as has been the case in U.S. states where marijuana has been legalized. "Crime rates have been impacted negatively," he says, "and charges of impaired driving by drugs have increased as well." Although testing is being conducted on instruments that will measure the amount of THC, or other drugs in a person's blood, MacCulloch confirms that no unit has yet been approved.
Effective policing, in the view of Chief MacCulloch, is a partnership between the community and the police service. "We can't serve well unless we are reaching out," he admits. "We need to know what we're doing right, and where we're wrong." He is calling for ongoing feedback from the community. "You can phone us, 905-688-4111 or go to our website, www.niagarapolice.ca
So, what's the feedback from the front lines when the promotion to chief comes from within? MacCulloch admits that it's been very positive. "What I hear is that the members are pleased with the natural evolution of somebody rising up through the ranks. That's not to say that there was any animosity toward the former chief at all. Former chief, Jeff McGuire was a great mentor to me, and I'm working to maintain the momentum that he began."
Good news remains when crime rates for the region are reviewed. "A decline in the crime rate for Niagara has been trending over the past decade, says MacCulloch, "and I'm confident that the trend will continue."
Hail to the chief.