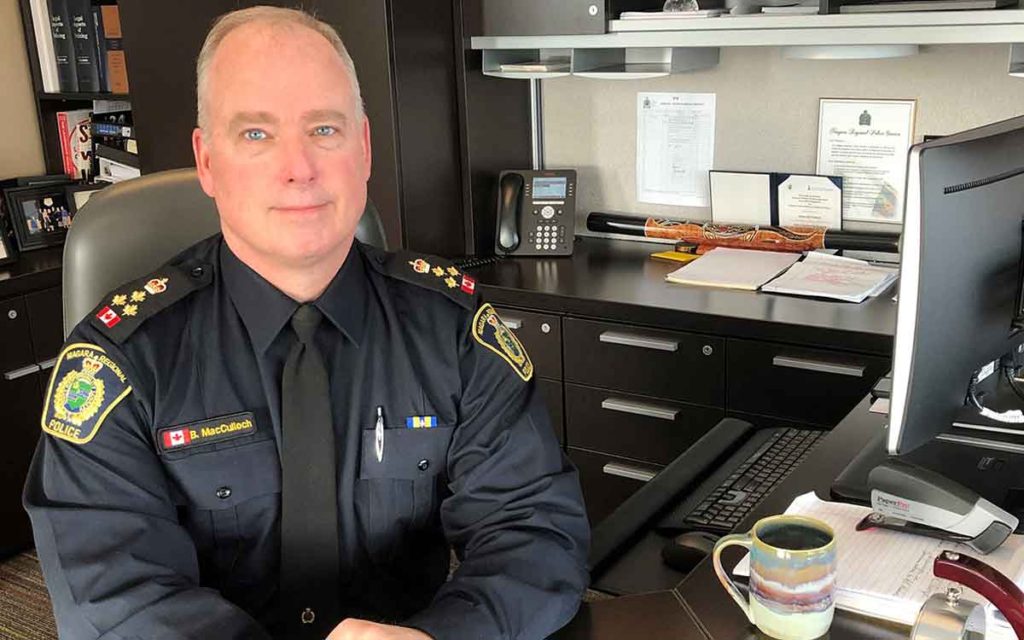 Ontario's Chief Coroner is launching a review of suicides by police officers in the province after learning that a total of nine officers took their own lives in 2018. Dr. Dirk Huyer said that the spike in the number of deaths from suicide by police officers was "greater than we typically see". The plan is to form a diverse panel of experts to dig deeper into the sudden increase, gain a better understanding of the root cause and try and reduce future deaths. The committee is expected to meet this spring with a report being finalized sometime in the summer.
Here in Niagara, police chief Bryan MacCulloch and his team have been ahead of the curve when it comes to changing the culture of how police officers themselves deal with mental illnesses like stress, anxiety and depression.  Since his appointment in July of 2017, Chief MacCulloch has made the wellness of his members a top priority by putting more support mechanisms in place. One of the first priorities was to establish a member support unit which has a dedicated staff lead by Staff Sergeant Sandy Staniforth with support from the NRP's occupational health nurse. Chief MacCulloch said that the support unit, "acts as a conduit to members feeling overwhelmed and stressed."
Staniforth was handpicked for her role with the member support unit. "We needed someone who was well respected amongst the members and who respected confidentiality," explained Chief MacCulloch. He said in dealing with such highly sensitive information in terms of officers' mental health, "one leak of information and the program is done." To date the program has been highly successful and very well received by the members. "I am very proud of the work that our member support unit has done," Chief MacCulloch said.
Niagara Falls regional councillor and police services board chair Bob Gale fully supports the chief in attempting to change the attitude and culture around wellness and mental health within the rank and file. "Mental health and wellness of our employees is a top priority," said Chair Gale.  "I believe it is important for the Board to support the Chief of Police in these initiatives and ensure that the appropriate resources are in place so NRP members are equipped with the necessary education, training and programs to not only do their often dangerous and stressful jobs effectively but to also be able to truly enjoy life away from work, at home with family and friends."
Another initiative by the Chief was the creation of peer support teams. Team leaders were selected by their colleagues. "Similar to the member support unit, we need the peer support team leaders to have credibility, the experience and to be people their fellow officers would feel comfortable talk to," said Chief MacCulloch.
Changing the wellness culture of police organizations is similar to the way hockey players, coaches and trainers have had to adjust their thinking over the years. As a professional hockey player, it wasn't that long ago, when you wouldn't dare complain of a headache, dizziness or blurred vision (concussion) as a result of a hit to the head because someone else would take your place. You sucked it up and pushed through. You had to be "tough". Similarly with policing, it's taken years to shift from the "tough guy" attitude and worrying about what fellow officers will think of their colleague who maybe going through some mental health issues. In his 34-year career Chief MacCulloch said there was a time when, "it wasn't socially acceptable to acknowledge we had any psychological issues."
Within the NRP there are a number of special units where members are exposed to horrific and disturbing situations on a regular basis putting those officers at a higher risk for mental health issues. Some of these units include homicide, tactical, sexual assault and domestic violence. "These officers are exposed to a lot of trauma," the Chief said. The NRP does psychological tests on officers who apply to get into these units, as well as annual check-ins and a final interview by a psychologist at their exit interviews when they leave the specialized unit.
Policing has also changed over the years with the onset of social media and nearly every citizen carrying cell phones with cameras and video recorders. Police officers are under the microscope like never before adding another layer of stress to the job. "There is a much greater level of oversight now. Everyone potentially has a camera and citizens act like the media," said the Chief. "Things can easily be taken out of context in terms of what actually transpired. Additional facts may be lacking."
Despite the added layers of stress to policing over the years, Niagara's top cop still sends a positive message to his members. "I try and stress to them that we are fortunate to live and work in a community with tremendous support. Our officers are exposed to five per cent of the population 95 per cent of the time but the majority are very good and supportive of our work."