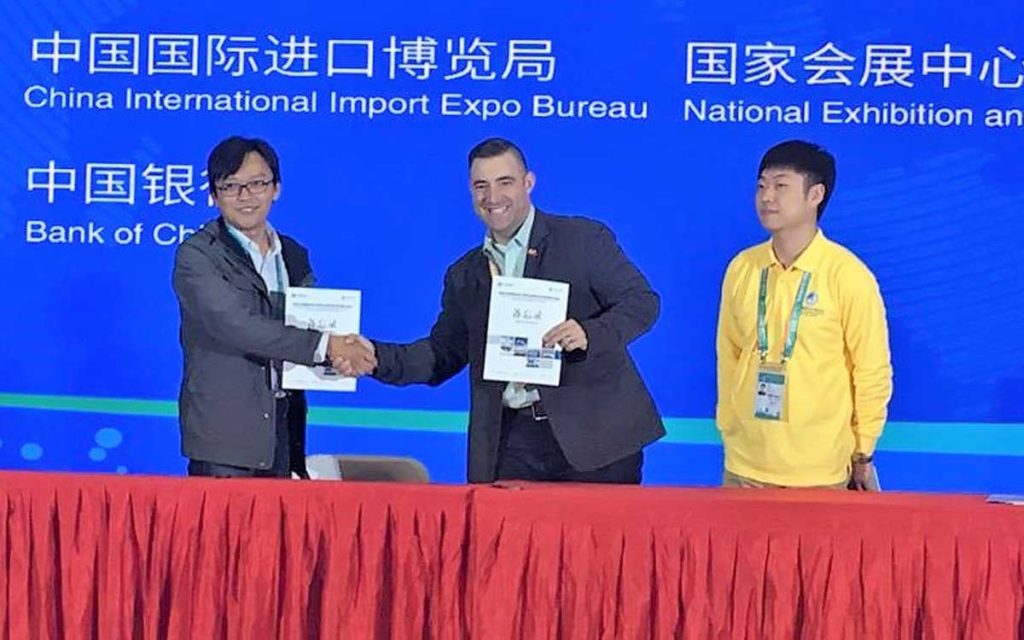 Anthony D'Aprile (centre) of Bench Brewing Company in Beamsville was part of the Niagara delegation that recently attended a large import expo in China.
The trip that almost didn't happen ended up being a great success, according to organizers and attendees. After some regional councillors turned the recent trade mission trip to China by Niagara business leaders into a political football, arguing that the Region's CAO Carmen D'Angelo shouldn't be allowed to attend, those who did go said it was very much worth the time and effort.
A total of 12 Niagara companies from a variety of sectors, including wineries, craft breweries, food producers, skin care manufacturers, and immigration consultants, all attended the China International Import Expo.
The trip was spearheaded by Larry Vaughan and Kevin Jacobi from Canada BW Logistics: a full service, custom bonded warehouse in Niagara Falls. A total of 160 countries participated in the 10 day event which ran from Nov. 2 to the 11. Canada was one of only 12 countries to have a pavilion. Others included New Zealand, Japan, Austria, and a handful Latin American countries. Canada was the only nation present without a formal trade agreement with China. The United States did not participate.
The Niagara booth had one of the largest concentrations of businesses. In addition to wine and beer tastings, Canada BW led seminars on the Foreign Trade Zone. By all accounts, the Niagara booth was a hit.
While most people think China looks to make products cheaply and dump them into Canada, the trip showed the opposite to be true.
"The key thing about this expo was that [the Chinese] don't care what we are buying from them, it's about what we can sell them," said Vaughan. "Canada is just a small city in China. So, what we purchase from them is really insignificant to their overall economy." Vaughan said that because Canadians are so well-respected around the world, including in China, "we can outshine the competition."
"Canada's brand comes with a certain level of confidence. A change in our government doesn't mean chaos. They see Canada as secure and clean," said Vaughan.
This is the third trip for Canada BW. They've signed an agreement with the Beijing Free Trade Zone and continue to establish a good relationship between Niagara and China. "There is lots of potential and Niagara tends to say no first, before someone can say no for us," said Vaughan. "We need to support each other through things like the [local] chambers of commerce."
Kevin Jacobi said the group took in some sights upon arrival and really tried to learn the culture and history before heading into meetings.
Jacobi lauded the opportunity to talk to other countries in attendance. "It was a chance to country hop within the walls of one convention centre. We are following up on discussions with some of those countries. Some are looking at Niagara as a staging point to enter products into North America, as an example," explained Jacobi. "Niagara Falls is the most recognized address in Canada to the Chinese; more than Toronto and Ottawa."
The one thing that all participants learned on the trip was that in Chinese culture the pace of doing business is much slower than in North America.
"First you establish friendship and a respect, and then you start doing business," said Jacobi. Who you send to a meeting is also important. "There is a lot of hierarchy involved. You can't have a high level meeting with low level people," added Vaughan. "That's why I asked the Region CAO to attend.  The process is as important as the content."
Anthony D'Aprile, head of sales and marketing for Bench Brewing Company, said the experience was invaluable. "For me it was about exploration and discovery. It was about making connections and returning with a breadth of knowledge." While the Bench brews were a hit with those who tried them, D'Aprile had to laugh at the number of people who asked him if it was a new type of ice wine. "We were able to bring different types of beer to new types of beer drinkers."
It was D'Aprile's first experience in China and although he had no expectations of signing up big contracts he felt the trip was a big success. "That market offers massive potential. Our goal is always to make world class beer and so we'd be remiss not to understand the large global market," he said.
The day after D'Aprile returned from China, CCCN, China's national news outlet, arrived at Bench Brewing Company in Beamsville to do a story.
With the inevitability of similar trips in the future, both Jacobi and Vaughan hope for less political interference. "Ultimately, its business and we are the experts in what we do, let us do it," said Vaughan.