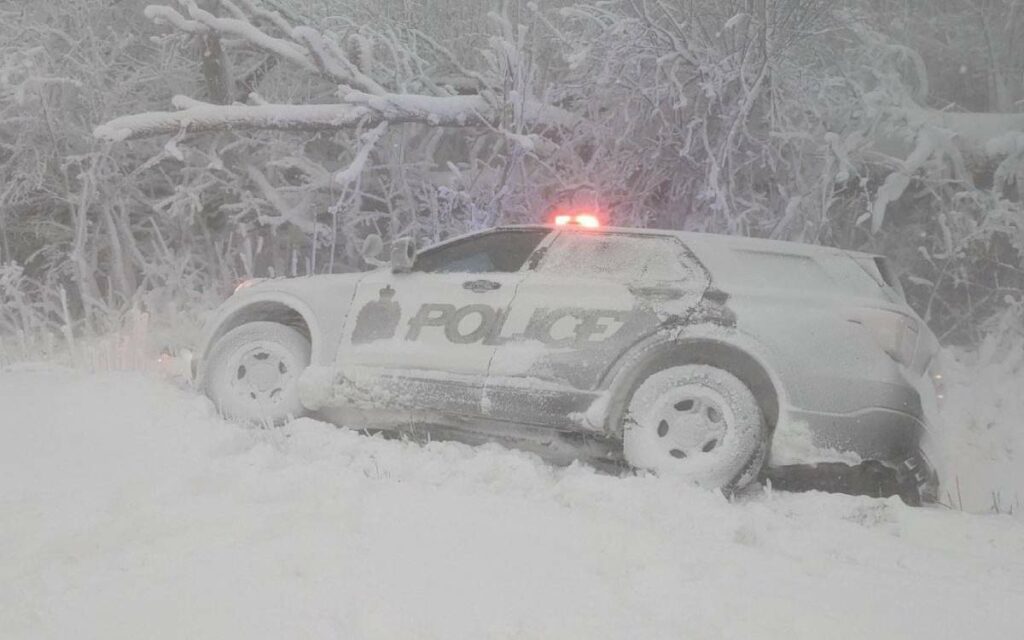 Wind gusts topped 120km/h in certain areas. Driving was virtually impossible in Fort Erie and Port Colborne for much of Friday and Saturday. Pictured is a Niagara Regional Police Service (NRPS) cruiser that slid off the road in Fort Erie, Dec. 24, 2022. Photo credit: Twitter/NRPS
While perhaps not quite as destructive and widespread, this past weekend's blizzard that wreaked havoc on Niagara's south coast sure gave the infamous Blizzard of '77 a run for its money. 
Conditions were so bad, specifically in the communities of Fort Erie, Port Colborne, and Wainfleet, that the Niagara Region declared a State of Emergency. 
For much of Friday and Saturday, visibility across the south coast was effectively zero. Depending on the exact community, the area saw total snowfall accumulation of 60 to 100cm. Snowdrifts of two metres and more were also reported. 
Worse than the snow accumulation was the sustained strong winds of nearly 100km/h, with gusts of up to 124km/h recorded in Port Colborne. 
The winds downed trees and caused widespread power outages north and south of Highway 3. 
Some residents lost power for several days, with outages beginning Friday, December 23 and continuing through past Boxing Day in certain areas. 
According to a news release from Canadian Niagara Power (CNP), which services Fort Erie and Port Colborne, there were still 9,600 customers without power as of 4:00pm on Christmas Day. 
Crews from across the province had to be brought into the region to supplement local teams.
At the time of writing, restoration efforts continue in Fort Erie and Port Colborne. 
High winds also created massive 20-foot waves on Lake Erie, which smashed into Niagara's south shore with destructive consequences – including flooding. 
Stunning images of shoreline properties in Crystal Beach show homes that were completely encased in solid ice from freezing spray off the lake. 
Across the Niagara River in Buffalo, NY, at least 27 people lost their lives due to the storm, with that count expected to rise as the city continues to dig out.
There have yet to be any reports of deaths in Niagara. 
In a rare move from border authorities, the Peace Bridge in Fort Erie was and remains closed in both directions. The US-bound lanes on Niagara Falls' respective international bridges were also temporarily closed. 
Utility crews, municipal road staff, and first responders – who worked throughout the blizzard – continue to labour around the clock to plow streets and highways, reinstate fallen hydro lines, clean up downed trees, and clear abandoned vehicles off roadsides and ditches.