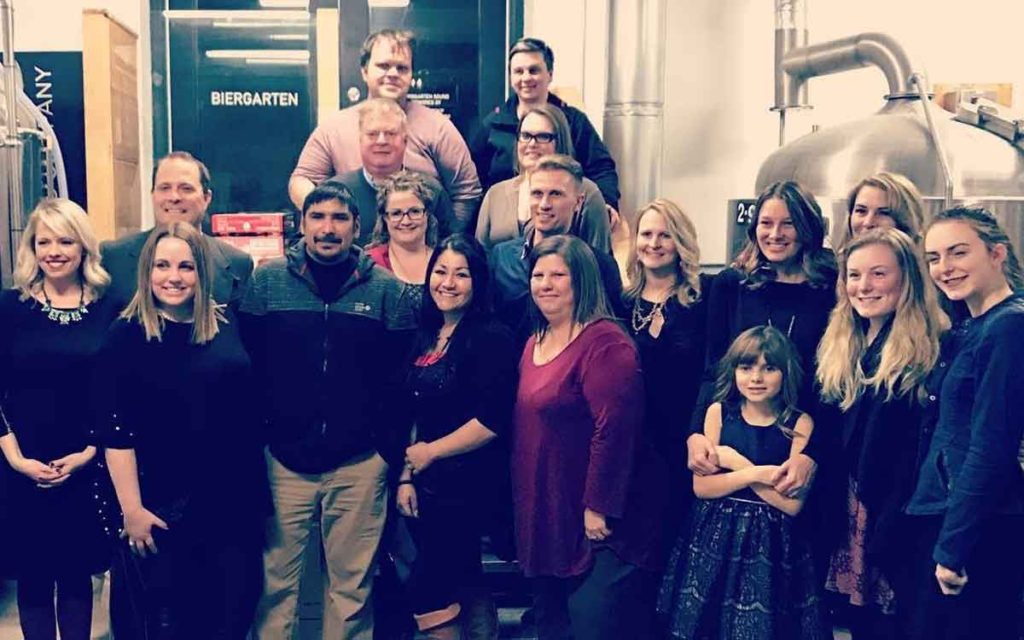 Last year's recipients of the Christmas wish with their nominators and event organizers at Lock Street Brewery.
There are many people in Niagara who fit the bill as an "unsung hero" when it comes to giving back to their community and helping their fellow residents. Last year one local businessman figured it was about time those individuals were recognized.
Wolfgang Guembel, who owns Lock Street Brewery in Port Dalhousie, remembers seeing the first WestJet Christmas miracle video and being so impressed by the random and surprise nature of how the company fulfilled the Christmas wishes of their customers that he was moved to want to help in some way in his own community. "I thought if I was suddenly worth millions, I'd be doing something like that every Christmas. I believe in the good feeling you get when you give to someone else," said Guembel.
But, like most of us, Guembel said he quickly realized he was light years away from being so wealthy that he could afford such a charitable gesture year after year. He did however start wondering what he could do with the means available to him. His first couple of ideas didn't get off the ground. "My first thought was to get a city bus and provide a ride for our homeless residents to the brewery and provide them with dinner." City staff, for a variety of reasons, told Guembel that idea wasn't going to fly. "My next thought was to somehow get a list of single parent families who might be struggling to get by, but there were privacy and liability issues with that idea as well."
The third time was a charm for Guembel. He launched a website that simply asked for people to nominate "hidden heroes"; those in the community who give selflessly of their time, talent and energy to help their fellow residents. The idea came to Guembel while recalling a memory from his time swimming with the Brock swim team. "There was a girl swimming with us who was posting national level times and I found out that the Wise Guys charity was subsidizing her costs because her mom couldn't afford it. Then I found out that because her mom didn't have a car, a neighbour selflessly drove her to practice every morning. I pictured him scrapping the ice off his windshield at 5 a.m. in February to make sure this kid got to swim practice and do what she loves every day, it's an amazing story."
Guembel knew there were those types of stories, those acts of kindness, going on in Niagara and he was determined to find them and shine a spotlight on those who were making such a positive difference in the lives of others without asking for a single thing in return. "So we put it out there and got lots of nominations," he said. The quality of nominations varied in the first year but there were six extraordinary stories worthy or recognition. Guembel and his small team of volunteers concocted a plan to notify the winners. They told the nominators to get themselves and their nominees to a cafe where Guembel and St. Catharines Mayor Walter Sendzik would sit at a table next to them. After striking up a conversation they would all leave at the same time and open the door to an awaiting limo and group of people cheering. They picked up the other nominators and nominees in the limo came back to the brewery for dinner and drinks and drove them home. "After dinner we told them why they were here and when people started sharing their stories there wasn't a dry eye in the place," explained Guembel.
This year is shaping up to be even bigger. Communications professional Kate Carnegie of KC Media was there last year and after witnessing the event asked if she could help with the next Christmas gift project.
"After attending last year's party I asked Wolfgang if I could help him make the event even bigger and better for our nominees this year. Wolf wears his heart on his sleeve and would give the shirt off of his back to help those less fortunate. But, he's a busy guy with big dreams for not only his business but this worthy cause. So with a little help we are going all out this year and spoiling some deserving people who have no idea what they are in for," she said.
While Guembel was the brainchild behind the Christmas Project he is quick to point out it takes many people and generous companies to make it work. Local businesses and business leaders have stepped up to help make the Christmas wish project a reality and a chance to recognize the unsung heroes in our communities.
Nominations are open until midnight Wednesday, Dec. 12. More information can be found at lockstreet.ca