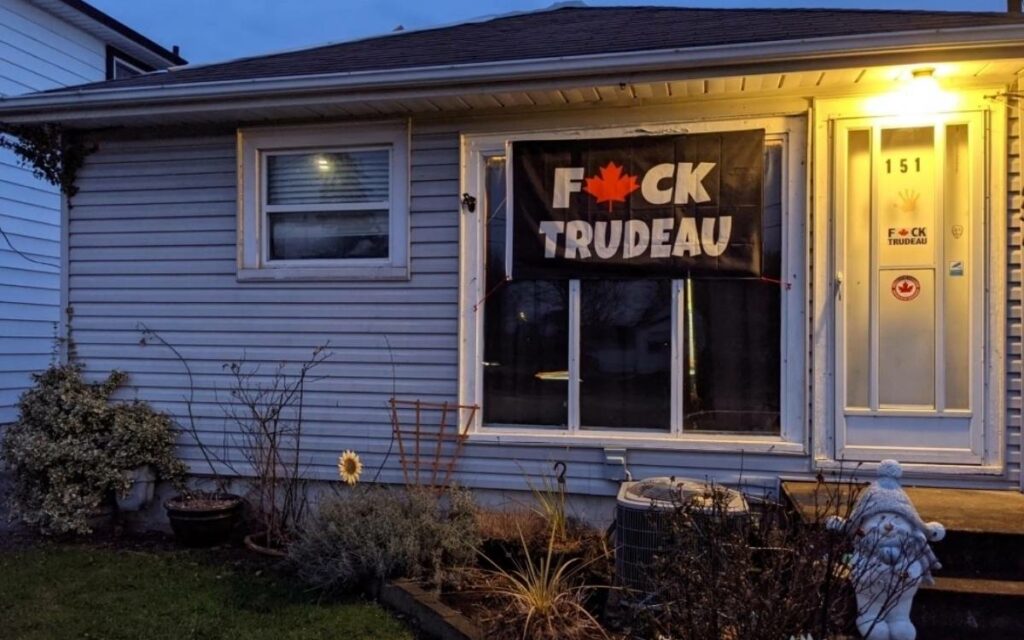 After flying the flag without issue for several weeks, homeowner Melissa was issued a formal notice by city by-law to remove the banner in Nov. 2021. Supplied photo. 
Dissatisfied with the result of September's federal election, a local Niagara resident decided to exercise her constitutionally-protected right to freedom of expression and hang a flag outside the window of her Port Colborne home that read: "F*CK TRUDEAU".
With a carefully placed maple leaf removing any explicit profanity, the flag hung for several weeks without issue. 
Not until a Nov. 16, 2021 article in Niagara This Week entitled "Free speech or hate speech? Port Colborne resident ordered to remove vulgar banner" did the resident – Melissa – hear of any concerns from neighbours or the municipality. 
But within a few days of the article's publication, Melissa received a formal order from the City of Port Colborne to remove the banner. 
According to municipal officials, her flag allegedly contravened section 3.11 of the city's Property Standards By-Law 4299/135/02, which states: "Exterior walls of a dwelling and their components shall be free of signs unauthorized by the Corporation of the City of Port Colborne, painted slogans, graffiti and similar defacements."
Failure to comply with the by-law carries a potential fine of up to $50,000 for a first-time offence.
Thankfully for Melissa, she wasn't the only one who read the previously mentioned article.
Christine Van Geyn, litigation director for the Canadian Constitution Foundation (CCF), also saw the Nov. 16 piece and decided to take action. 
"On reading the story, I immediately knew something was wrong," the Toronto-based lawyer told The Niagara Independent in an interview. "The city does not have the right to do this under its by-laws. It's constitutionally-protected speech."
With no identifying information provided in the original Niagara This Week article, Van Geyn made a trip to Niagara to find the flag's owner. 
"I got in my car and drove down to Port Colborne," said Van Geyn. "Port Colborne's not a huge place…so I just used the picture provided in the story and found the house pretty quickly, in fact." 
No one was home at the time, so the CCF director left a note on the door. 
"I got a call a few hours later."
After Melissa received her formal removal notice from the city in the mail, the CCF put together a team to challenge the order. An appeal was sent into the city but was ultimately rejected.
When contacted by The Niagara Independent, City of Port Colborne spokeswoman Michelle Idzenga said Melissa's appeal was turned down because it was "filed past the due date and was incomplete when received."
But according to Van Geyn, the appeal was sent in before the deadline and the specific form not included wasn't actually necessary.
"To me, this is bureaucratic funny business. They were being a little too cute, saying 'we simply can't hear the appeal because we don't know what it's in reference to' – except that they refer to the exact order themselves," said the attorney. 
"You see this happen with municipalities when they just don't want to deal with something. They'll use whatever bureaucratic red tape they can to prevent people from seeking any type of resolution."
But with the potential of a large fine still hanging over her head, Melissa decided it would be prudent to temporarily take down the flag while her legal team worked through the case. 
Upon seeing the flag removed, the City of Port Colborne notified Melissa on Dec. 13, 2021 that the order was rescinded and that the case was closed. 
However, per Van Geyn, the CCF was not satisfied that should Melissa put her flag back up Port Colborne would not then turn around and either enforce a fine or start the process anew. 
"She of course wanted to be able to keep it up," said Van Geyn. "So, we filed the judicial review of the city's decision not to hear the appeal, because there are some procedural requirements for actually formally rescinding the order. If she had put her flag back up, the [city] could technically have still enforced it against her."
A month later, under threat of legal action from the CCF, Port Colborne again formally rescinded the order for Melissa to remove her flag on Jan. 13, 2022, this time to the satisfaction of the organization. 
"Now, following our application for judicial review, we are satisfied based on our lawyers' communication with the [city's] lawyer that the order has now been rescinded and [Port Colborne] will not be taking enforcement measures against Melissa. And her flag is up."
While the CCF's declared the case an important victory for freedom of expression, Van Geyn was disappointed that such effort was even necessary.
"They should respect her rights whether she has this type of representation or not. They should respect every Canadian's, every citizen's rights that are guaranteed under our Charter."
When asked why the group took on Melissa's case, Van Geyn concluded: 
"There's a lot people around the world who are not free to criticize their political leaders. There are a lot of places where if you criticized your government, you and your family could be thrown in prison.
That we're allowed to criticize our leaders, make fun of our leaders – and do it using whatever language we choose to use – is a precious thing, and something that a lot of the world doesn't have and that we need to protect here.
That's why we took on the case."