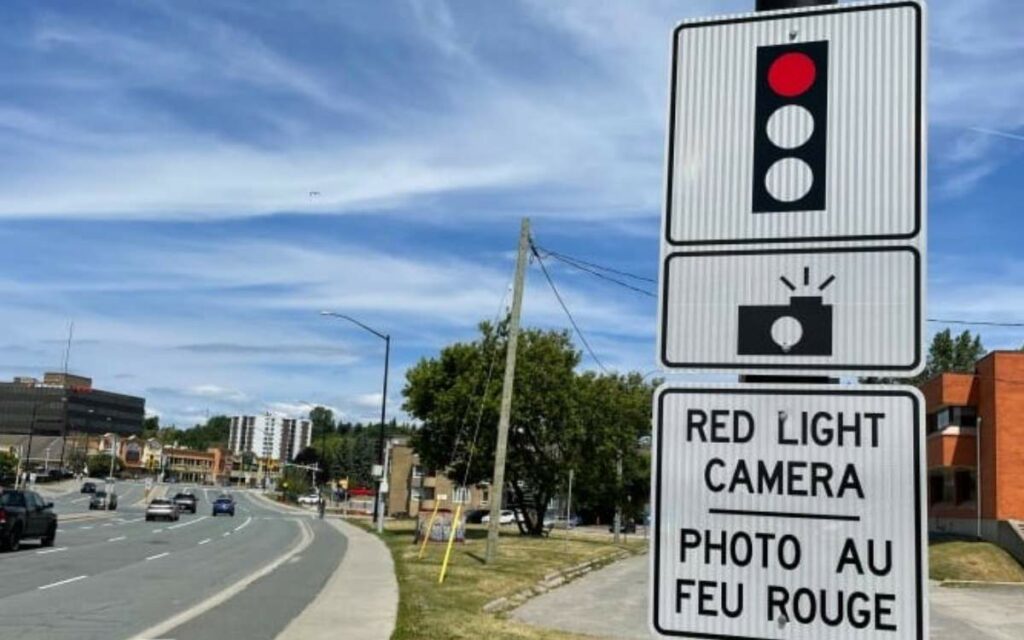 The initiative now just needs full council approval. Installation of the new technology is part of Niagara Region's broader Vision Zero traffic strategy and could come as soon as September. Pictured is a red light camera warning sign in Sudbury. Photo credit: CBC/Jonathan Migneault
After a "wholesome discussion" on the matter Tuesday morning, members of Niagara Regional Council's Public Works Committee approved recommendations from transportation staff to move forward with red light camera technology at 10 signalized intersections around the region in an effort "to improve road safety and reduce red-light running". 
The installation of photo-capture technology at high-collision red lights is part of the Region's broader Vision Zero traffic strategy aimed at eliminating traffic fatalities and serious injuries across Niagara's regional road network. 
Once approved by all of council at an upcoming meeting, the cameras could be up and running as early as September. 
While committee members had plenty of clarifying questions for Commissioner of Public Works Bruce Zvaniga and Associate Director of Transportation Planning Scott Fraser on Tuesday, no councillors came out in opposition of the initiative. 
"This is going to address a lot of the traffic concerns that residents have been having," said Regional Councillor for Fort Erie Tom Insinna. 
"Just knowing that there's red-light cameras in a community," commented Mayor of Niagara Falls Jim Diodati, "I think that just makes people pay that much more attention and take that many less chances – very much supportive of this."
"We've been asking for this for a long time, and I'm really glad to see this is starting to move forward," said Regional Councillor for Lincoln Rob Foster. "I think actually (staff) has got a really good selection of sites (for the cameras)." 
Signalized intersections were selected based on collision history, site feasibility, and geographic coverage. The 10 locations that will feature cameras are:
FORT ERIE – Garrison Road at Pettit Road/Daytona Drive
GRIMSBY – Christie Street at South Service Road
LINCOLN – Ontario Street at South Service Road
PELHAM/WEST LINCOLN – Highway 20 at Victoria Avenue
NIAGARA FALLS – Lundy's Lane at Garner Road
NIAGARA FALLS – Stanley Avenue at Dunn Street
ST. CATHARINES – St. Paul Street West at First Street Louth
ST. CATHARINES – Niagara Street at Parnell Road
WELLAND – Prince Charles Drive at Lincoln Street
WELLAND – Niagara Street at Quaker Road
Infractions for running a red light carry a $325 fine. Offending drivers do not receive demerit points. 
A mandatory 60-day "warning period" and public awareness campaign with outreach across social media, websites, printed ads, and billboards will precede the program's launch.
Like other red light camera programs around the country, after any implementation deficit is balanced out, Niagara's red light camera initiative is designed to operate on a cost-recovery basis over a full budget year, wherein ticket payments cover program administration.  
Any net revenue above eligible operational expenses will be divided between the Region and lower-tier municipalities on a 50/50 basis, and directly re-invested in road safety initiatives. 
All images of alleged infractions will be assessed by the City of Toronto's Joint Processing Centre in cooperation with the Ministry of Transportation. 
The introduction of 10 red light cameras is only one component of Niagara Region's wider Vision Zero program, which also includes the previously-approved installation of four automated speed enforcement systems and the development of a comprehensive Road Safety Strategic Plan that will examine opportunities to further improve local road safety.
Red light cameras have been operational in Ontario since 2000. In implementing photo-capture technology at high-risk intersections, Niagara joins Toronto, Hamilton, Halton, Peel, York, London, Durham, and Ottawa.