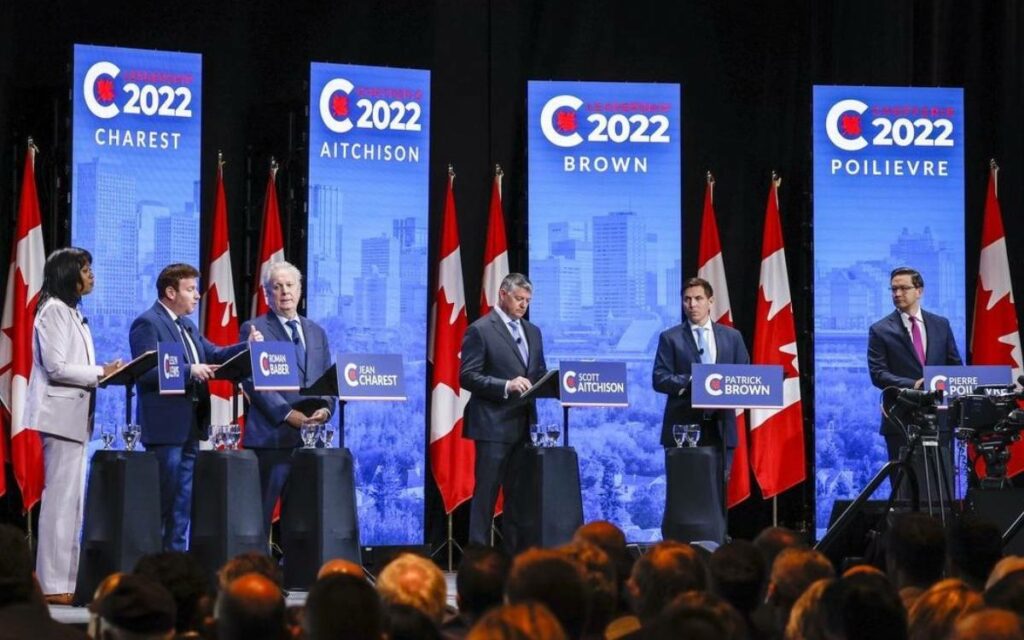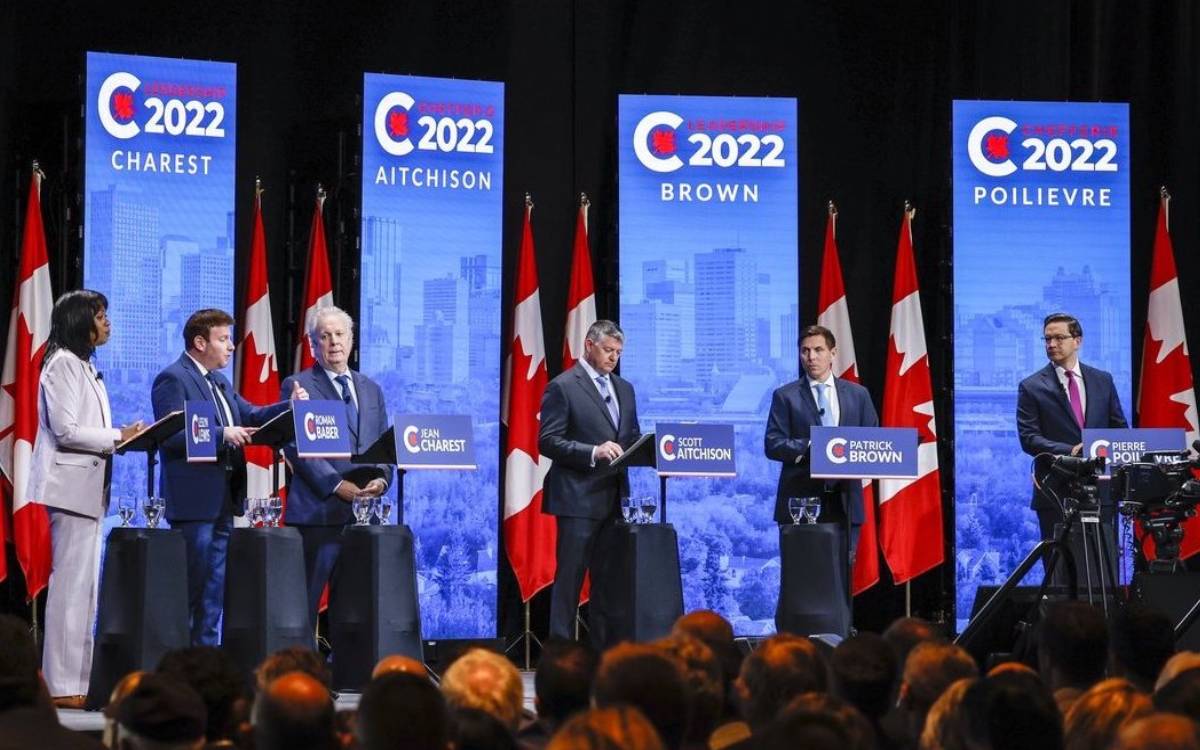 From left to right: Leslyn Lewis, Roman Baber, Jean Charest, Scott Aitchison, Patrick Brown, and Pierre Poilievre at the Conservative Party leadership debate in Edmonton, May 11, 2022. Photo credit: The Canadian Press/Jeff McIntosh
To sum up the first official Conservative leadership debate in Edmonton on May 11, I will borrow a quote from Charles Dickens. It was the best of times, it was the worst of times. 
Many Conservatives and "Ottawa insiders" felt the tone of the unofficial debate that took place last week at the Canada Strong and Free conference in Ottawa did nothing to demonstrate that the Conservative Party, regardless of who is chosen as leader, is ready for prime time. I certainly fell into this camp and have been hoping for a more thoughtful discussion on where the party is headed, without the condescending attacks and interruptions.
Which brings us to this week's debate. Although it had its moments of wackiness, there was also constructive conversation about many of the serious topics impacting Canada at this time, including the cost-of-living crisis, the future of energy, and Northern security. More importantly, the personal attacks were kept to a minimum and candidates Jean Charest and Pierre Poilievre demonstrated more restraint this go around, despite their clear dislike for one another. 
But first, we can't ignore the elephant in the room. At times, the debate felt like watching a first date at the table next to you in a restaurant. The string of get to know you questions from moderator Tom Clark were meant to add levity to the conversation and tease out personality. Instead, candidates attempted to tie the last book they read, or their political hero to the message they have been trying to sell over the course of the last several weeks. It was awkward at best, and I think it's safe to say that most viewers turned off the TV deciding they would avoid grabbing a beer with any of the six candidates on stage at all costs.
Which leaves us with the good. Notably, the candidates were forced by the debate format to give a concise answer on several current and controversial issues. As Prime Minister, Patrick Brown would voice his support for a no-fly zone over Ukraine, and advocate for Canada to take a stronger role in pushing our NATO allies to act. Pierre Poilievre will cut through red tape and increase Canada's immigration targets to deal with the labour shortage in Canada. Scott Aitchison would dismantle supply management in response to the inflation crisis, and Leslyn Lewis would enter into agreements with Indigenous communities to get pipelines built, while working towards economic reconciliation. Roman Baber believes in reforming laws on addiction and mental health, and Jean Charest wants to build two military bases in the Arctic because Canada has failed to make the necessary investments in security for far too long. 
Putting aside the individual personalities of the candidates, these are serious commitments, and when taken together, they could very well create the basis of a platform that could knock Justin Trudeau off his feet in the next election. 
Come September, the new Leader of the Conservative Party would do well to meet with his or her debate opponents, offer an olive branch, and sift through the best and most viable ideas that resonate from one end of the country to the other. 
Josie Sabatino is a Senior Consultant at Summa Strategies, focused on providing strategic insight and helping clients meet their objectives in an ever changing and complex political and regulatory environment. Prior to joining Summa, Josie spent nearly a decade in political communications and most recently served as the Director of Communications to the Hon. Erin O'Toole, former Leader of the Official Opposition.