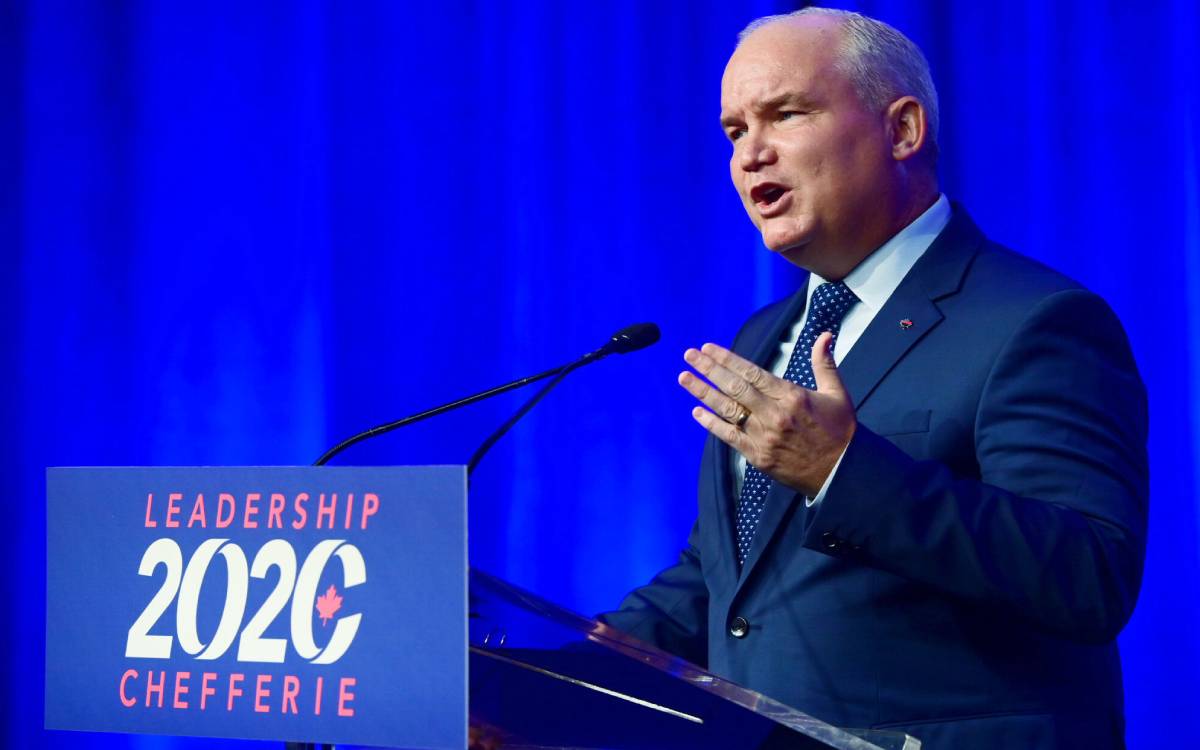 Head of the Conservative Party Erin O'Toole. The question of compulsory vaccination for MPs is currently putting O'Toole's leadership to the test. Photo credit: The Canadian Press/Sean Kilpatrick 
With the recent election in the rear-view mirror, MPs will return to Ottawa on November 22 to kick-off the 44th Canadian Parliament. With a new cabinet in place, the Liberal government's engine is raring to implement their progressive agenda. The government is focused on how to best position Canada to exit the pandemic, fight climate change and secure $10 a day childcare for all Canadians. For the opposition parties, especially the Conservative Party, that engine seems to need some oil before it's ready to go. 
On the surface, things seem well in Tory Town, but looking a little closer there is some tension within the Tory ranks. At the heart of the issue is determining whether Erin O'Toole, current Conservative leader, should continue to lead the party.
Supporters of Mr. O'Toole recognize the gains in Atlantic Canada, where the Tories doubled their seat count from 2019. Not to mention, O'Toole outperformed the early pollster's predictions, while senior Conservatives are comparing his recent performance to that of Stephen Harper in the 2004 election. Those calling for his resignation focus on the fall 2021 election, where the party lost several seats in the GTA and Alberta: the heartland of Conservatism. Many of those calling for O'Toole's removal were never big fans, and some have personal leadership aspirations. 
No matter where allegiances lay, O'Toole and his team are trying to mend fences and focus their efforts on defeating the Liberals in the next election. Though Conservatives are well known for beating up on their leaders, especially after an election. Just look at Mr. O'Toole's predecessor as the most recent example. 
In mending the fence, O'Toole has launched a review of the 2021 campaign led by former Alberta MP James Cummings. Mr. Cummings, who lost a close race in the fall to a Liberal challenger, is tasked with finding the highlights and the lowlights of the campaign. This is not uncommon for a campaign to do, as it is an opportunity to learn for next time. In this year's report, there is no doubt that the topic of firearms and vaccines will be raised. The Liberals were successfully able to use these issues as wedges and derail the Conservative campaign. 
Though the campaign is over, vaccines remain a thorn in the Conservative side and are creating division among caucus. Last month, the House of Commons Board of Internal Economy announced new rules that anyone who is not vaccinated cannot enter parliamentary buildings or the Chamber. Following this announcement, the Conservatives made it clear that they will challenge this decision when the House returns later this month. Some MPs believe this violates their privilege as Members of Parliament, even though this ruling mirrors the current provincial rules and the requirement that all federally regulated workers be vaccinated. 
The Liberal, NDP, and Bloc Québécois have publicly announced that their caucus members are fully vaccinated or have exemptions. The Conservatives have yet to announce (or in some cases, ask) if their members are vaccinated. It is believed there are only a few Conservatives who have yet to get vaccinated. 
Conservatives that refuse to disclose their vaccine status claim it is a matter of medical privacy or it violates their civil liberties to be forced to have a vaccine. Last week, Conservative MP for Niagara West Dean Allison had a COVID skeptic scientist on their podcast. Following this, Ontario MP Marilyn Gladu announced she is spearheading a mini-caucus of Senators and MPs to examine vaccine mandates to determine if they are a risk to civil liberties. Ms. Gladu claims to have 15 to 30 Conservatives interested in participating in this caucus. 
This view of vaccines seems to be largely out of step with how a large majority of Canadians feel about vaccines. An overwhelming number of Canadians either support vaccines or have grudgingly rolled up their sleeves to get one. The challenge for Mr. O'Toole will be to balance the demands of his caucus with the realities of where Canadians stand. 
It's a time for real leadership within the Conservative Party and for Mr. O'Toole to make the tough decision about his caucus. This is the type of call that a future prime minister will have to make time and time again. Other leaders across Canada have had to grapple with this internal decision and real leadership was shown. 
Earlier this year in Ontario, Premier Ford was facing a similar challenge with his caucus and members not being vaccinated. He made the tough decision to require all MPPs be vaccinated or have a medical note. In result, he lost two caucus members who failed to comply.
It is never easy to see the size of your caucus decrease, especially in opposition or when your leadership is being questioned. A leader does not want to be seen as silencing his critics by expelling them. Last year there was some outcry from caucus members when O'Toole pushed for the removal of an MP and leadership rival for accepting donations from a white nationalist. Not to mention the internal challenges of the Reform Act, which governs the removal of a member from caucus. 
Although challenging, this is an opportunity for Mr. O'Toole to show his true colours. Being prime minister is no easy job, but neither is managing a caucus. Now is the time to show Canadians his leadership and do the right thing in ensuring that everyone who can be vaccinated is vaccinated. 
No matter the decision that Mr. O'Toole makes, he will ruffle a few feathers. If he stands behind his caucus, he will appear as a leader who caters to the anti-vax crowd and out of step with most Canadians. But if he does act and forces his MPs to get vaccinated; he might be out of a job as leader. This is no easy decision, but the type of decision that he will face daily if he gets his dream job.
Daniel Perry is a consultant with Summa Strategies Canada, one of the country's leading public affairs firms. During the recent federal election, he was a regular panelist on CBC's Power and Politics and CTV Morning Ottawa.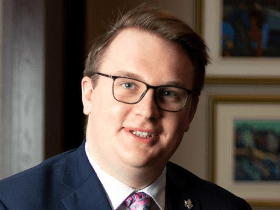 Daniel Perry is a consultant with Summa Strategies Canada, one of the country's leading public affairs firms. During the most recent federal election, he was a regular panelist on CBC's Power and Politics and CTV Morning Ottawa.