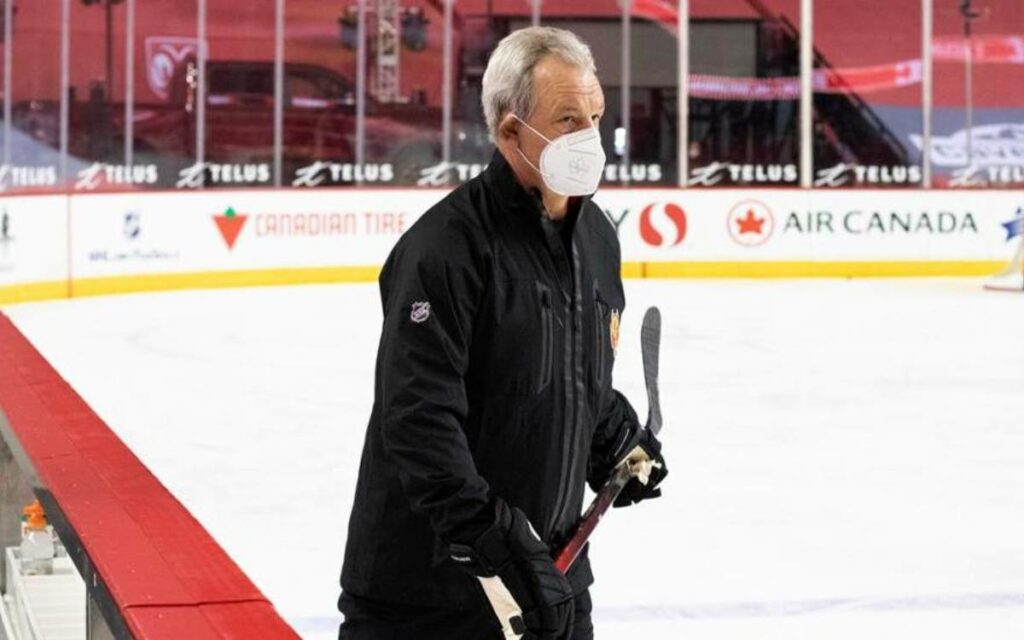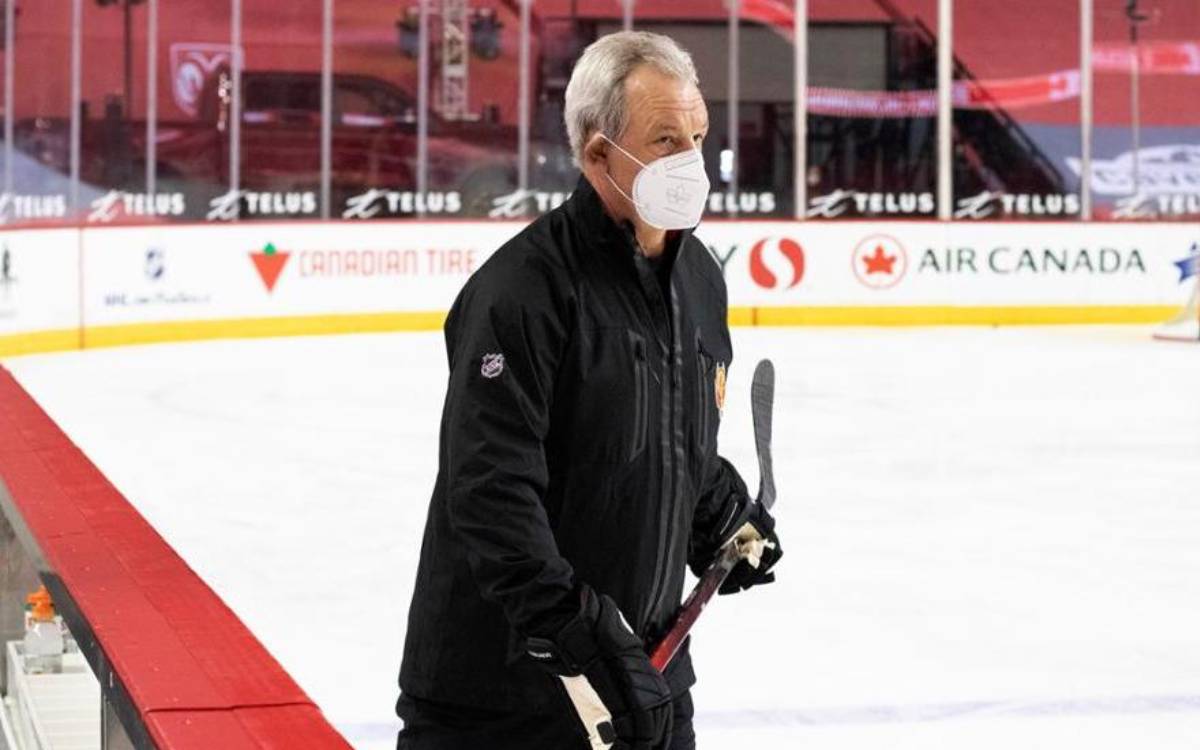 Calgary Flames head coach Darryl Sutter. The Flames franchise currently has over 30 members, including Sutter, in Covid protocol. The NHL, NBA, and NFL are all suffering case surges and havibg to postpone games due to the pandemic's latest wave. Photo credit: NHL

Perhaps it's time to change the name Covid-19. 
The average person doesn't realize Covid-19 was named because it was first identified in 2019.
Almost four calendar years later, the Covid pandemic continues to haunt many, including much of the sporting world. 
The latest buzz word and variant affecting the population: Omicron. 
As the holiday break fast approaches, and the calendar flips to 2022, many of the NHL franchises have already hit pause on their seasons. 
As of 6pm EST on Monday evening the National Hockey League had postponed 43 games. 
Keep in mind only 55 games, total, were postponed during last season's 56-game shortened campaign. 
The Montreal Canadiens, Edmonton Oilers, Ottawa Senators and Columbus Blue Jackets were the latest teams to be shut down by Covid.
The Calgary Flames currently has over 30 members of its franchise in Covid protocol.
Also, Hockey Canada has withdrawn from the upcoming Spengler Cup in Davos, Switzerland. The decision was made to maintain the health and safety of participating players, coaches and staff.
NHL players on both sides of the border have spoken out about the current situation. 
"Pause the season until after Christmas? This is ridiculous," said Nashville Predators forward Nick Cousins.
Meanwhile, Montreal Canadiens forward Jonathan Drouin offered this: "I'm not really comfortable playing against people that might have Covid."
In the NBA, seven games including a pair of Raptors games over the past week, have been postponed. 
Over 70 players from the National Basketball Association are in Covid protocol, forcing the league and the Players Association to allow, and agree, that teams can sign replacement players.
Under the agreement, teams will be allowed to sign a replacement player for each positive Covid-19 case on its roster. So, if a team has five positive cases of Covid-19, for example, it could sign five replacement players.
The Raptors reportedly signed three players on Monday including Canadian guard Nik Stauskas. 
As for the NFL, three games were postponed this past Sunday. The National Football League added one contest to its Monday schedule and two for Tuesday night.
"From the outset of the coronavirus pandemic, our focus has been to play our games in a safe and responsible way, consistent with the best available medical and public health advice, based on protocols jointly developed and implemented with the NFL Players Association," NFL Commissioner Roger Goodell wrote in a memo obtained by NFL Network. 
"A key element of our success to date has been our commitment to working with our union and our respective medical experts to make needed adjustments in response to changing conditions."
"The emergence of the Omicron variant is precisely the kind of change that warrants a flexible response. Based on medical advice, we have instituted additional protocols as well as revised testing protocols for reinstating players and staff who have tested positive. We have also considered whether certain games should be rescheduled in light of current conditions."
Obviously Major League Baseball (MLB) is the only major sport of the Big 4 in North America to not be affected by the current surge in Covid cases.
Outside of North America, the English Premier League has been affected most. Ten games have been postponed thus far. 
Locally, the Niagara IceDogs had their final two games before the holiday break postponed over Covid protocols.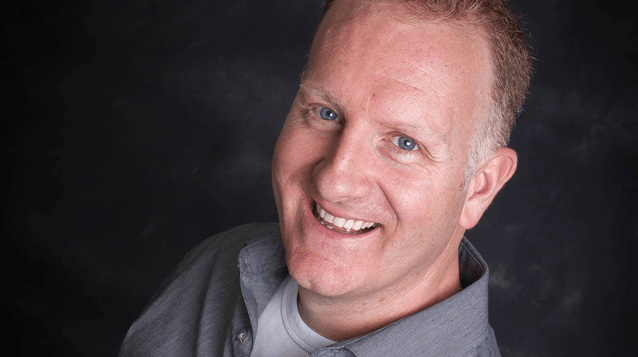 Rod Mawhood is a lifelong Niagara native who has had the pleasure of working in all three mediums – Radio, Print and TV – for over 20 years. His first announcing gig was with the then St. Catharines Stompers. Since then he's worked in radio and TV in Toronto, and currently is the announcer for the Niagara IceDogs and Niagara River Lions.
Rod also covers the Buffalo Bills for FOX Sports and the Buffalo Sabres for NBC Sports.