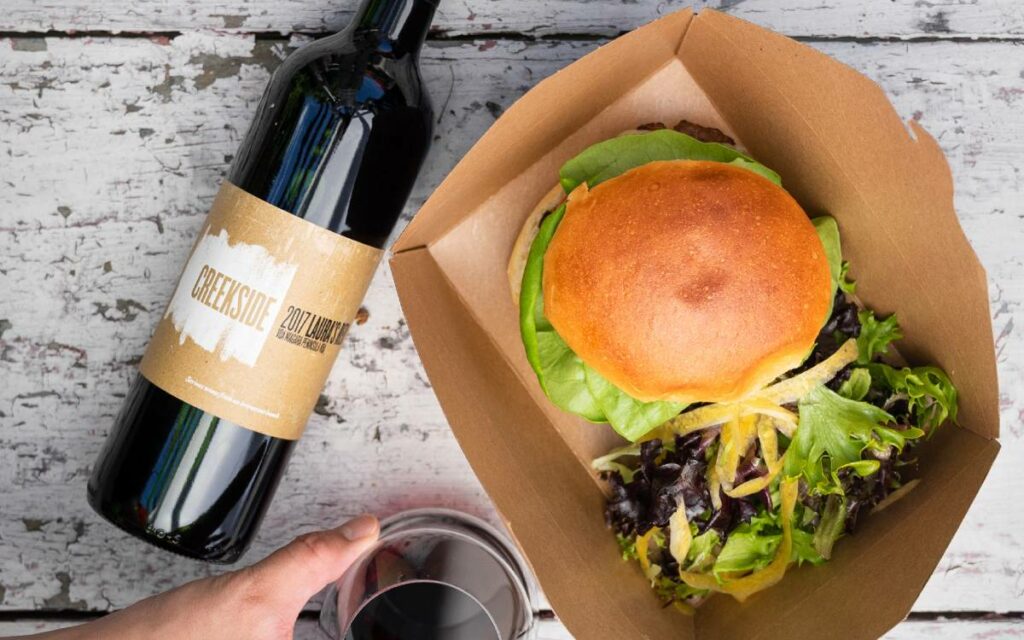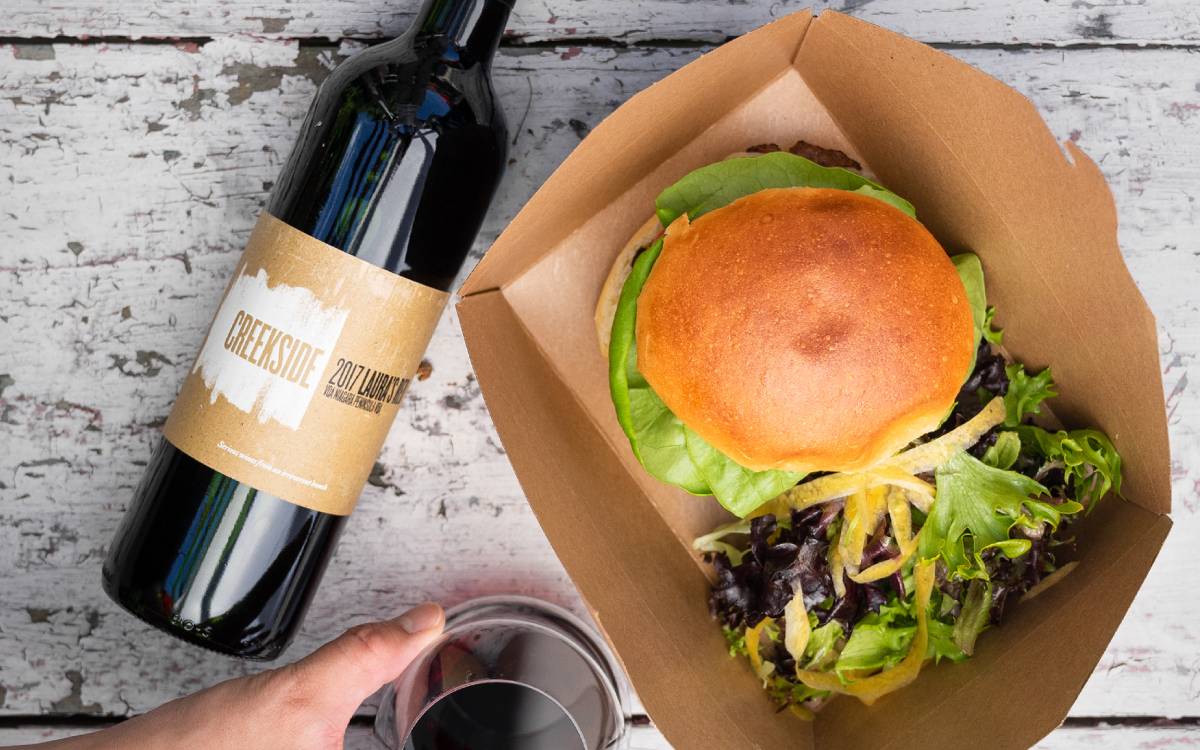 One of Creekside's delicious grilled-to-go offerings. Supplied photo.
Sometimes you want to keep something a secret, especially when it comes to dining. It's a place so peaceful and relaxing that you don't want it overrun with tourists. 
Creekside Kitchen and Grocery in Jordan is one of those places and I'm being a bigger person by letting others know. Although my husband and I were regulars pre-COVID shutdown, it was exciting to be back when it re-opened.   
As you weave your way through the Creekside Winery retail shop and tasting bar, you might be tempted to stop off for a little sampling or pick up some of their select grocery items. By all means, go ahead, you won't be disappointed. But if you walk a little further, you'll come to a doorway that opens to an intimate deck surrounded by lush greenery, a small pond and incredible views.
In some ways, it's like walking into a backyard of a cottage. However, in this case, it's a little different because I don't have any pals who have "Chef Cam" working the barbecue.
His full name is Cameron McDougall and he oversees the Creekside Kitchen, which offers yummy, unpretentious food that naturally pairs well with the amazing Rob Power's fantastic wines.
They say sharing is caring, but in our case, it also just makes sense to split up our lunches so we get the chance to sample two offerings.
Some days I just hanker for a bacon and tomato sandwich, so my grin was a mile wide when I spotted one of the specials of the day included the Double Smoked Bacon, Boston Lettuce and Heirloom Tomato sandwich.
Seriously stacked with bacon that was just the right balance of crunchy and chewy, I was regretting my willingness to give hubby half.
That changed when he handed over a portion of his lunch. There are a lot of places that serve up a great burger in Niagara and this is at the top of the list. The juicy, made-on-site burger was topped with aged cheddar and Laura's Red caramelized aioli. Please don't ask me which of us made the best lunch choice because I couldn't be sure.
Now the only thing that may be a bit different is the way it is served. Both lunches came in a box and with plastic utensils. This might be off putting at first but made perfect sense once you realized that COVID hasn't quite left us yet, and so the Creekside Kitchen has a strong emphasis on meals to go.
The "to-go" boxes not only allow for take out but, if tables are full or you just want a little more privacy, you can grab a nearby picnic table on their property. In fact, next time I think that is exactly what I will do, picking up one of those tempting Cheese & Chacuterie boxes. 
Now, I personally find it impossible to have cheese without wine and that's the other highlight of dropping by Creekside. 
I highly recommend taking advantage of their tasting flights. It's my very firm opinion that tasting only one wine does not give you the proper experience or appreciation of a winery. And in many cases, people don't really know what they like until they get to compare.
For a bargain $15, I chose the oaked whites flight which offers three selections. My husband went with the Big Reds. I admit I also tried the Pinot Noir Rose which was also perfect for a hot summer afternoon.
For anyone familiar with Niagara wines, you will know that Creekside Winery is well known for its Sauvignon Blanc and Syrah. They have also been awarded more than 50 medals for their wine and their Broken Press Syrah was awarded Ontario's Best Red Wine at the Ontario Wine Awards in 2017. 
Creekside Kitchen is open Friday to Monday, but I always recommend calling ahead to confirm times. For more information or to browse the menu, go to Creekside's website here.