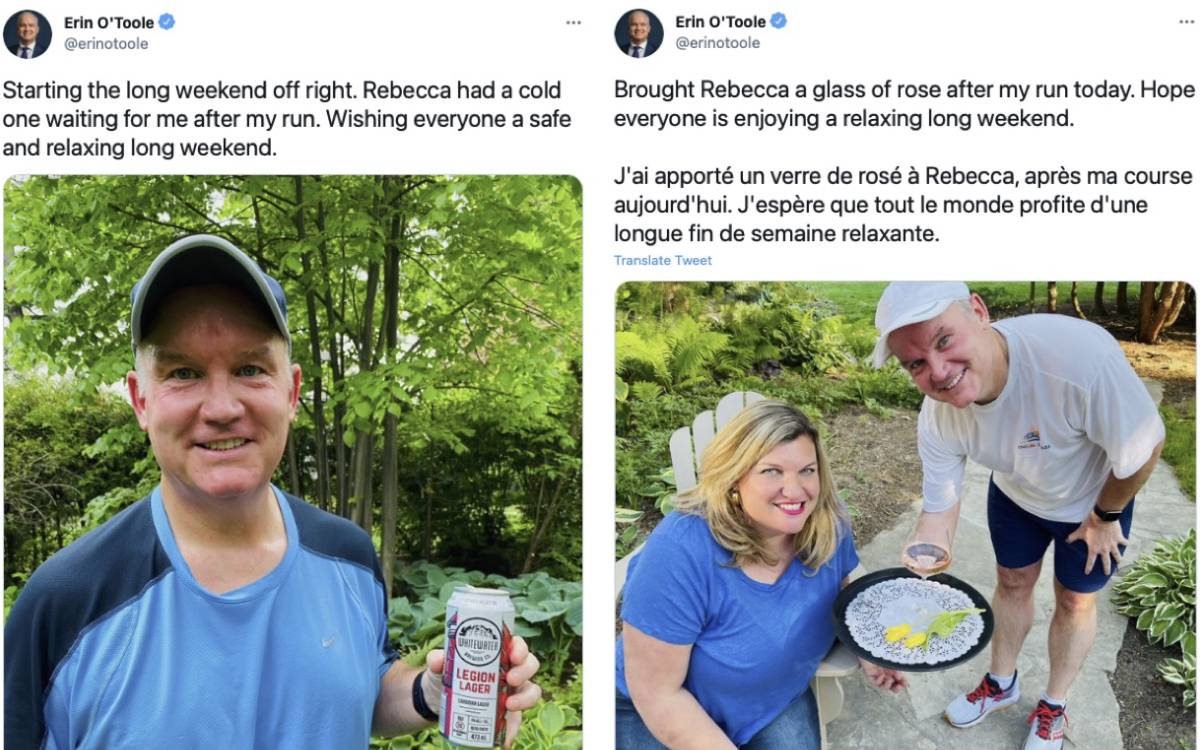 The initial tweet from Conservative Party leader Erin O'Toole that started the entire 'controversy' described below (left). The tongue-in-cheek tweet O'Toole sent the following day (right). Photo credit: Twitter/Erin O'Toole
An attempt by some commentators on Twitter to paint Conservative Party of Canada Leader Erin O'Toole as an old-school sexist backfired this weekend, after an innocuous tweet was misconstrued for a calculated political message. Instead of succeeding in painting O'Toole as some kind of chauvinist, it exposed the crass attempt from the left to virtue signal to female voters, and the hypocrisy of the Liberal government's self-proclaimed feminist bonafides.
On Friday evening, the Conservative leader sent out a message following a run, pictured with a beer in hand. "Starting the long weekend off right," the tweet began. "Rebecca had a cold one waiting for me after my run. Wishing everyone a safe and relaxing long weekend."
Pretty standard fodder for a holiday weekend message. Or, so one would think.
Some social media users saw the message in a different light. Liberal pundits implied the message reinforced traditional gender roles. Other political observers suggested the message was an attempt to appeal to O'Toole's base through the use of an old stereotype. Some sarcastically remarked that perhaps Mrs. O'Toole had slippers and pipe in hand along with the beverage, evoking an image of servitude more custom in decades past.
Collectively, these critiques centered around a familiar refrain about conservatives; that they are traditional, but more critically, behind the times in their way of thinking and acting when it comes to gender equity. The fact that Mrs. O'Toole would have nothing better to do than await her husband's return to serve him a beer, critics said, was not-so-subtle sexism. Women voters would be repelled by a message so clearly out of touch with an electorate that values equality and feminism.
Fortunately, not long after these comments were made, common sense prevailed online. Users pushed back against the hyperbolic criticisms, noting the harmlessness of O'Toole's post. Women conservatives, and a handful of progressives, defended the Conservative leader, mainly by recognizing the silliness of the suggestion that the message was sexist either by design or happenstance. O'Toole himself posted a tongue-in-cheek photo the day following, showing him serving his wife Rebecca with a glass of wine following another one of his workouts, showing that simple kindness towards one's spouse can be a two-way street, regardless of gender.
The entire controversy, if it could even be called that, was said and done in less than a day. But it stirred up familiar tropes that the centre-right find themselves unfairly combating every election cycle.
The Liberals have made no secret about their recruitment of women voters to their cause. They are blatant in their appeals to young women and mothers, from the optics of their gender balanced cabinet in 2015 to extolling the importance of an economic "shecovery" in the most recent federal budget. Promises around childcare made by the Liberal government are squarely marketed at women in their twenties and thirties: a key demographic that showed up big for Trudeau when he first came to power, who they will need to form a majority whenever the next election is held.
No small part of the Liberals' effort to get women to vote for their team involves dismissing their conservative opponents as defenders of the patriarchy, and backward on issues of women's rights. Very rarely do we make it through a parliamentary session without the subject of a woman's right to choose being raised not by Conservatives, but by Liberals in an attempt to fear-monger or deflect from their own issues. This happened just weeks ago, when Liberal Heritage Minister Stephen Guilbeault suggested that Conservative opposition to embattled Bill C-10 was driven by a desire to support pro-life groups online; a statement without a shred of evidence to support it.
Similar issues dogged former Conservative Leader Andrew Scheer in the last election campaign, despite him stating on numerous occasions that he did not wish to relitigate a woman's right to choose were he to be elected Prime Minister. Stephen Harper faced similar criticisms for his personally-held beliefs. Vicious personal attacks have been a standard part of the Liberal playbook for many years.
Those suggesting O'Toole's tweet was sexist could find much more substance reviewing the Trudeau government's transgressions with women. The fraught dismissal of Jody Wilson-Raybould and Jane Philpott – two prominent Liberal cabinet ministers who dared to question the Prime Minister's involvement in the SNC-Lavalin scandal – was a highly visible example of this. Key Liberal decision-makers who have looked past allegations of sexual harassment against Canada's top military commander is a more recent one.
Any voter looking at this government's track record on the treatment of women would find no shortage of hypocrisy and incongruence between what the Liberals say, and how they behave.
While claims of sexist behaviour may be a familiar pain point for Tories, the online kerfuffle should serve as a reality check to the Twitter commentariat that voters aren't buying the Liberals' virtue signaling on feminism any longer.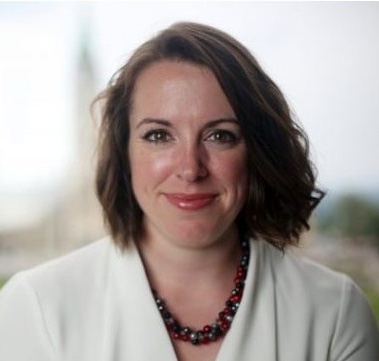 Kate Harrison is the Vice-Chair of Summa Strategies Canada, one of the country's leading public affairs firms. She is a regular political commentator on CTV, CBC, Sirius XM, and other talk radio stations, as well as a contributor to various news outlets. She has been involved in conservative politics for over fifteen years, and an active member of the country's conservative movement.