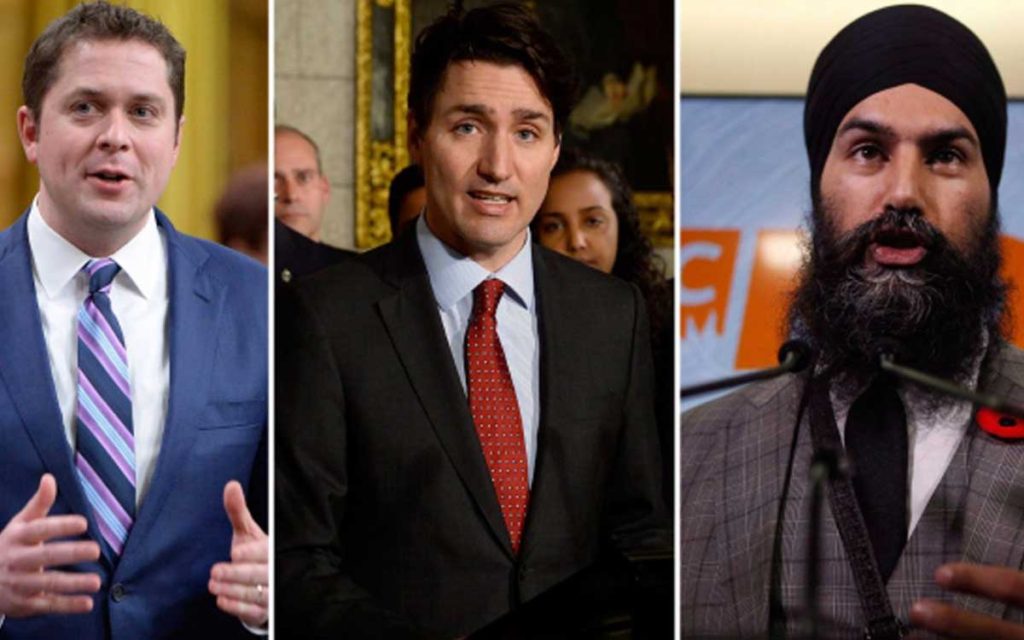 Leaders of the three major Canadian political parties from left: Andrew Scheer (Conservative), Justin Trudeau (Liberal) and Jagmeet Singh (NDP).
Come the New Year, all eyes will be on Ottawa as Canadians bear witness to a parade of politicians and pollsters, all positioning and pontificating in advance of the October 21, 2019 federal election vote. We can expect dramatic headlines covering the spin and counter-spin of not only the politicians vying for your vote, but also pollsters and pundits who will be commenting on the rhetoric and "the horserace" itself.
Expect conflicting polls feeding opposing commentary. For example, two polls taken a year prior to the fall 2019 vote heralded opposite forecasts. Sun Media trumpeted the federal Conservatives would win a majority government. Meanwhile, CBC reported to Canadians that the national polls are in Trudeau's favour.
One of the most reliable pollsters and political analysts in Canada is Nik Nanos, who released a remarkable poll on December 7, 2018 that placed the Trudeau Liberals and Scheer Conservatives in a statistical dead heat. According to Nanos Research's weekly rolling poll numbers, the Conservatives notched 34.8 per cent support nationally, edging ahead of the Liberals with 34.1 per cent (NDP 15.8 per cent and Green Party 8.2 per cent). This is remarkable because a month prior, Nanos had the Liberals leading the Conservatives by a margin of 12 points.
In an exclusive interview with The Niagara Independent, Nik Nanos explained the national economy will weigh most heavily on the minds of Canadians casting their ballot next October.
TNI: In your review of recent news events, what are the significant factors causing the drop in Liberal support in national polls?
Nanos:  "In the Nanos tracking, the decline in popular support for the federal Liberals has occurred at the same time as declining economic mood. The proportion of Canadians who think the economy will get stronger in the next six months has hit a 10 year low. In the West, economic anxiety is driven by low oil prices and pipeline paralysis. Although Canadians were likely happy to see the USMCA trade deal happen, the tariffs on steel and aluminum are still on the books. Then there is the recent announcement about the closure of the GM Plant in Oshawa, which regardless of the cause creates anxiety among Canadians about the economy."
Earlier quoted in the Hill Times, Nanos summarized this analysis by saying, "There's a very negative economic mood right now in the country. A sitting government presiding over a recession usually is not good news for the sitting government."
TNI: How does Canadians' economic angst weigh against other headline issues such as the environment, immigration and open borders, pipelines and natural resource development, or the public's impressions of political competency?
Nanos: "I think anything that connects to the economy – like jobs and prosperity – should be a concern for the Liberals, especially if Canada hits a recession in 2019. Canadians judge governments by what they see. The Liberals are clearly focused on a progressive agenda which includes issues such as gender equality, legalization of marijuana and reconciliation with Indigenous Peoples. These issues do not have strong ties to the economy."
Again, in the Hill Times, Nanos furthered this thought, remarking: "They should be extremely concerned about what a potential recession in 2019 might mean for the political mood and how some voters might think, 'Okay, you've spent the last three years on all these other things, but can you please remind us what you've done in order to create prosperity in the future and tell us where our jobs are going to come from?'"
TNI: What regions register the strongest support for the Liberals and what are the weakest regions?
Nanos: "For the Liberals, their best comparative regions include Quebec, Atlantic Canada and Ontario. If the current trend continues they will have a tougher slog in the next election in the Prairies and BC. That said, because they did so well in the last election in Atlantic Canada and Ontario, they could lose seats in those regions. The one region where they have a chance to gain seats is Quebec – likely at the cost of the New Democrats."
TNI: Is it too early to conclude the Liberals' electoral chances in Western Canada are nil?
Nanos: "It might be best to think of the chances of the Liberals in the West to returning to traditional levels. Liberal stalwarts like Ralph Goodale in Saskatchewan will weather the political storm like he always has. Generally, we should expect ridings that have traditionally voted Conservative in the past to have a high likelihood to revert to the Tory column."
Other national polls published recently by Forum Research, Leger, Abacus Data and CBC all signal a close race throughout 2019. (Just released is the Nanos tracking poll for December 14: Liberals regain the lead at 36.0, Conservatives 33.9, NDP 16.6, BQ 3.4, Green 6.6 and PPC 0.7.)
The constant stream of polling data is sure to increase next year, which will provide an endless source for political pundits and their fearless election predications.
Here's wishing you and yours a Merry Christmas and health and happiness through 2019.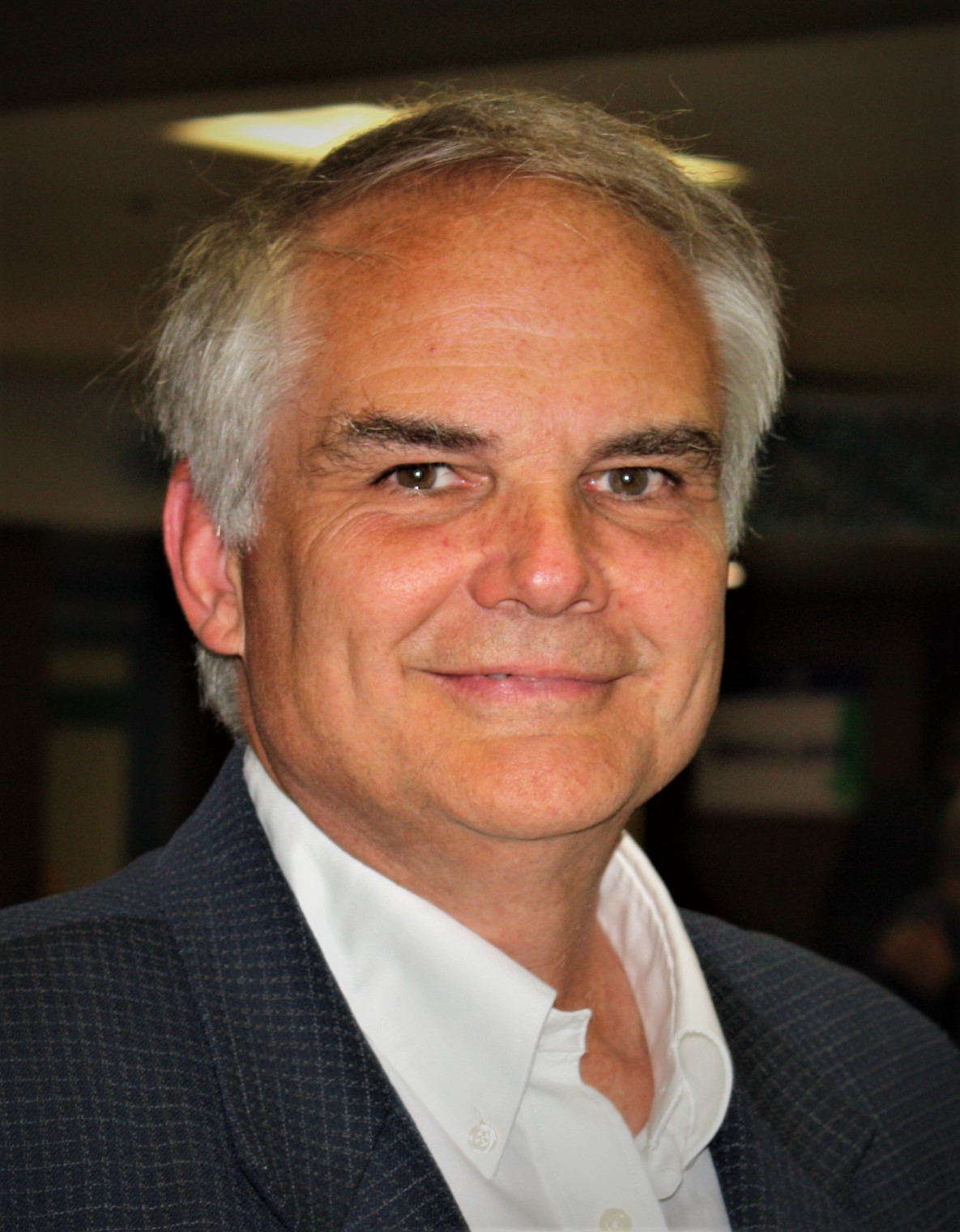 Chris George is an advocate, government relations advisor, and writer/copy editor. As president of a public relations firm established in 1994, Chris provides discreet counsel, tactical advice and management skills to CEOs/Presidents, Boards of Directors and senior executive teams in executing public and government relations campaigns and managing issues. Prior to this PR/GR career, Chris spent seven years on Parliament Hill on staffs of Cabinet Ministers and MPs. He has served in senior campaign positions for electoral and advocacy campaigns at every level of government. Today, Chris resides in Almonte, Ontario where he and his wife manage www.cgacommunications.com. Contact Chris at chrisg.george@gmail.com.