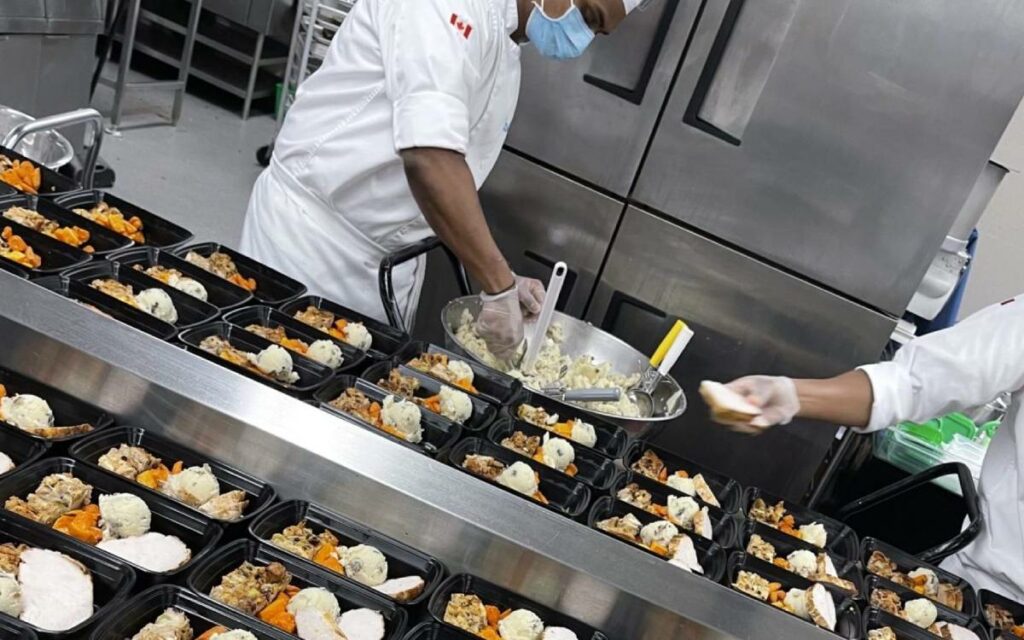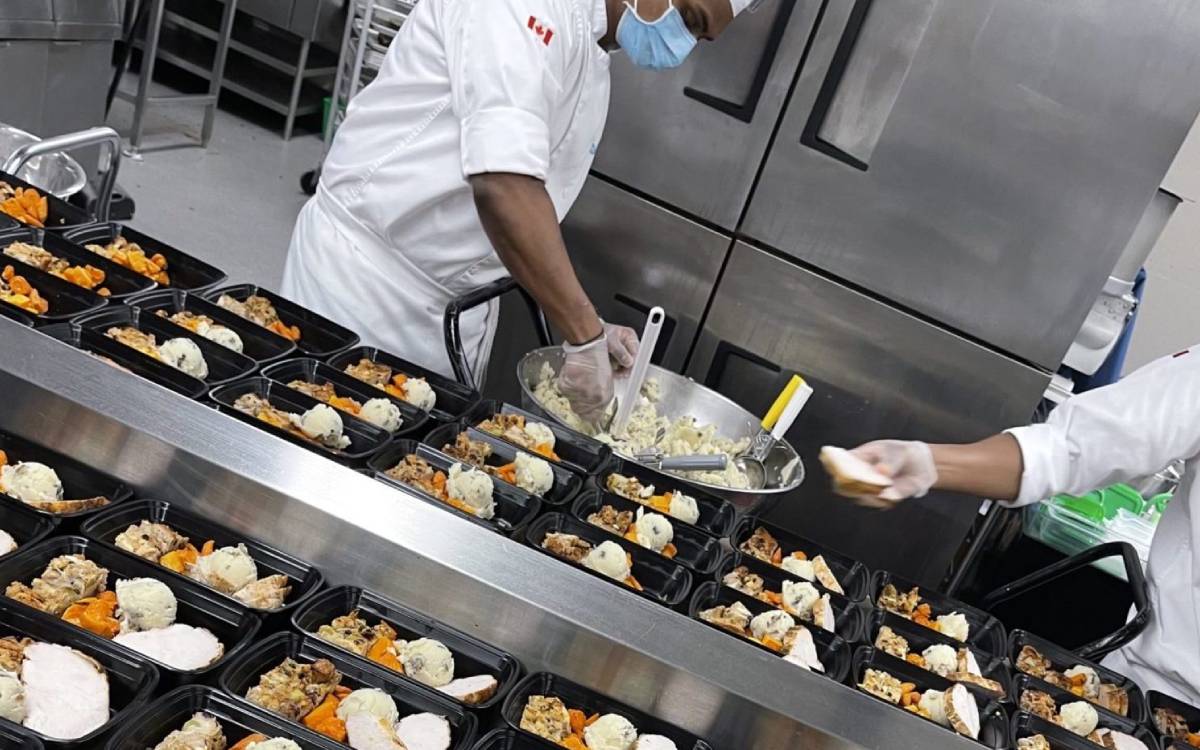 Culinary Management students at Niagara College work to create Christmas meals for Niagara's vulnerable population. Photo credit: Niagara College
When it's all said and done, by the end of the fall semester Niagara College's Canadian Food and Wine Institute (CFWI) will have dished out 3,000 free meals to those in need across the local community. 
The 10-week 'Feed the Community' initiative has seen chef professors and students in the college's Culinary Management program volunteer their time every Monday since September to prepare 250 to 300 meals per week. 
Meals have been delivered to community agencies across Niagara, including Port Cares in Port Colborne, The Raft and Start Me Up Niagara in St. Catharines, and Project Share in Niagara Falls. 
"We just need to feed people because that is what cooks do – not just in a formal restaurant setting," said instructor Olaf Mertens, who spearheaded the project.
Mertens estimated that participating students have volunteered 100 hours to cooking throughout the fall semester, while two students who took on leadership roles — Joe Abbruscato and Floyd Labo – completed 140 hours with additional tasks such as working on menus, overseeing the process, ordering, receiving, marinating, portioning, packaging, labelling and food safety.
"With eyes wide open, students packed and drove the 250 meals weekly to the distribution centres and saw a range of people in need of all ages and all walks of life," said the chef. "Cooking on Mondays was the semester's highlight and skills outlet."
Several staff members were also dedicated to the effort. Chef Leblanc helped deliver the meals on Tuesday mornings, while Sam Seaver and Greg Stout contributed to receiving and food distribution, and Janet Misener took on student food orders.
"The work being done by our students shows the care and dedication they have to our community, and understanding the need for proper nutrition and the emotional impact that can have on people in the community," said Dean Youdale, CFWI dean.
"I am so proud of all our staff and students in their pursuit for a more inclusive and supportive community."
One of the project's local student leaders, second-year Culinary Management student Joe Abbruscato, applauded the five international volunteers who embraced the opportunity to help their new community "as if they were feeding their own home communities."
"Menu standards and quality were only achievable with this tight-knit team that we cooked together with for the past semester," said Abbruscato. "Teamwork and applying lessons learned during the semester at CFWI, and achieving these meal volumes in a short time span was our weekly team success." 
Chefs Dan Leblanc and Tom Liu originally launched the Feed the Community initiative during the winter 2021 term to help sustain those in need during the pandemic.
The latest term's efforts were supported by a $6,000 donation from the Niagara Community Foundation.