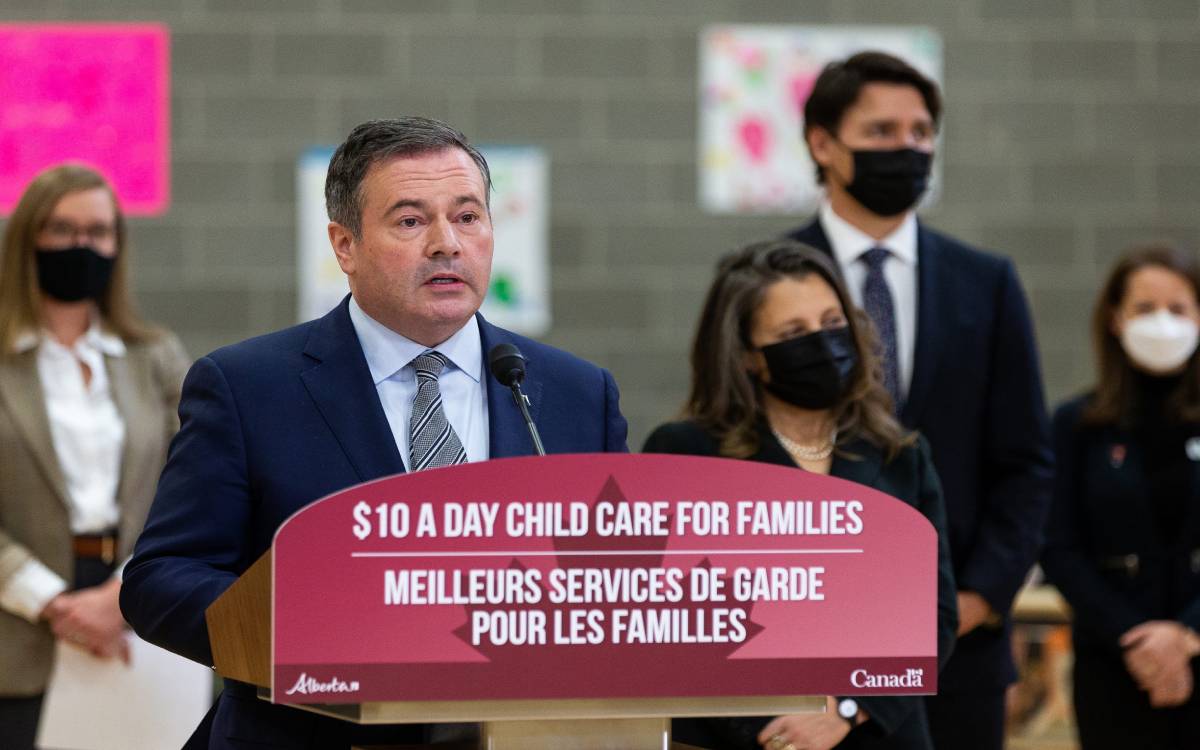 Alberta Premier Jason Kenney announcing the province and federal government reached a deal regarding $10-a-day daycare, Nov. 15, 2021. Photo credit: Edmonton Journal
There was a supremely awkward press conference that took place last week in which Alberta Premier Jason Kenney "signed on" to the federal Liberal government's so-called $10 per day daycare plan, in the presence of Prime Minister Justin Trudeau. Kenney did his best to straddle the conflicting positions of fighting with the federal government while accepting several billion dollars for daycare or, in his words, "not leaving money on the table". Namely, the $3.8 billion the federal government claims it will spend in the province over the next 5 years, out of the total of $30 billion it has said it will spend across Canada to establish a national system of institutionalized child care.  
Kenney also made sure to point out during the press conference that the $3.8 billion coming from the federal government was but a small portion of the monies Alberta regularly provides to the federal government from various sources of taxation which end up taking the form of transfer payments to other provinces. Although some might have found this remark churlish on Kenney's part, it was certainly accurate.  
One of Kenney's main beefs was that the money to be transferred from the feds came with more strings attached as to how the funds could be spent than monies transferred to Quebec for the same purpose. Kenney did succeed in having private daycare operators included in the system as well as the not-for-profit operators the federal Liberal government clearly prefers for ideological reasons. This is a sensible course of action, as more than half of current daycare spaces in Alberta – and in most provinces for that matter – are provided by private operators. Even in the much-mythologized Quebec model, where the provincial government initially wanted to subsidize only not-for-profits, they found support had to be extended to private operators to provide the supply of spaces that was being demanded in a timely way.  
Among the remaining provinces and territories, the holdouts to date are Ontario, New Brunswick, the Northwest Territories and Nunavut. In Ontario, Education Minister Stephen Lecce has stated that not enough money is on the table from the federal government, in part because the federal government has not taken into account the fact that Ontario currently spends $3.6 billion on full-day kindergarten, which is effectively a form of daycare. Given the fact that most provinces have already signed on to the program, it is expected that ultimately all provinces will participate. The eventual result, however, will likely be much different than the current rosy forecasts.      
The federal plan claims it will have $10 per day daycare in place in five years across Canada. Any prospective parent anticipating such a wonderful scenario should probably put some water in their wine, for a number of reasons. First, pretty much every big policy announcement of the Trudeau government has failed to come to pass. The daycare plan put forward by the federal Liberals contains all of the hallmarks of most Trudeau policies, including making the big sweeping announcement, taking all the credit but leaving most of the details of implementation and spending to the provinces. This is cynical yet convenient for the federal government since if things fall apart the federal government can claim it was the provinces that let everyone down. This has been the Trudeau government approach to cannabis legalization, many health care issues and most pandemic-related policies such as vaccine mandates and border controls, among other things, where the hard slogging was always left to the provinces.  
Secondly, all Canadian governments are currently mired in debt and the notion of a policy that requires such a huge amount of spending by both federal and all provincial governments is bound to run into some snags, or worse. The fact that the Trudeau government claims the Quebec system is the model for the country should also raise concerns as Quebec continues to have a massive waiting list for spaces in the system, is known to provide more benefit to upper income couples than the lower income parents the policy is supposedly aiming to support, and is hugely costly for the public purse.  
As well, many parents will find themselves disillusioned with a rigid, institutional system that does not meet their needs despite all the hype, and biases government spending toward putting children in the care of others instead of providing equal tax-funded support for those families who choose to have a family member stay home with their young children. Finally, all taxpayers should keep in mind that when any governments have a spat about exactly which level of government will be paying for a program, it is the taxpayer that is always on the hook.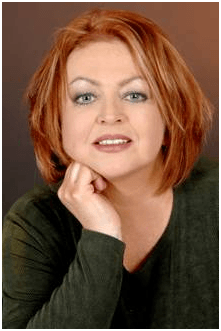 Catherine Swift is currently President and CEO of Working Canadians (www.workingcanadians.ca.  Prior to that, Catherine Swift had been with the Canadian Federation of Independent Business since September 1987, initially as Chief Economist. She became Chair in June 1999 after being named Chief Executive Officer in July 1997 and President in May of 1995.  Her various responsibilities included coordinating policy issues at federal, provincial and municipal levels of government, representing CFIB with politicians, government, business, media and other groups.
Ms. Swift has worked with the federal government in Ottawa holding several positions with the Departments of Consumer and Corporate Affairs, Industry and Communications. Her areas of specialization included corporate and industrial analysis and international trade. Catherine Swift has a MA in Economics.
She has published numerous articles in journals, magazines and other media on such small business issues as free trade, finance, entrepreneurship and women small business owners. Ms. Swift is a Past President of the Empire Club of Canada, a former Director of the C.D. Howe Institute and past President of the International Small Business Congress. She was cited in 2003 and again in 2012 as one of the top 100 most powerful women in Canada by the Women's Executive Network.