Will the Liberal government finally see the light on the economic front and do its fair share to curb Canadians' financial pain? President of the Treasury Board Anita Anand (pictured, right) has signalled she's at least willing to try. Photo credit: Facebook/Anita Anand
Thanksgiving weekend tends to mark the gathering of friends and family around the dinner table, creating a safe environment for grievances to be aired and shouting to occur over everyone's favourite subject: politics, politics, politics. This year will prove to be no different for millions of Canadian families.
While the fact that a Nazi received a standing ovation in parliament is sure to get an honourable mention while the turkey is being carved, the state of the economy continues to be the one issue that serves as a lightning rod for frustrated Canadians. 
It was around this time last year that Deputy Prime Minister Chrystia Freeland addressed business leaders in Windsor, Ontario, and spoke of dire days on the horizon. Freeland noted that "there will be people whose mortgage payments will rise. Businesses will no longer be booming in the same way it has been since we left our homes after the COVID lockdown and went back out into the world. Our unemployment rate will no longer be record low."
For a government that has demonstrated time and again an inability to put its finger on the pulse – or even identify the general area – these were remarkably astute comments delivered by Minister Freeland. What followed was a commitment to find cuts as part of considerations for the federal budget, to reflect the same reality Canadians are facing as they considered their own household expenses.
It was the right message, at the right time. But the devil is always in the details, and those cuts turned out to be a drop in the bucket. 
Here we are a year later. We now know that the Finance Minister's words were a lame duck attempt to appease cash strapped Canadians, and what we are left with is a population growing more cynical by the day about what the future holds. 
Canadians are right to be upset. Bank of Canada figures estimate that around 1.2 million people have or will be hit with mortgage renewals this year. Coupled with inflation that has refused to be tamed, and high household debt, it seems unlikely the Liberals will be selling a positive economic message at the doorsteps when the federal election is eventually called.
But one minister within the Trudeau government is attempting against all odds to do what Minister Freeland couldn't: get spending under control.
The President of the Treasury Board and former Defence Minister Anita Anand has taken her demotion in stride, and issued a communique back in August noting that it was time for government departments to get in line to reduce spending back to pre-pandemic levels. Savings to the tune of $15 billion dollars were to be identified by this week.
While the proposed cost reductions are spread over a five-year period, it is still a necessary exercise in trimming back on government waste. It also positions Anand as a spendthrift in a caucus where handing out a cheque is treated as a solution, rather than the cause of a problem.
This will make her unpopular to many. Minister Bill Blair has already had to issue a reactive statement regarding proposed cuts to Canada's defence budget. But to others, it is a nod to a bygone era, when Liberals could in fact balance budgets and be the stalwarts of the public purse.
This time last year, there was reason to be optimistic about the Liberal government finally waking up to the economic realities facing Canada after years of mismanaging the finances. And while that turned out to be a pipe dream, it may be that we are finally seeing some seasoned veterans making a play for the future of the Liberal Party.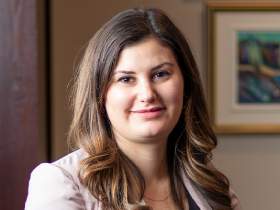 Josie Sabatino is a Senior Consultant at Summa Strategies, focused on providing strategic insight and helping clients meet their objectives in an ever changing and complex political and regulatory environment. Prior to joining Summa, Josie spent nearly a decade in political communications and most recently served as the Director of Communications to the Hon. Erin O'Toole, former Leader of the Official Opposition.