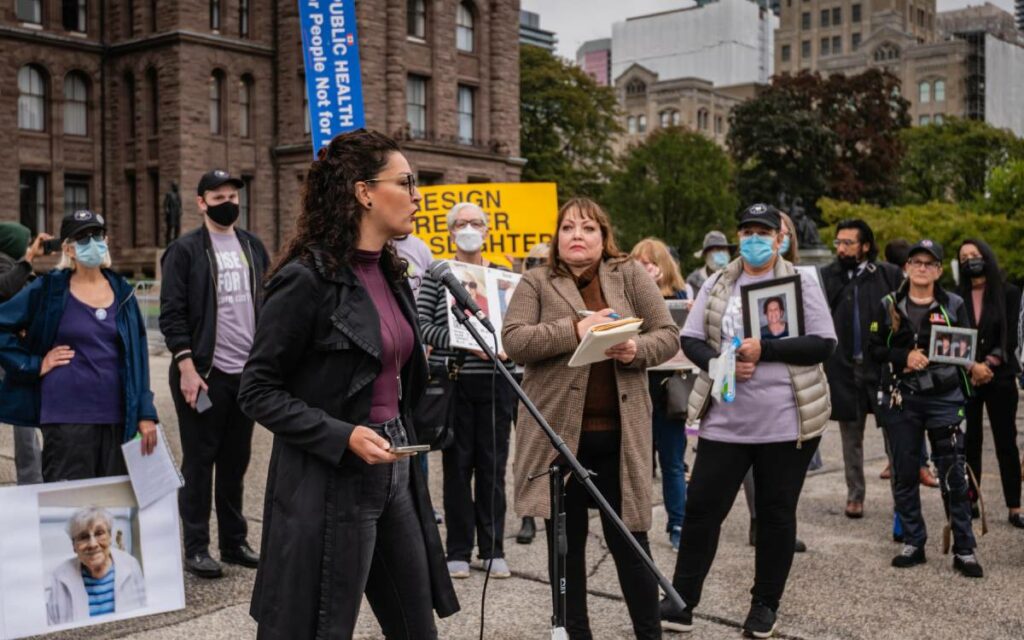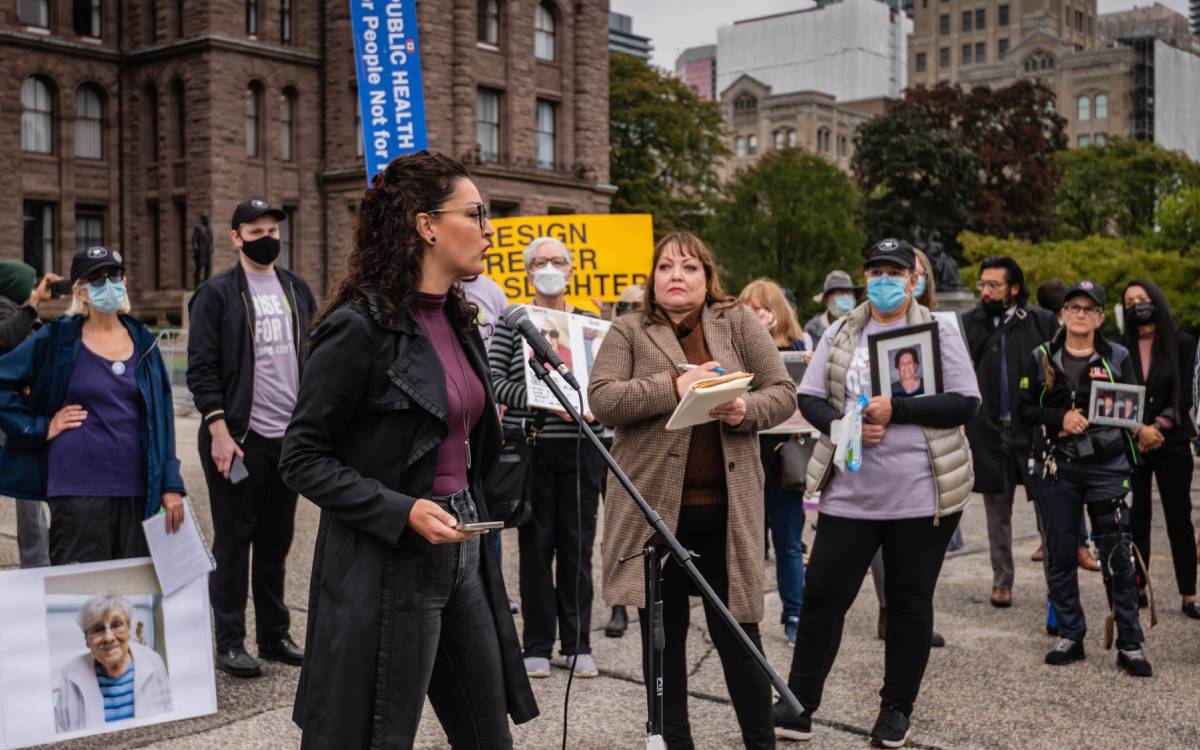 Members of the Ontario Health Coalition protest out front of Queen's Park, Oct. 4, 2021. Photo credit: Facebook/Ontario Health Coalition
On Wednesday last week, the Ford government announced the allocation of $270 million this fiscal year to help Ontario's long-term care (LTC) homes address staffing needs.
The funds will allow for the hiring of 4,050 new employees at LTC homes across the province.
"We know that more qualified staff means more daily care for residents," said Minister of Long-Term Care Rod Phillips. "Hiring more staff is part of our government's plan to fix long-term care and to improve the quality of care residents receive and the quality of life they experience."
Over the next four years, the province will spend $4.9 billion to hire more than 27,000 long-term care staff. 
"This is part of the province's commitment to ensure long-term care residents receive—on average—four hours of direct care per day by 2024-25," MPP for Niagara West Sam Oosterhoff told The Niagara Independent.
Right now, residents in LTC receive an average of two hours and 45 minutes of direct care from nurses and personal support workers per day. 
With the $270 million in immediate funding, that time will increase to three hours by the end of the 2021-22 fiscal year, gradually increasing each year thereafter until it reaches four hours in 2024.
Though unconnected, news of the funding came just two days after the Ontario Health Coalition (OHC) – a large umbrella network of activist organizations and lobby groups – staged a series of 17 demonstrations across the province calling for changes to Ontario's long-term care system. 
Beamsville played host to one of the demonstrations, with about 25 OHC activists meeting near the office of Sam Oosterhoff.
While the province's commitment to increased staff and more direct daily care time explicitly met some of the protestors' demands, organizers were not impressed by Minister Phillips' announcement.
"The Minister's announcement of increasing the level of care is actually one of many reannouncements," said Beamsville protest organizer Sue Hotte, following the government's funding pledge. "The sad thing is that the four hours of care won't happen until 2024."
Hotte, chair of the Niagara Health Coalition, said that she and her organization have lobbied Liberal and PC/Conservative governments at the provincial and federal levels for decades now, seeking better health care for Ontarians. Unfortunately, according to Hotte, there has been and continues to be failure and neglect at all levels. 
"It doesn't matter which party is in power – each can do better than the previous government if they set their minds to it. Better funding, regulations and accountability result in better health outcomes for all of us," said Hotte. 
While MPP Oosterhoff was unaware of the protest last Monday, he affirmed his sympathies for the demonstrators' central message, especially as it relates to LTC. 
"Our heart breaks for the families and residents who have lived through years of neglect and abandonment in long-term care," said Oosterhoff. "Our seniors deserve loving respect and dignity, which is why our government is stepping forward with doubling the hours of care and building thousands of new beds across the province."
Since taking power just over three years ago, the Ford government has built several thousand new long-term beds across the province, including hundreds in Niagara. The PC's ultimate goal is to add 30,000 spaces to the system by decade's end. The previous Liberal government built a mere 611 beds from 2011 to 2018.
Hotte acknowledged the addition of new beds, but recommended they be allocated away from for-profit facilities. 
"With regards to the new beds, most of the long-term care contracts are 30 years long and they have been coming up for renewal. It is a great opportunity for the government to look at increasing the number of beds in the non-profit sector," said Hotte. 
One of the OHC's major lobbying pillars is the cessation of for-profit care in Ontario. 
"For the most part, studies show that the level of care and staffing is higher in municipal, regional homes and non-profit homes."
It is indeed the case that throughout the COVID-19 pandemic for-profit LTC facilities experienced higher infection and death rates than their not-for-profit counterparts. 
Hotte stressed that these facilities need to be held accountable for everything they did and failed to do throughout the pandemic, something Niagara West's member of provincial parliament agreed with unequivocally. 
"It's important that operators are held to account," said Oosterhoff. 
"We are committed to working with families, frontline workers, and residents alike to improve long term care in Ontario and ensure each and every person in this province – especially our vulnerable in LTC – receive the care and support they expect and deserve."