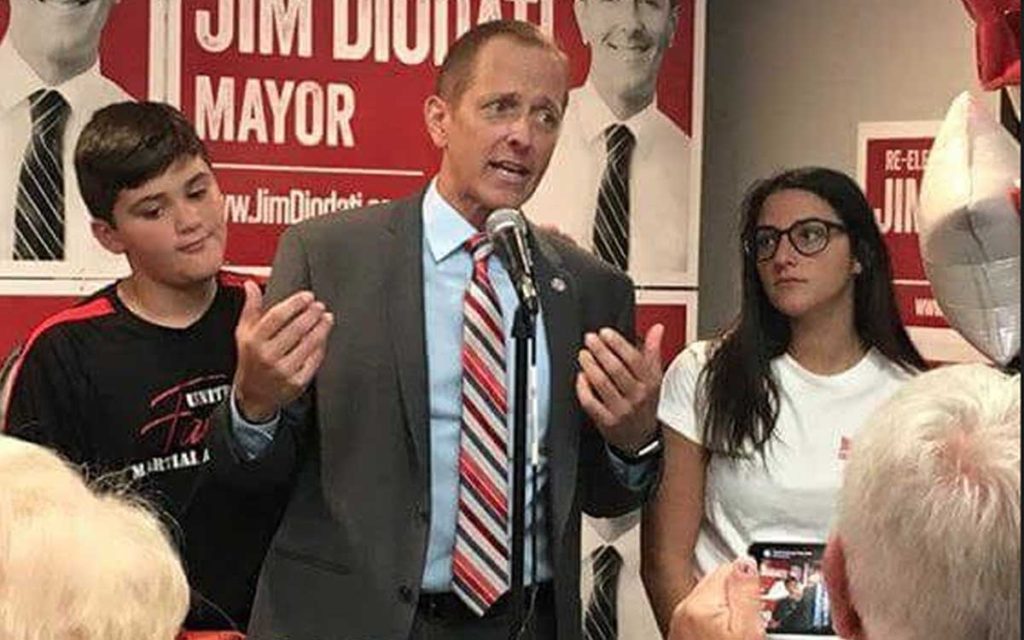 Niagara Falls Mayor Jim Diodati at his recent campaign launch.  
Supporters of the incumbent mayor of Niagara Falls painted the corner of Thorold Stone and Dorchester red and white this past Saturday.
Waving signs soliciting onlookers to "re-elect" and sporting shirts inscribed with "I'm stepping up for Jim Diodati", hundreds of community members displayed their intention to deliver Diodati a third term as mayor.
Despite receiving a round of chemotherapy earlier in the day (on his road to recovering from Hodgkin's lymphoma), the beloved mayor officially kicked off his 2018 re-election campaign with a brief address to attendees. He thanked his family and friends for their on-going support. "I've got a phenomenal campaign team. I'm blessed," he said.
"This campaign isn't about me, it's about moving Niagara Falls forward with a vision and we are seeing that vision become reality with GO service, the new hospital planning and numerous other positives. We're firing on all cylinders."
Diodati has been one of the few Niagara public officials to escape controversy and successfully galvanize his respective municipality over the last few years.
Whether it be redirecting casino funds to ease the burden on taxpayers, renovating city parks, or simply staying the course to ensure regular GO service makes its way to Niagara Falls, Diodati has left residents very little to quarrel with during his eight years in office.
In 2014, Diodati won 84.5% of the total vote against a particularly weak field of contenders.
This election cycle, Diodati faces markedly stiffer competition.
Although four competitors are officially registered in the 2018 mayoral race, most view the contest as a two candidate race between Diodati and current Niagara Falls city councillor Kim Craitor.
Prior to his re-entry into municipal politics in 2014, Craitor was the provincial MPP for Niagara Falls, Niagara-on-the-Lake, and Fort Erie from 2003 until 2013.
Craitor unceremoniously resigned from his position in September 2013, citing mental exhaustion.
In 2016, despite his story of fatigue, it was revealed that the Liberal MPP was forced to step down by then-Premier Kathleen Wynne due to allegations of sexual harassment made by a staffer.
Recently, Michelle Tavano, the woman purported to have bore the brunt of Craitor's alleged abuse, decided to pen an open letter relaying her experience working for the former MPP.
After hearing Craitor was running for the city's top spot, Tavano decided that she could no longer "sit idle while [Craitor] denies the truth and continues to pursue a political future in Niagara Falls".
Refusing to be "intimated, censored and silenced with scare tactics", Tavano registered as a third party advertiser in order to assure potential electors are "aware of the truth".
Craitor denies all accusations.
Ultimately, Niagara Falls voters will serve as judge and jury come October.
Also running for mayor alongside Diodati and Craitor are Costco senior manager Kip Finn and chairwoman of the board for Al M'adina Financial Group, Dinah Lilia Mansour.