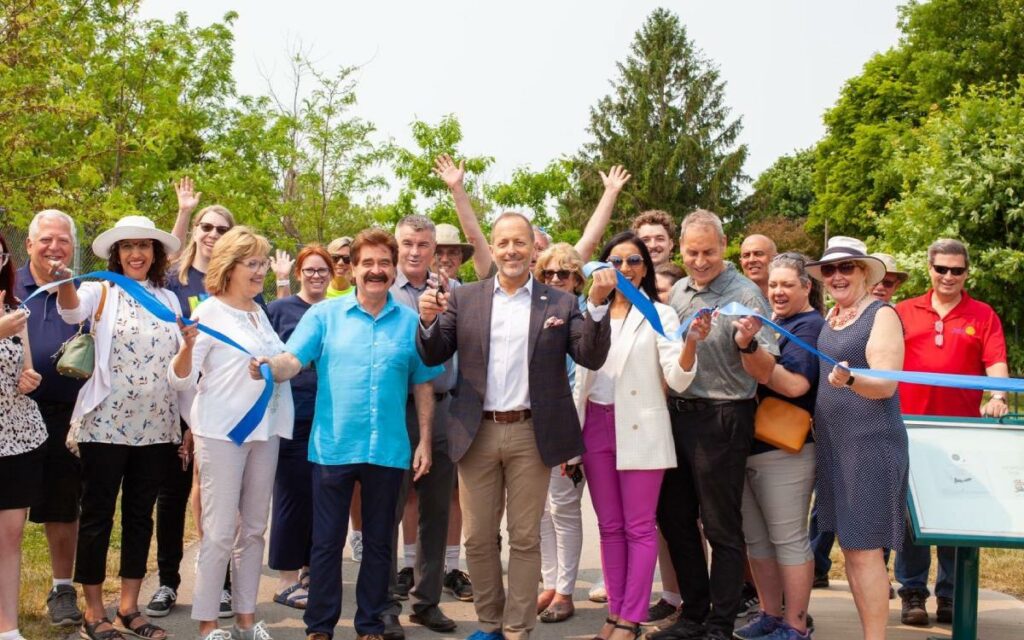 Mayor of Niagara Falls Jim Diodati (centre) and Mayor of St. Catharines Mat Siscoe to be granted increased decision-making capabilities July 1. Photo credit: Twitter/Jim Diodati
The heads of council for Niagara's two largest cities have been granted 'strong mayor powers' by the province.
In an announcement Friday morning, Minister of Municipal Affairs and Housing Steve Clark revealed that the mayors of 26 municipalities with a projected population of 100,000 or more by 2031, which includes Niagara Falls and St. Catharines, will be granted increased decision-making capabilities on July 1, 2023.
All 26 municipalities have formally pledged to help the province meet its ambitious goal of building 1.5 million homes by 2031.
"Municipalities are critical partners for our government as we help communities get shovels in the ground faster and work to build more homes," Minister Clark said in a media release Friday. 
"By adopting ambitious and absolutely necessary housing pledges, these 26 municipalities have demonstrated they understand the importance of that target, and we are ensuring they have the tools they need to succeed. We welcome housing pledges from other municipalities to help reach our goal of 1.5 million homes by 2031."
Ontario's two largest cities, Toronto and Ottawa, were the first to be given strong mayor powers this past fall after passage of the Strong Mayors, Building Homes Act. 
According to the province, strong mayor powers offer tools to help heads of council cut red tape and speed up the delivery of key shared municipal-provincial priorities such as housing, transit, and infrastructure. 
Powers include the appointment of the municipality's CAO, hiring certain municipal department heads, establishing and re-organizing departments, creating committees, proposing the municipal budget, vetoing certain by-laws, and bringing forward matters for council consideration.  
Certain checks and balances maintain the oversight role of councillors. For example, council may override the mayor's veto of by-laws or budget amendments with a two-thirds majority vote.
The mayors of nearby Hamilton and Burlington will also be granted the enhanced powers. 
For a full list of the 26 municipalities click here.