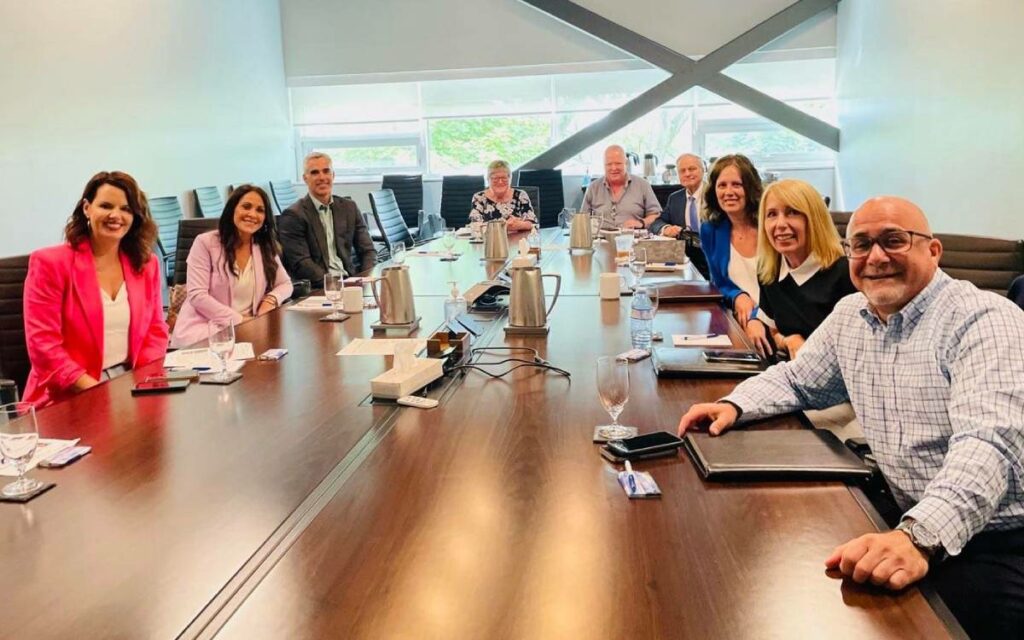 Both Liberal Minister of Public Safety Marco Mendicino and Conservative Shadow Minister of Tourism Michelle Ferreri (pictured, far left) were in Niagara Falls Wednesday morning. The former went to a repeat of a demonstration he viewed two weeks ago. While the latter met with local stakeholders, surveyed tourism operations, and spoke with visitors in the area. Photo credit: Facebook/Michelle Ferreri
Despite one local Liberal MP claiming the various concerns over ArriveCAN are a "little bit overblown", there is no question that the continued mandatory use of the glitchy, cumbersome  travel app for all entrants into Canada has had a devastating impact on the tourism and hospitality industry, including and especially in Niagara. 
In normal times, tourism supports in excess of 40,000 jobs locally and generates billions of dollars in revenue and hundreds of millions in indirect output. And while American travellers – those primarily deterred by ArriveCAN – typically make up only 25 per cent of visitors each year, they're responsible for 50 per cent of all spending. 
As Mayor of Niagara Falls Jim Diodati has summarized numerous times over the last two years when asked if tourism is important to the local economy, "it's right up there with oxygen." 
So, when word got out earlier this week that Justin Trudeau's minister directly responsible for overseeing the economically destructive travel app was headed to the very place it's arguably having the greatest negative impact, the Niagara Falls border, tourism operators, day trippers, binational families and the like must have been overjoyed, thinking Minister of Public Safety Marco Mendicino was set to announce an end to ArriveCAN. 
They then must have been thoroughly disappointed when they found out Minister Mendicino was simply at Rainbow Bridge Wednesday morning to attend a short presentation by Canada Border Services Agency (CBSA) officers about how agents check for and prevent gun smuggling – a demonstration the minister just viewed two weeks prior.
Without a whiff of talk about ArriveCAN or the struggling local tourism sector, Mendicino watched the demonstration, reiterated the basic pillars of the Liberal government's previously announced initiative to tackle Canada's reported gun violence problem, and then made haste to his next engagement.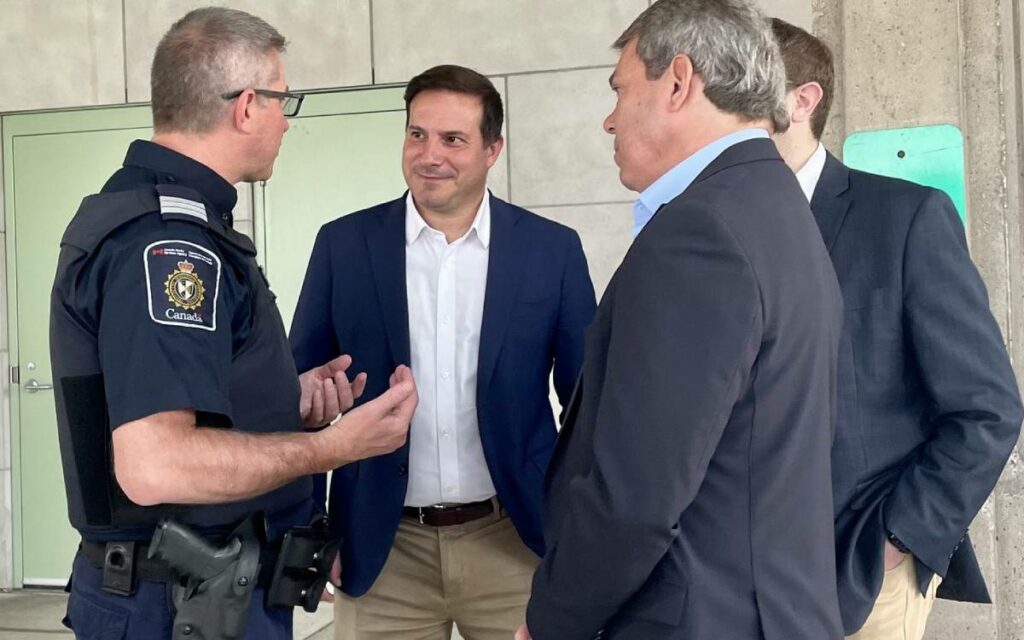 Minister Mendicino (centre) chats with a CBSA official alongside Liberal colleagues Niagara Centre MP Vance Badawey (front right) and St. Catharines MP Chris Bittle (back right). Photo credit: Twitter/Marco Mendicino
Now, juxtapose the Liberal minister's visit with that of MP Michelle Ferreri, the Conservatives' critic for tourism. 
Ferreri was just down the road from Mendicino in Niagara Falls Wednesday morning. Though, instead of viewing a presentation she's already seen before, while simultaneously ignoring one of the most pressing issues of the day to many in the community, the Conservative MP from Peterborough-Kawartha was meeting with various stakeholders in the tourism and hospitality industry to discuss how best to salvage the current season and maximize success moving forward. 
What did Ferreri hear from stakeholders Wednesday? Not surprisingly, as the Conservative critic told The Niagara Independent in a phone interview, scrap the app. 
"If you just ask stakeholders, they'll tell you the issues – and yes, ArriveCAN is a big issue."
According to the Opposition shadow minister, local hoteliers and tourism operators don't want anything from the government, they simply want the government to get out of the way and stop gatekeeping at every turn.
"Niagara is a beautifully self-made community. What the region's been able to accomplish (in terms of economic development) thus far is incredible," Ferreri said. "Right now, there's time and there's opportunity for recovery and growth, and yet the government continues to stand in the way." 
Ferreri questioned the Trudeau Liberals' motives in maintaining the app for so long when it's been proven to be ineffective, unnecessary, and ultimately detrimental. 
"Are they training Americans to never come back to Canada because it's too much of a hassle?", the MP posited. "And what does that look like long-term in regard to economic impact?"
When asked about her Liberal counterpart's "tone-deaf" stop with CBSA officers at Rainbow Bridge, Ferreri explained the irony of Minister Mendicino's actions, given that ArriveCAN itself is inhibiting border security efforts. 
"CBSA border agents are hired to keep Canada safe from crime, drug smuggling, gun smuggling, etc. But they're so busy managing this dysfunctional ArriveCAN app that it's taking them away from the job they were hired to do," Ferreri said. "So, when the minister comes down and says the government is doing all these things at the border to protect Canadians, his words and actions don't align."
Conservative MP for Niagara Falls Tony Baldinelli, who serves as shadow minister for export promotion, and who was with Ferreri meeting with stakeholders, echoed what his colleague said about CBSA agents being taken away from their primary duties due to ArriveCAN issues.  
"Don't get me wrong, tackling gun smuggling is a very important issue – one the Conservative Party has been talking about for years now. However, it's not top of mind for many CBSA agents at the moment," Baldinelli said. 
"ArriveCAN is effectively making border officers double as IT agents running technical support, taking them away from their primary duties. That's unacceptable, especially given the fact the CBSA is already reporting staffing shortages." 
According to Baldinelli, while the app may eventually prove useful at airports, ArriveCAN is not effective at the border. 
As the Buffalo and Fort Erie Public Bridge Authority described to Baldinelli and Niagara's three other federal MPs in a letter last month, the nature of land-based travel, which is typically short duration and doesn't involve a commercial transaction prior to arrival that can be used to inform or compel pre-filing, negates any potential advantages of the app. 
At present, local cross border traffic is down almost 40 per cent pre-pandemic times, while processing times remain nearly double 2019 levels. 
"We need to get back to normal business," the Niagara Falls MP concluded, "if we lose a third tourism season the effect will be catastrophic for the local economy."