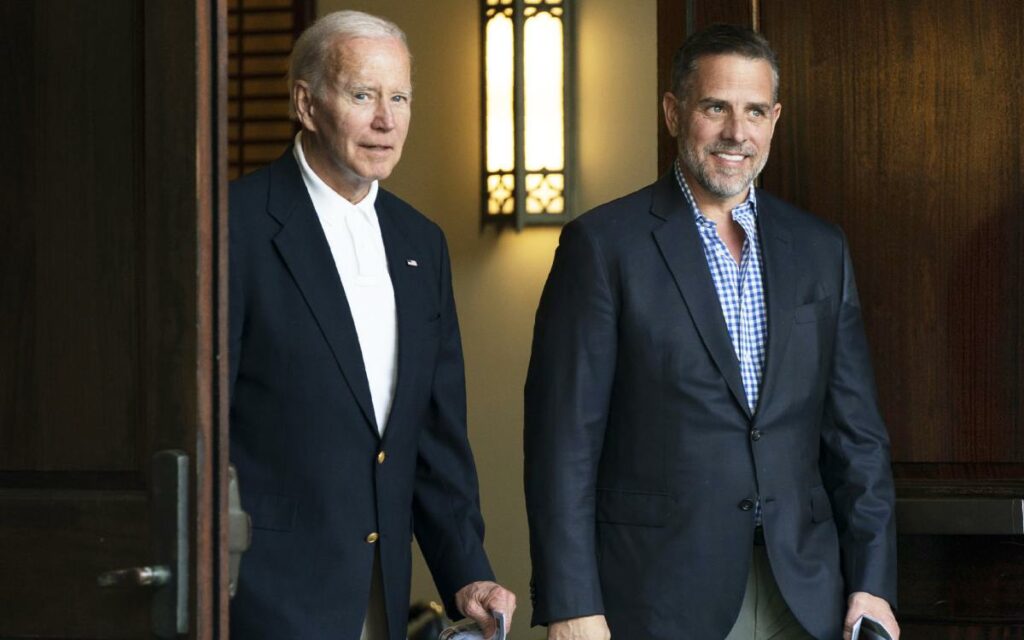 Separated by a half century of history, the unfolding Biden Family scandal and Watergate may look different, but as the revelations mount, the prospect of former president Joe Biden lonely, walking a Delaware beach next summer as a private citizen – a la Richard Nixon in San Clemente – becomes increasingly plausible. Pictured is Joe Biden with son Hunter. Photo credit: AP/Manuel Balce Ceneta
The most impactful scandal in American history began 50 years ago this summer with the commencement of the Watergate Congressional Hearings. The drama of these proceedings rose above my 10-year-old head, but I recall those men crowding my summer TV viewing, canceling my favourite reruns, game shows, or afternoon movies. I did not understand then and only gained some appreciation the following summer when President Nixon resigned from office in disgrace, the only American Chief Executive to have done so. 
Today, as more information becomes known, the question of where the brewing Biden Family scandal will take the nation lingers with uncertainty. The press has so far shown little interest in pursuing the matter. Considering what we know, the mysterious indifference of the fourth estate can only be attributed to their consistent defense of President Biden despite the withering series of leaks that could sink the Biden presidency. 
The Watergate scandal broke quietly in the summer of 1972 when some low-level Nixon officials burglarized Democratic Party Headquarters at the Watergate Complex in Washington. The matter held little interest for the press, voters believed the president's denials of any wrongdoing, and Nixon sailed to re-election that fall. By the summer of 1973, however, Congressional hearings convened with Senator Sam Ervin (D) of North Carolina chairing the proceedings and Senator Howard Baker (R) of Tennessee as the vice-chair. 
As the committee gathered on May 17, few foresaw the historical significance of their work. Hours of testimony produced nothing startling or fresh, but the slow grind of information began to erode presidential trust. Nixon's poll numbers dropped, average citizens took notice, and soon the White House faced an unprecedented crisis.
There were three phases to the hearings: "Watergate (May 17 – September 25), Campaign Practices or "Dirty Tricks" (September 26 – November 6), and Campaign Finance (November 7 – November 15). Due to Majority Counsel Sam Dash's strategy of building a case before moving on to the "star witnesses," the hearings begin with comparatively small fish before moving up the food chain to Nixon's inner circle in July."
If comparing the Biden matter to the Nixon investigation, committees are doing groundwork that could lead to hearings, but not likely in a Democratic-controlled Senate. If Republicans took the Senate in 2024 and Biden remained president, hearings could begin. Right now, the press should be digging hard. The dominant media seems disinclined to look into the Biden family finances, foreign connections, or hidden enterprises. Considering the latest revelations at the end of June, their indifference seems astonishing. Only the NY Times has expressed discomfort with the growing evidence, but the story has legs. The House could impeach, and even a Democratically controlled Senate would have no choice but to hold a trial.  
The Committee on Ways and Means released testimony from Gary A. Shapley, Jr., an IRS agent, provided on May 26, 2023, in which Shapley identifies himself as non-partisan politically, then discloses why he feels compelled to whistle blow. He states, "I am blowing the whistle because the Delaware U.S. Attorney's Office, Department of Justice Tax, and Department of Justice provided preferential treatment and unchecked conflicts of interest in an important and high-profile investigation of the President's son, Hunter Biden." 
He continues, "I am alleging, with evidence, that the DOJ provided preferential treatment, slow-walked the investigation, and did nothing to avoid obvious conflicts of interest in this investigation." The testimony goes on to express his love of country and devotion to the law before drawing this conclusion: "…the criminal tax investigation of Hunter Biden, led by the United States Attorney's Office for the District of Delaware, has been handled differently than any investigation I've ever been a part of for the past 14 years of my IRS service." Shapley recounts the chronology of events that led to Joe Biden's election and the stunning efforts to slow down the process, interfere, and obstruct the investigation. 
The following revelation from a WhatsApp communication of Hunter Biden's on July 30, 2017, received a great deal of attention: "I am sitting here with my father and we would like to understand why the commitment made has not been fulfilled. Tell the director that I would like to resolve this now before it gets out of hand, and now means tonight. And, Z, if I get a call or text from anyone involved in this other than you, Zhang, or the chairman, I will make certain that between the man sitting next to me and every person he knows and my ability to forever hold a grudge that you will regret not following my direction. I am sitting here waiting for the call with my father."   
Michael Godwin of the New York Post picks up the story from there. Writing in the Post on July 10, Godwin points out that Tony Bobulinski, the CEO of a joint venture with Hunter claimed he met with the Bidens in May 2017. Hunter claimed the Chinese owed his family $20 million from work in 2015 and 2016 when Joe Biden was vice president. If investigators looking into this can show that the president received the rumoured 10 per cent payback a smoking gun exists, and Biden will face impeachment, possible conviction, and the end of his presidency.
As Godwin asserts, voters are beginning to put the picture together. As he continues, "Two-thirds of voters in one survey say Hunter got a sweetheart deal because of his father, and less than one-third of respondents in another survey said they believe the president is innocent of allegations regarding the foreign payments, which they believed were aimed at influencing American policy decisions. In plain English, a big majority is already convinced the president is a compromised commander-in-chief."
As for how it all ends, Godwin's theory reflects the dialogue over bankruptcy found in Hemingway's The Sun Also Rises. Bill Gorton asks Mike Campbell in the 1926 breakthrough Hemingway novel, "How did you go bankrupt?" Campbell replies, "Two ways. Gradually, then suddenly." For Joe Biden, the onset of age and the slow goodbye, as one of his predecessors put it, unfolds publicly while he holds the office he most coveted. 
Unfortunately for him and the nation he professes to love, the constitutional process of hearings and testimony will inevitably include Devon Archer, one of Hunter Biden's business partners in the Burisma (corrupt Ukrainian energy company) deal. Archer is headed for prison and would unlikely feel compelled to protect the president. Archer, as Godwin reports, would know best if Joe Biden had an interest in this deal. The outcome then begins to reflect what Nixon faced after the Supreme Court ruled his tapes had to be released. 
Within two weeks, Barry Goldwater told him he did not have the votes to escape impeachment in a senate trial. President Biden's options would narrow. He could propose a pardon, but that would look transparently corrupt. The choices would come down to a deal. Godwin astutely points out that no one wants a President Kamala Harris, so Biden could simply end his campaign, allowing him to finish his term. I doubt that would be satisfactory. If Biden has profited from the deals to which the whistleblowers spoke, like the summer of 1973, this summer, 50 years later, could reflect the beginnings of the end of a presidency. 
As Godwin concludes – it may sound far-fetched, but the rematch of two terribly compromised candidates lends itself to quick adjustments, improvised strategy, and fleet of foot decision-making. Few thought in July of 1973 that Richard Nixon would return to San Clemente as a private citizen a year or so later. Are we seeing the unraveling of another presidency 50 years later? History does not so much repeat itself as it rhymes. The cases may look different, but as the revelations mount, the prospect of former president Joe Biden lonely, walking a Delaware beach next summer becomes increasingly plausible.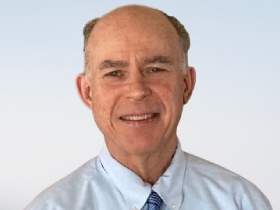 Dave Redekop is a retired elementary resource teacher who now works part-time at the St. Catharines Courthouse as a Registrar. He has worked on political campaigns since high school and attended university in South Carolina for five years, where he earned a Master's in American History with a specialization in Civil Rights. Dave loves reading biographies.