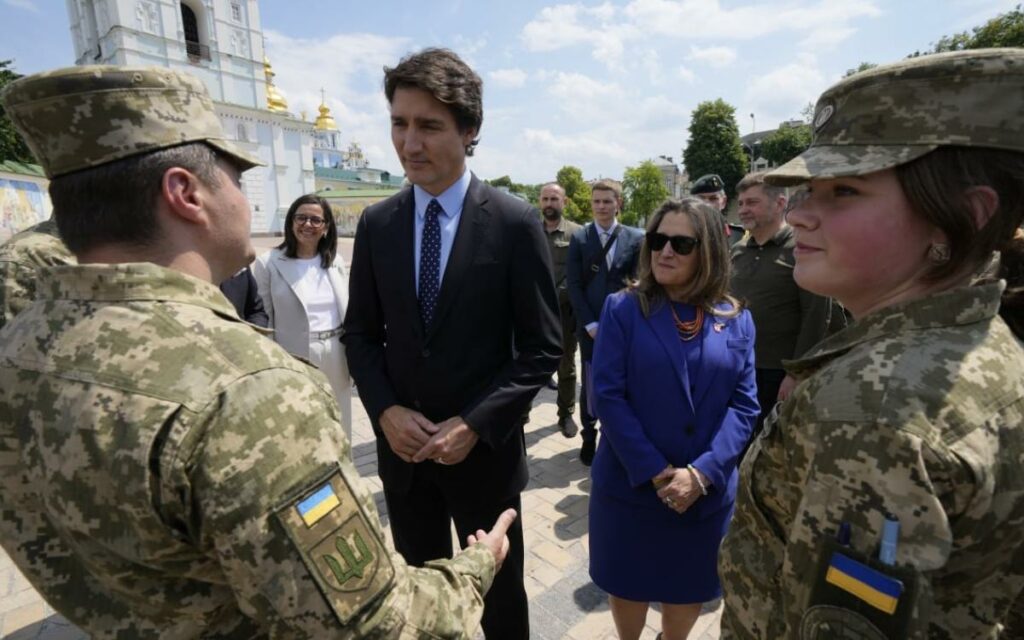 Prime Minister Justin Trudeau, flanked by Deputy Prime Minister and Minister of Finance Chrystia Freeland, with Ukrainian troops in Kyiv during a June 2023 visit. Photo credit: The Canadian Press/Frank Gunn
On the heels of a highly anticipated speech to the United Nations General Assembly in New York City, Ukrainian Prime Minister Volodymyr Zelenskyy will be in Ottawa today to make an address to Canada's parliament.
Since Russia launched its illegal invasion on Ukrainian soil last February, the Trudeau government hasn't been shy about where Canada's allegiance lies. According to a release from the Minister of National Defence, the federal government has committed over $1.8 billion in military aid, encapsulating everything from combat support vehicles, to ammunition, to providing training for Ukrainian fighters navigating the F-16 fighter aircraft. 
The Trudeau government's support for Ukraine in its fight against Russia is laudable, especially given its track record on the defence file since being elected in 2015. Much of the credit goes to the former Minister of National Defence Anita Anand for stepping in after her predecessor Harjit Sajjan was shuffled out of the role after being publicly rebuked in parliament for his role in handling accusations of sexual misconduct in the Canadian Armed Forces.
However, domestic problems still persist for Canada's military. Just a few months ago, CBC News reported that Canadian troops deployed to Latvia were having to foot the bill for protective equipment like helmets because they were not properly outfitted by the military. The equipment and weapons Canada does have are aging rapidly, and the question of how to fix and fund Canada's military procurement process has been a constant headache for successive governments.
Ahead of the next federal budget, efforts are also underway to find reductions to operating expenses. While this generally means trimming the fat on line items like external consultants, the Deputy Minister of National Defence noted that "the extent of impact is yet to be confirmed."
When Prime Minister Zelenskyy kicks off his speech to parliamentarians, he is most certainly poised to ask for Canada's continued support in the form of more military aid. But in the face of domestic cost concerns that have left Canadians cash-strapped and looking towards the federal government to get their books in order, will the government continue to be the ally that Ukraine needs as they fight for their sovereignty against a ruthless dictatorship?
The reality is that Ukraine is in the middle of a war that has no end in sight, at least in the short-term. On the battlefield, the victories have been few and far between over the course of the summer months. 
On Friday, the House of Commons will be packed with Members of Parliament, Senators and support staff who will take seats to hear Prime Minister Zelenskyy's historic speech. No doubt, there will be a visible show of emotions on display, and media pundits will spend the weekend dissecting his speech.
But a blank cheque for Ukraine is far from guaranteed. Canadians are caught in a cost-of-living crisis, and while generosity is in our DNA, politicians are turning inward to solve the very immediate problems here at home. All we may be left with is a photo op and a lot of talk.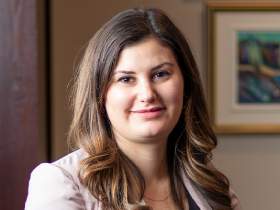 Josie Sabatino is a Senior Consultant at Summa Strategies, focused on providing strategic insight and helping clients meet their objectives in an ever changing and complex political and regulatory environment. Prior to joining Summa, Josie spent nearly a decade in political communications and most recently served as the Director of Communications to the Hon. Erin O'Toole, former Leader of the Official Opposition.