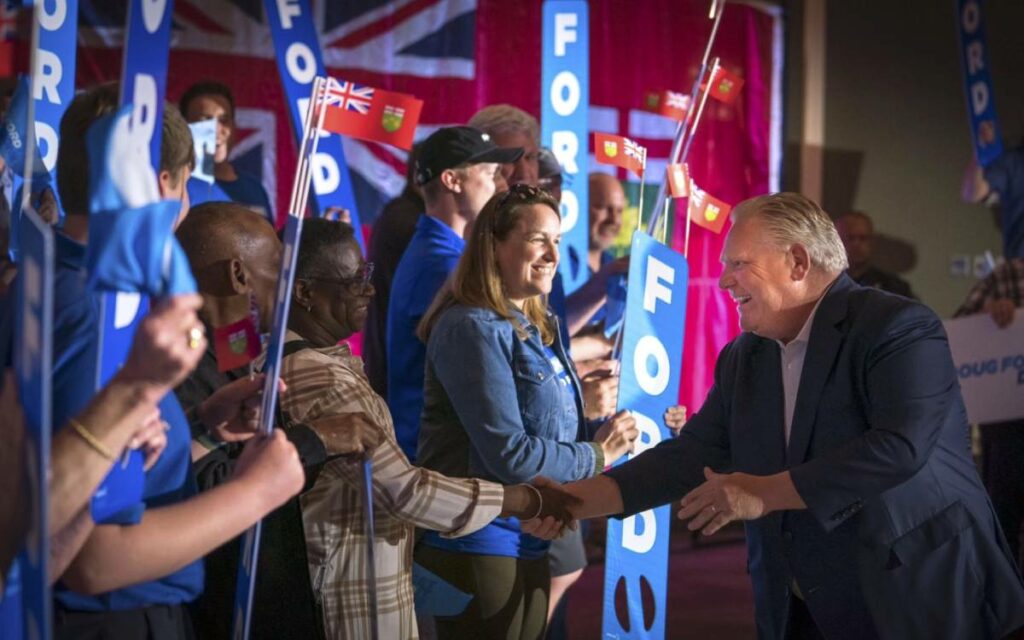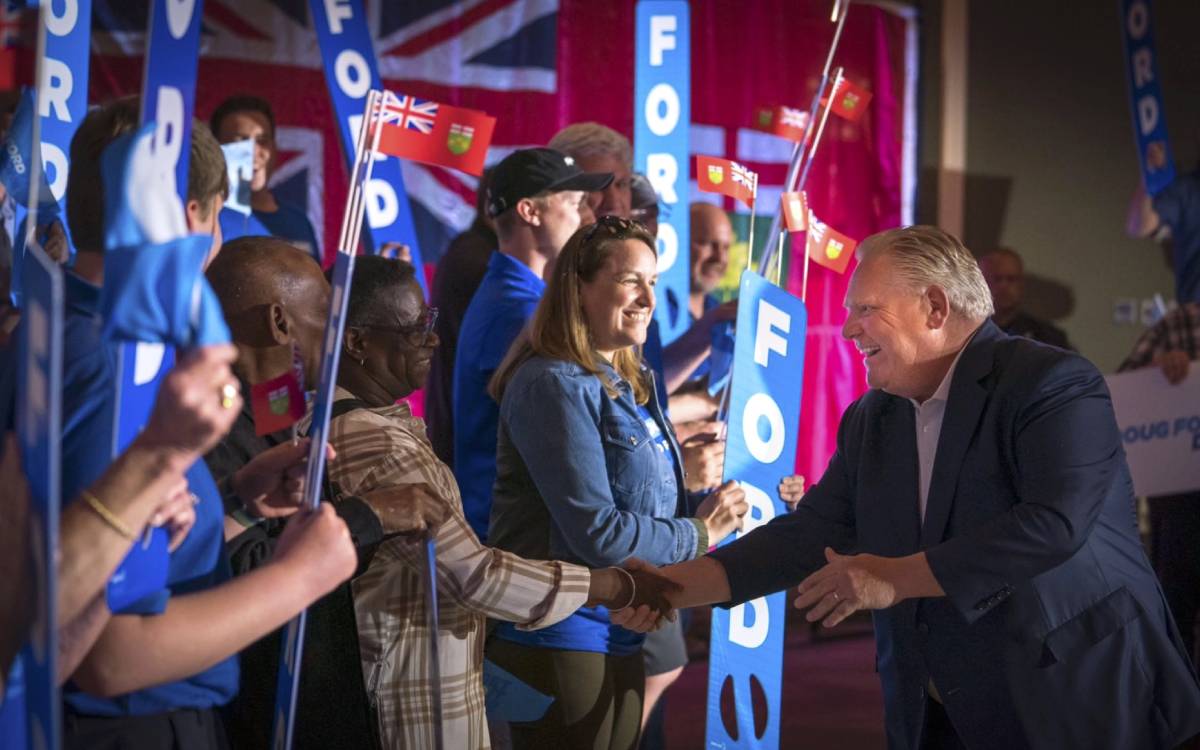 For their efforts, the Tories will almost certainly be rewarded another majority mandate Thursday. As it stands, it's still unclear which left-of-centre party will become Ontario's Official Opposition. Photo credit: Twitter/Doug Ford
If current provincial election polls are right, Premier Doug Ford is sliding into home plate with another majority government. The question is, who gets to be the loyal Opposition?  
It has been a dog fight between the Liberals and the NDP with their aggressive attacks on each other confirming how close the race might be.  
For NDP Leader Andrea Horwath, losing Opposition status would be a major blow, serving to remind her party that she has had four strikes with little to show for it in terms of election results. 
For Steven Del Duca, the Liberal Leader, his campaign spinners say they are in this to win government. And he has certainly worked hard for it. But the realists on his team know that climbing back from their near-death experience in 2018 – just seven seats – into government, is a very high bar. 
Better to plan a two-step process, Opposition now to prove that you and your team are a government in waiting and then win the next one. Del Duca is likely to win more seats this time (it would be hard not to) but if he can't overtake the NDP, it would be seen as a decided defeat.  He is also at risk of not winning a seat in his old riding.
Given the high expectations both opposition parties had going into this election, it is hard to see how either leader keeps their job if those expectations are not met. That could leave Ford as the only major party leader still standing when the dust settles.  
An interesting question for the Tories is will they make enough gains with blue collar workers to take back some NDP seats. Seven private sector construction unions have endorsed Ford, unheard of for a Tory leader. But it is clear that his "get it done" campaign to increase construction jobs through major infrastructure projects is clearly resonating. 
Watch NDP-held ridings in places like Brampton, Windsor and Hamilton-Niagara. If Ford's strategy has worked, he could pick up some of those seats. 
Also watch the so-called fringe parties, the Greens, the New Blue Party, and the Ontario Party.  The Green Party has one seat already and looks like it may pick up at least one more in Parry Sound-Muskoka where the long-time Tory MPP Norm Miller did not run. 
Greens tend to draw their support largely from Liberals and the NDP so they usually do not pose a big threat to the Tories. The big risk for Ford could be in tight local races where a strong showing by the New Blue and Ontario Parties could upset anticipated wins.  
The two parties were created mostly by disgruntled federal and provincial conservatives, largely motived by opposition to COVID lockdowns and vaccine mandates.  
Another interesting point is how the Tories will handle a back-to-back majority win. When former Premier Bill Davis regained a majority in March 1981, after two failed attempts, he and his team took great pleasure in taunting the opposition with the phrase "the realities of March 19th," the date of their triumph. That self-satisfaction and arrogance helped seal their eventual loss of power in 1985.
Much has been written during this campaign about how much Ford has matured from the bumptious newbie who couldn't find a controversy he couldn't fall into during those first disruptive months of his administration. 
Will a back-to-back majority bring back the "old Ford", tempting him to boast as he was wont to do in the early days?
And finally, if there was ever an election that proved the rule "campaigns matter", this is it.
While no party made the "big mistake," the Tories ran a near perfect campaign with a tightly-focused message that resonated with voters because it was seen as credible, given Ford's pre-writ focus on building roads, transit, long term care homes, housing and hospitals.  
On the other hand, the Liberals and the NDP both had platforms that seemed to drop a promise a day. Name the issue and they seemed to have a policy to deal with it. With so many different items, voters lost sight of what their central strategic messages were supposed to be. 
And neither seemed to be able to launch attacks on the government that had an impact. It could well be that the Liberals missed the support of "Ontario Working Families", a union-lead coalition that spent millions of dollars on effective attack ads against the Tories for the last several elections.  
Still, polls have been known to be off or to miss a last-minute shift in voter preference. The campaign may not have been all that exciting, but election night could still hold some surprises.  Stay tuned.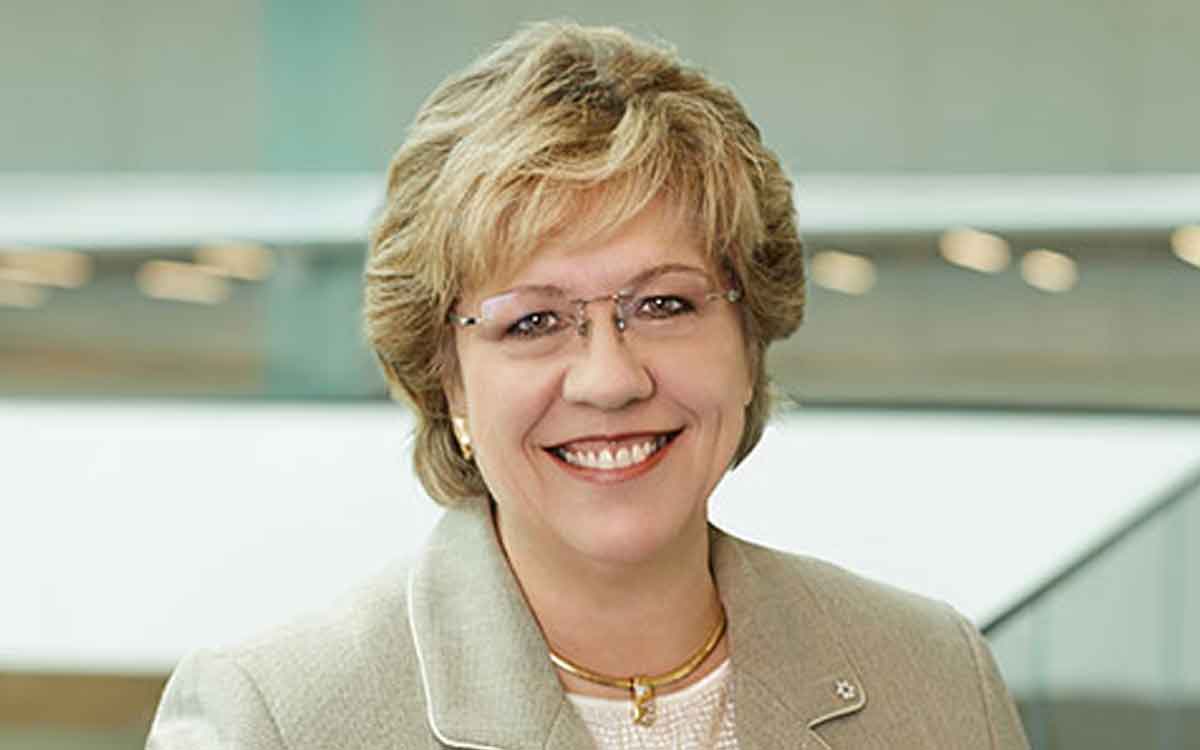 Janet Ecker is a former Ontario Finance Minister, Minister of Education, Minister of Community and Social Services and Government House Leader in the governments of Premier Mike Harris and Premier Ernie Eves. After her political career, she served as the founding CEO of the Toronto Financial Services Alliance, a public-private partnership dedicated to building Toronto region into an international financial centre. She currently sits on a number of corporate and non-profit boards, agencies and advisory committees.
Ms. Ecker received the Order of Canada for her public service contributions and was recognized as one of the "Most Influential People in the World's Financial Centres" by Financial Centres International.  She also received a "Canada's Most Powerful Women: Top 100 Award" from the Women's Executive Network and the Richard Ivey School of Business, among other awards. She is also one of the founders of Equal Voice, a national, multi-partisan organization working to elect more women.