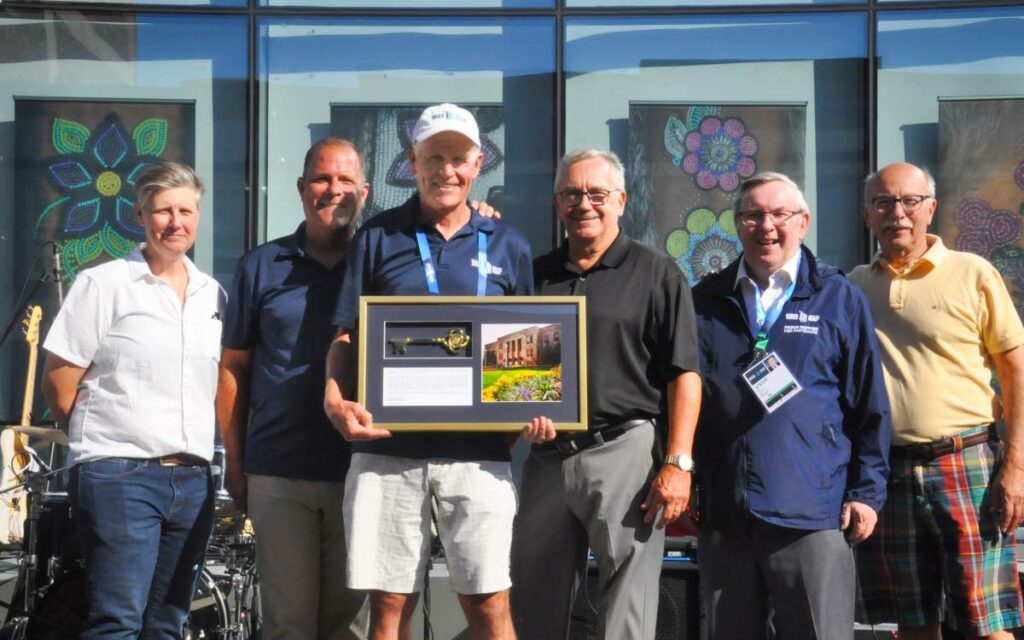 Chair of the Niagara Canada Summer Games has been at it since 2017. Pictured Hamilton (centre-left) receives the Key to the City from Mayor of St. Catharines Walter Sendzik (second from left), Niagara Regional Chair Jim Bradley (second from right), and St. Catharines regional and city councillors, Aug. 12, 2022. Photo credit: City of St. Catharines
It's been a long five years for Doug Hamilton. 
It was March of 2017 when Hamilton and a handful of others traveled to Toronto for the announcement.
Who will win the right to host the then 2021 Canada Summer Games?
Niagara was up against Kitchener-Waterloo, Ottawa, and Sudbury.
I had the pleasure of emceeing a viewing party at the First Ontario Performing Arts Centre in downtown St. Catharines awaiting the decision. 
Former Canadian Olympian, Wrestling Canada and Brock University coach Marty Calder was one of the guest speakers discussing just what it would mean to host such a prestigious event. 
Minutes later the crowd erupted in cheers when Niagara officially won the bid. People decked out in red and white Canada gear blew whistles and danced knowing "Once, and For All", Niagara would host the Games.
Doug Hamilton hasn't stopped since.
The former Canadian Olympic Rower is Chair of the Games, and has worked feverishly as five years of planning, including battling logistics through the Covid-pandemic, culminated into the last two weeks here in Niagara.
Some 5,000 athletes participated in 18 different sports across the region, and thousands more volunteered at over a dozen venues in Niagara. 
The region's hotels and restaurants were full, and memories were made that will last a lifetime. 
So, what was the Chair of the Games' highlight? 
Well, Doug Hamilton had many, but bringing sports outside their respective fields of play into other aspects of life was definitely one of them.
"The culture celebrations, frankly," said Hamilton, who was also recently handed the Key To The City from Mayor of St. Catharines Walter Sendzik. 
"Every games comes with sporting competitions, but the Canada Games are special because they come with both a focus on sport as well as a focus on culture. 
We really went to great lengths to make sure our culture celebration was robust. It included all the municipalities, it's very inclusive. 
We had our 13 for 13 program, which saw each municipality host an event every night of the Games. We had a Pride Day, and a Pride Evening as well – and they were all free." 
Each municipality in Niagara was paired with a participating province: Nunavut with Wainfleet, Newfoundland and Labrador with Lincoln, New Brunswick with Port Colborne, Prince Edward Island with Grimsby, Nova Scotia with Fort Erie, Quebec with Welland, Manitoba with Thorold, Saskatchewan with West Lincoln, Alberta with Pelham, and British Columbia with Niagara-on-the-Lake. 
The province of Ontario was paired with the Niagara Region as a whole. 
As for local athletes participating, 31 Niagara natives were part of the Canada Summer Games. 
So, is Doug Hamilton looking forward to August 22, the day after the Games wrap up, to take a deep breath and look back at the massive undertaking that engulfed the region?
"I'm hoping so. I'm hoping that we're all able to give ourselves a big pat on the back, and look around at the huge team of volunteers and say that we did a tremendous job and we made the region proud."
Competition at the Games wraps up Sunday, with the closing ceremonies taking place that same night at Queen Victoria Park in Niagara Falls.
For more information visit niagara2022games.ca.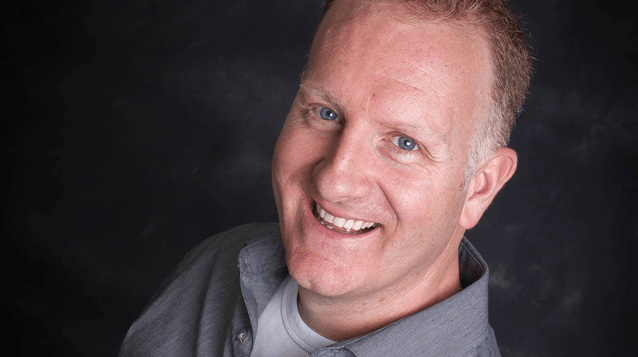 Rod Mawhood is a lifelong Niagara native who has had the pleasure of working in all three mediums – Radio, Print and TV – for over 20 years. His first announcing gig was with the then St. Catharines Stompers. Since then he's worked in radio and TV in Toronto, and currently is the announcer for the Niagara IceDogs and Niagara River Lions.
Rod also covers the Buffalo Bills for FOX Sports and the Buffalo Sabres for NBC Sports.