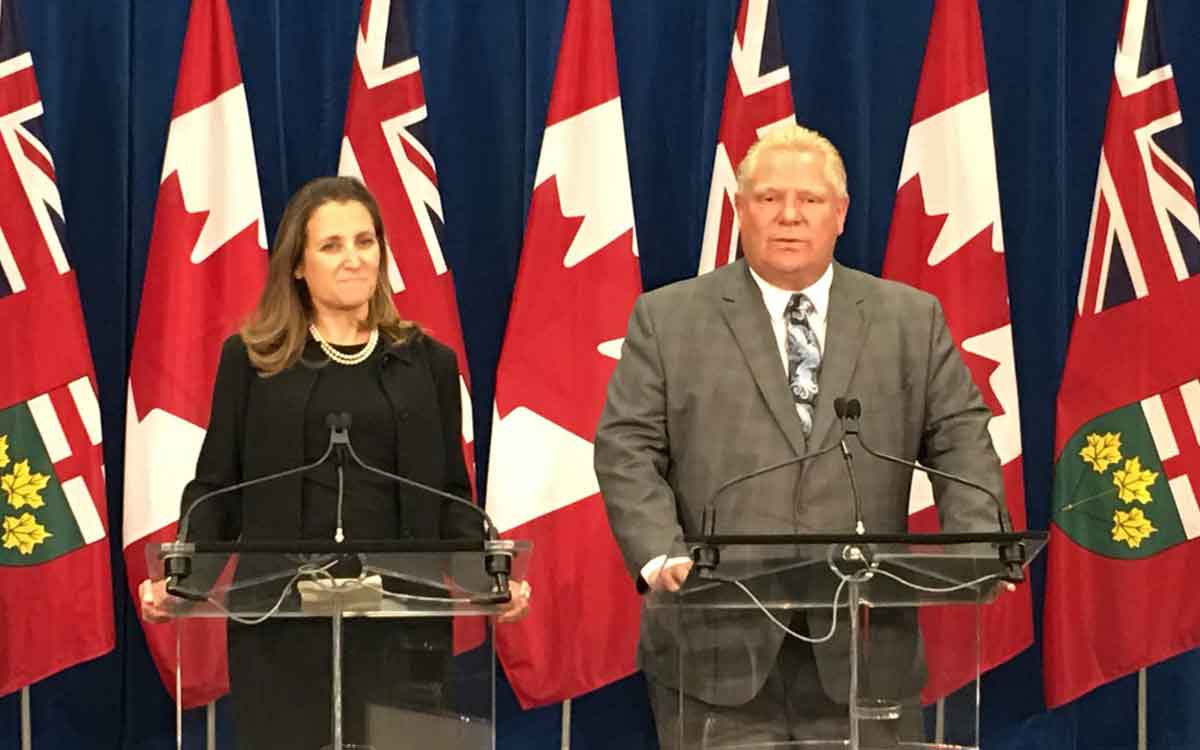 Past foes, Deputy Prime Minister Chrystia Freeland and Premier Ford have worked well together to the benefit of both jurisdictions and all of us who live in them. Photo: Twitter
In the doom and gloom health and financial forecasts peppering every news channel and daily media briefing it is tough to think there is any good news out there.
Brief moments of levity, like Premier Doug Ford proclaiming the Easter Bunny an essential service, are far too rare – and somehow criticised for making light of something in dark times.
Even listening to sports radio shows, the epitome of meaningless banality, you hear the panellists rationalize the need for something other than the endless COVID-19 chatter. For no other reason than to give ourselves something else to think about.
Endless yes and also necessary – there you go I just rationalized the last paragraph.
The latest news coming out of Ottawa is the Canada-wide modeling of the potential death toll of the pandemic. This was released no doubt following pressure put on the federal government after Premier Ford released Ontario numbers and was followed by Alberta Premier Jason Kenney doing the same for his province.
In the past I would have made some snide remark here, today I will instead give Ottawa credit for getting the numbers out and simply accept the reasoning for the delay – whatever it was.
It is no doubt a very difficult time to turn on the news or read the newspaper as we are bombarded minute-by-minute by a dire situation, one where the media is struggling to triage bleeding stories to see what leads.
It is a good time for the news to take a little redirection and think about the good we have seen and hope to see continue. Positive stories are happening and have found their way into The Niagara Independent as well, more on that later.
And what better time, this being Easter Weekend and for many of us who follow the teachings of Jesus Christ we are missing out on how we generally celebrate the spiritual revival Easter brings. For Catholics, like myself, we are missing out of several hours of church and the retelling of the Passion of Jesus leading into his crucifixion, death and eventual resurrection.
I point this out not to give a sermon, rather to focus on what the Easter season is meant to symbolize, a re-birth of the world. And anyone who went to Catholic School or took bible studies knows that while Jesus rose from the dead after three days, the impact of that miracle took a lot longer.
This year the Easter season means a lot more, even though for many of us – myself included – we cannot spend it with family. The Easter Season marks one-month since we all decided to work together as Team Ontario and Team Canada to overcome the pandemic that has already caused the death of nearly 100,000 people worldwide.
When we are out the other side of this tragedy there will be significant study as to what was done, what worked, what didn't, what we were prepared for, where we fell down and, most importantly, who our friends are.
One friend we have as Ontarians is Queen's Park. I can't speak to the response another government would have had to this crisis; I trust they would do their best, but I can say the present Ontario government is performing admirably.
And shockingly, the performance has been aided by past foes, specifically Deputy Prime Minister Chrystia Freeland who has grown a kinship with Premier Ford to the benefit of both jurisdictions and all of us who live in them.
So that is the first thing we can see as a new beginning as we enter the Easter season – cooperation between Queen's Park and the House of Commons. That is something many of us would not have thought possible given the personalities at the top of those two food chains. It will be essential as we recover as a province and country in the months and the years to come.
On Thursday I listened to Prime Minister Justin Trudeau say something that made me sit back and smile. It seems the U.S. government is looking at placing tariffs on foreign oil coming from Russia and Saudi Arabia – two nations who are potentially violating trade agreements by dumping oil to drive down prices.
A reporter in the presser outside the PM's cottage asked if Canada was on board. I was fully expecting Mr. Trudeau to obfuscate and give some non-answer answer. He did pass it off saying it is Natural Resource Minister Seamus O'Regan's file, but added he is coordinating a response with the US.
As someone who grew up in oil dependent Alberta I have long wished a Canadian PM would coordinate with the US to battle OPEC. This is a simple beginning, but it is significant if it is a step toward ending North American energy dependence on the Middle East. Something I personally have longed for.
Locally, everyone knows small business drives the economy, yet too often small business people don't get the recognition they deserve. In the face of the pandemic we are seeing what a place like Niagara Trailers means to the community.
The graciousness of that group lending trailers to front line workers to stay closer to family while quarantined is special. Maybe this will mean they can see their child's first step – albeit through a screen door – while they are staying safe so they can care for us.
And Calhoun, the sportswear manufacturer stepping up to make masks instead of hockey sweaters to pitch in to rejuvenate depleted supplies. Yet another example of good in a time when the whole world seems focused on darkness.
These are but a few examples of how the world is changing for the better in some small ways.
The response to COVID-19 by all of us and lead by our government has changed the world in larger ways.
The projections were by April 7 Ontario would have approximately 800 of our friends, relatives and neighbours in intensive care.
On Tuesday the actual number was 233.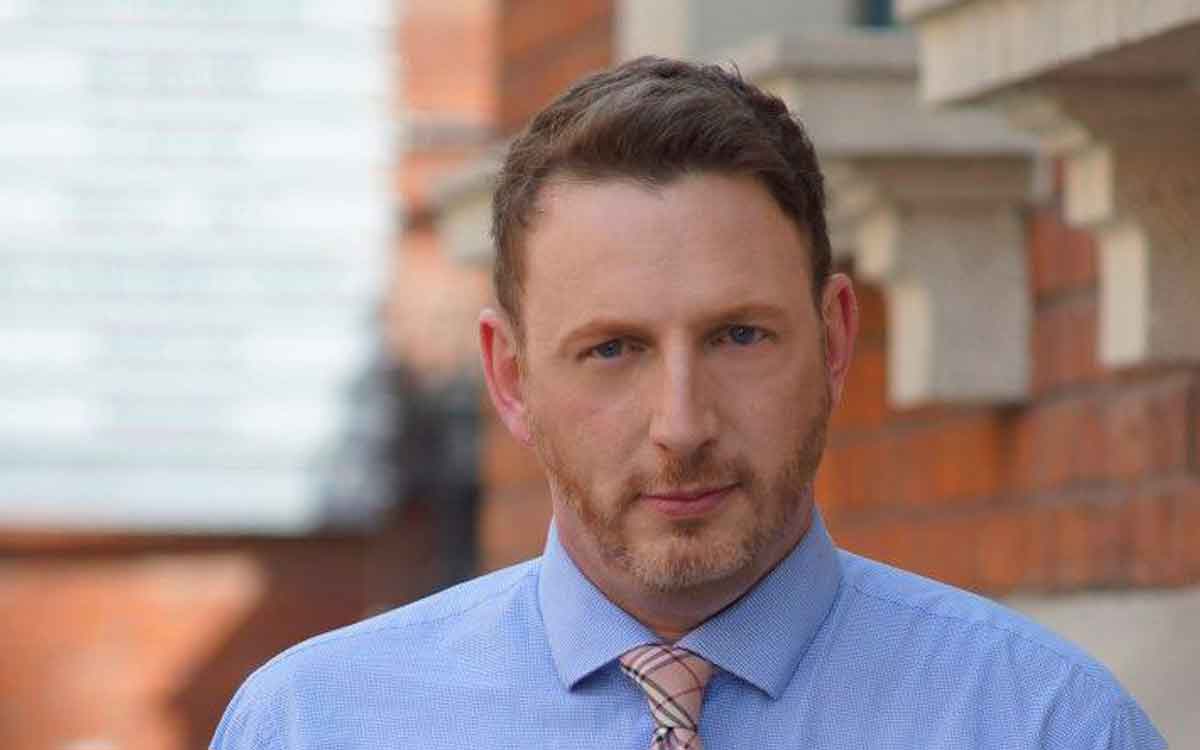 Kelly Harris is Principal of Harris Public Affairs. He is a regular commentator on Global News Radio 640. He has spent the last decade working with Canada's credit unions and served as Director on the Board of the Canadian Credit Union Association. An internationally published journalist, he has held senior positions in the Gordon Campbell government in British Columbia and Tim Hudak's opposition at Queen's Park. An avid traveller, cyclist, member of Bills Mafia and die-hard fan of the Toronto Maple Leafs.