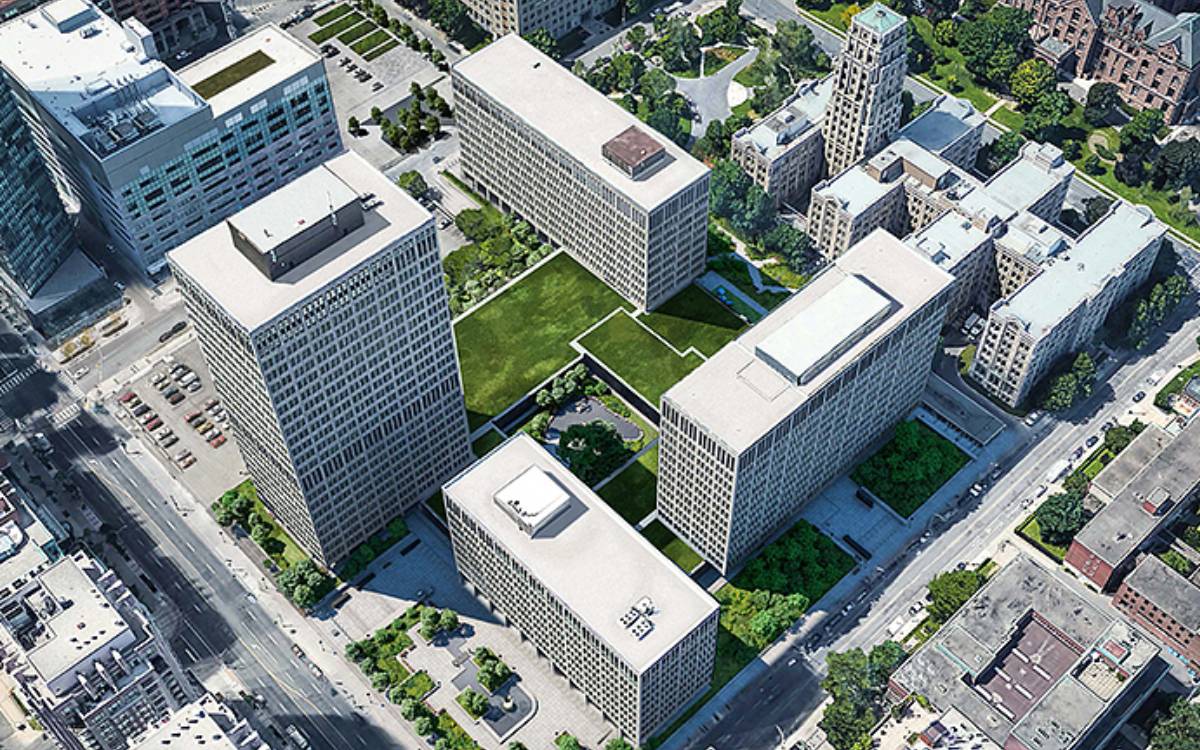 Macdonald Block Complex, Toronto. Mowat Tower, tallest building to the left, houses the provincial government's Ministry of Education. Photo credit: Infrastructure Ontario
Trustees of the District School Board of Niagara (DSBN) and Niagara Catholic District School Board (NCDSB) just rolled out their 2021-22 budgets: $523 million and $268 million respectively, which will serve a total of approximately 60,000 students, at an average cost to the taxpayer of just under $13,000 per enrollee.
One might sensibly ask how the Ontario government, which is up to its neck in red ink ($379 billion net debt, with over $13 billion annually just to pay off the interest) will be able to manage to fund the province's massive education system moving into a post-COVID era, which will likely include unprecedented austerity in government spending.
The DSBN's Long Term Accommodation Plan (LTAP) for 2019 through 2028 includes projections for an increase in enrollment of about eight per cent over this timeframe, but concedes that by 2028, there will be just over 1,000 surplus spaces in the elementary panel, and 2,400 in the secondary panel. This is roughly equivalent to two empty elementary schools, and two empty secondary schools. Half of the NCDSB's elementary schools will have fewer than 250 students in the coming year, and five of its eight secondary schools are expected to be below 750. This is one of the realities of operating multiple education systems: an environment is created in which schools have enrollments well below their capacity, with significant duplication of services and assets.
Take, for example, Blessed Trinity Catholic Secondary School in Grimsby and Notre Dame College School in Welland. Both secondary schools will be getting new artificial turf sports fields for the 2022-2023 school year worth $3 million apiece. The NCDSB has said it plans to ensure all eight high schools within its jurisdiction have artificial turf fields moving forward. The DSBN also has eight synthetic turf fields and tracks, with an expectation to add more in the future.
Studies have estimated that the annual savings of school system consolidation in Ontario would be well above a billion dollars annually. Separate school stalwarts dismiss any talk of savings through amalgamation of public and separate schools as a fallacy, arguing that since the funding follows the students, it would cost the same regardless of which system they chose.
It was George Orwell who in his classic allegorical novel Animal Farm coined the phrase, "All animals are equal, but some animals are more equal than others." This expression is a fitting parallel to the funding practices in Ontario education.
Tax dollars in this province fully fund a public system open to all, and a faith-based system available (primarily) to Catholics. The distinction acknowledges the increasingly prevalent pattern of Catholic schools siphoning non-Catholic students from the public stream, as the two systems compete for provincial funding. Schools operated by other Christian denominations – as well as members of the Jewish community, those of the Muslim faith, and other creeds – get nothing. Not one loonie.
Catholic schools may enroll students from outside the faith, but their practice of hiring teachers is not so magnanimous. If you don't have a signed affirmation from your priest, you can pretty much forget about teaching in the separate system. This pattern of behavior is not only unfair to qualified teachers but is unconstitutional under the 1982 Charter of Rights and Freedoms.
Some people seem to be in a rush to tear down statues these days, so perhaps it's appropriate to look at replacements for the empty pedestals. Catholic school supporters in Ontario might consider a monument to former Progressive Conservative premier Bill Davis, the de facto patron saint of separate school funding.
Here's a history recap: Davis led his party to a majority government in the 1981 provincial election. He retired in 1985, but in his swan song from public service, Davis unexpectedly announced full funding for Catholic schools in 1984, which was, quite frankly, a bit of a head-scratcher, given that he had opposed the concept since he took office in 1971.
Davis acknowledged his decision raised legitimate questions about funding of other private schools and appointed noted academic Bernard Shapiro to head a commission to investigate options. Shapiro's recommendations included limited funding for private schools that met appropriate standards, along with extensive regulatory reforms. But his sage advice met opposition. The PCs lost their 1985 minority government to a non-confidence vote, and the Liberal-New Democrat coalition that replaced the PCs parked the Shapiro Commission report on a shelf to gather dust.
In 2001, PC premier Mike Harris offered parents an income-limited partial tax credit for independent school tuition fees. However, when elected head of the Ontario government in 2003, Liberal Dalton McGuinty, a fervent Catholic schools' supporter, repealed the legislation.
Public funding of religious schools became the defining issue in the 2007 provincial election campaign, with McGuinty warning that PC leader John Tory's plan to fund non-Catholic religious schools would separate rather than unite people of diverse backgrounds. The public drank that kool-aid, and fourteen years later, Ontario has fallen further behind other provinces that have provided greater school choice and fairness.
The provincial Liberals and NDP refuse to discuss the issue of school funding, for the same reason that Doug Ford's PCs are sitting on their hands: their political strategists have advised them that it's akin to opening Pandora's Box. With over 30 per cent of Ontario residents self-identifying as Catholics, reducing or eliminating their entitlement would be a massive vote loser. Only the Green Party is willing to commence a dialogue to discuss an Ontario government practice that has been condemned by the United Nations as discriminating against other religions.
Catholic school supporters view full funding as an absolute entitlement, anchored in the Canadian Constitution of 1867 (also known as the British North America Act), which decreed funding for Catholic schools as a protection of minority rights. In the 1800s, Protestants were in the majority in Upper Canada (Ontario), and the Catholic minority was primarily composed of Irish immigrants and French settlers who were nervous about losing their religious and cultural identity, and thus wanted safeguards to prevent oppression.
It's an entirely different tableau today. Catholicism is the dominant faith in Ontario, and across Canada for that matter, so the argument of funding based on minority rights is an anachronism.
Ontario is the only province that funds religious schools of the Catholic faith exclusively. Alberta, British Columbia, Manitoba, Quebec, and Saskatchewan all fund private schools, which operate with varying degrees of autonomy and government support. Many American states operate tax credit and tax-supported school choice programs, and all major European countries fund non-government schools.
I have no personal axe to grind over the existence of Catholic education, other than I find it disappointing that a religion embraced by a third of the population has not sought ecumenical solidarity and equity for other faiths on the issue of taxpayer-funded schooling. I believe the sacred texts of Christian churches, and other faiths as well, extoll a view that all people should have equal access. At issue is not whether faith-based and other schools outside the public realm should exist, but whether tax dollars should fund them, and if so, how much.
Detractors enjoy propagating the false narrative that the province would go broke if private schools received funding. But the arithmetic is not complex. If a public school student is funded at the 100 per cent rate of $13,000 per student, funding a private school student at the 50 per cent level would save the taxpayers $6,500 per student.
British Columbia, through my eyes, has got it right. They fund the public system 100 per cent and offer up to half funding for schools which are faith-based and independent, provided they meet certain criteria.
Full disclosure: I worked for over two decades at Niagara's biggest private school, Ridley College, and to this day believe it offers a tremendous experience for students. It has an Anglican connection historically, but today enrolls students from myriad cultural and religious backgrounds. Ridley is also prohibitively expensive for many families, despite providing millions of dollars in self-funded bursary and scholarship programs.
Ridley headmaster Ed Kidd noted that the school's tuition would be considerably lower if some government support was provided, which would make the school accessible to a broader range of families.
"I think our board would obviously look at it very carefully," he said, especially "if the strings attached looked no more onerous than what they are right now." Kidd underscored that any funding would only apply to domestic, in-province students, and not internationals on study permits, or students from outside Ontario.
The fundamental question is one of fairness. Is it equitable that Catholic schools should receive funding, but Jewish and Christian Reformed schools do not? Don't forget that private school families currently pay taxes to the public system for services they don't receive.
It is not unreasonable to allow parents the freedom to enroll their children in schools which they believe best suit their family's needs, talents, and heritage. Competition has been shown to actually boost the performance of public schools. Simply expressed, school choice is a tide that raises all boats, and partial funding of qualified private schools in Ontario would be a step in the right direction.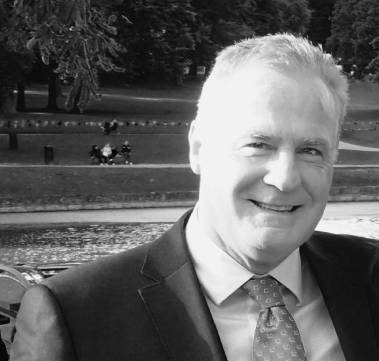 Don Rickers' career in education spanned over three decades, and included stints as a teacher, student recruiter, coach, boarding school housemaster, enrollment management director, and headmaster. He has travelled extensively and visited hundreds of schools around the globe, and served for almost ten years on the governing committee of the Association of Boarding Schools based in Washington, DC. Now a member of the Canadian Association of Journalists, his freelance articles have been featured in newspapers, blogs, and educational journals. A former national team lacrosse player, he holds a masters degree from Brock University, and is a member of the board of directors of the South Niagara Rowing Club. He resides in Fonthill.