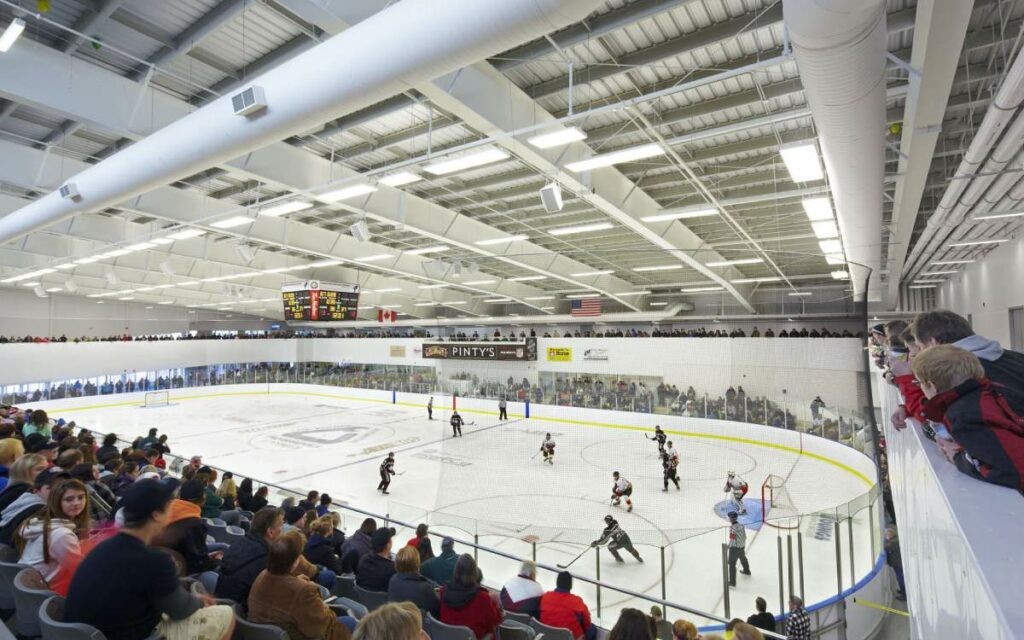 TPH Academy currently has campuses across the U.S. from Phoenix to Fort Lauderdale. The company's new Niagara branch will operate out of Port Colborne's Vale Health and Wellness Centre (pictured).
One of North America's top dual athletic-academic sports development programs is coming to Niagara.
This spring, U.S.-based TPH Academy is expanding operations in Canada with a new a campus located out of the Vale Health and Wellness Centre in Port Colborne. 
TPH Academy Niagara will offer a blended learning environment for young athletes to study, train, and play, all under one roof. 
"We're extremely grateful to Bryan Theal, Manager of Recreation for the City of Port Colborne, and the City of Port Colborne for opening their doors and inviting TPH Academy to the Niagara Region," said Alan Keeso, CEO of TPH Academy. "We are excited to meet prospective student-athletes and their families, and we couldn't be more honored to be welcomed into the Niagara community."
TPH Academy is an academic, athletic, and mentorship program that provides student-athletes the opportunity to develop their skills on the ice, field, court, or turf, as well as in the classroom. With a focus on hockey, the TPH Academy model helps strengthen each student's athleticism, training habits, and mental game, all while working toward their academic goals. 
"The heart of TPH Academy's purpose is to advance, in and beyond the game, the next generation of impact players," said Keeso, a former NCAA goalie originally from Listowel, Ontario. "We are looking forward to welcoming student-athletes and families of the Niagara Region to experience this unique environment we've created, where student-athletes can grow together in and out of the classroom, all while working towards their academic and athletic goals."
TPH Academy is not a club or a team. Rather, it is a flexible learning and training program that offers supplementary skill development and academic accreditation for busy student-athletes hoping to take their play with an existing club or team to the next level. 
The whole idea of the program centres around the fact that, at a certain point, elite student-athletes often must make a choice between sport and education – TPH eliminates the need for that either/or decision. 
"Many student-athletes face the reality that elite sports participation requires hours of travel and training that aren't conducive to a prosperous academic experience. They get to a certain grade or level, and feel they have to decide between their academic and athletic goals," explained Keeso. "By providing an environment in which students can focus their time, energy, and attention to their academics, while remaining committed to athletic progress, the TPH Academy model eases that decision by offering the ultimate academic and athletic experience."
According to TPH, participants can expect a flexible, mastery-based academic programme, combining virtual learning with in-person, on-site academic support, and facilitation that will leave student-athletes "fully prepared" for college or university. 
TPH Academy Niagara students will earn their academic credentials through Ontario-certified and NCAA-accredited courseware that can be completed at any time, from any laptop, tablet, or mobile device, whether in the classroom at the Vale Centre or on the move for sports travel. 
TPH Academy Niagara will be the company's first full, comprehensive athletic-academic program in Canada. TPH has a campus in London, Ontario – one of two original locations in the company's 16-location portfolio – however, it's focused solely on athletic development. 
Dozens of TPH alumni have gone on to play hockey at the highest levels, including professional, junior, and collegiate. 
NHL captains Nick Suzuki, Bo Horvat, and Boone Jenner are all alumni of TPH London. 
Most recently, three TPH Academy alumni, Cutter Gauthier, Rutger McGroarty, and Lane Hutson, were selected in the first two rounds of the 2022 NHL Draft. 
TPH Academy Niagara will host a live virtual informational session on Monday, January 16 at 7:30 PM EST. Interested participants can secure their spot and register for the webinar here.